If you are infatuated with lightning speed Thunderbolt interface that hesitant, but because of its wire of rod price high above, then today is a good day for you. Recently, the Apple online store of 2 meters Thunderbolt cable price is reduced from $49 to $39 (mainland China is currently priced at 368RMB), and the introduction of a new 0.5-meter long Thunderbolt cable, priced at only $29 (about 180 RMB, mainland China no sales).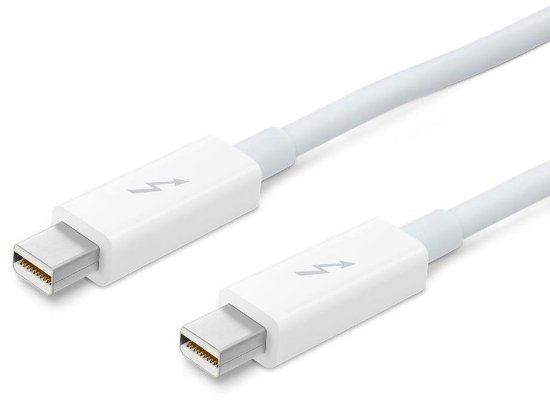 Cooperative efforts of Apple and chip giant Intel, Thunderbolt interface specification officially released in mid-2011, its biggest advantage of the powerful data transfer speed. Apple said Thunderbolt interface has two independent channels of data transmission, the speed can be up to 10Gbps USB3.0 specification twice, is 12 times FireWire 800 interface.
At present, Apple Thunderbolt interface equipment including iMac, Macmini, MacBookPro as well MacBookAir. With its huge data throughput capacity, a Thunderbolt port can connect multiple peripherals, equipment performance and will not be affected significantly. At the same time, two Mac computers can take advantage of the Thunderbolt wire connected in Target Disk Mode. Thunderbolt cable, MacBookPro can also use the iMac as a display. However, the current listing peripherals that support Thunderbolt technology mainly confined to external storage, display, professional digital camera and video capture devices, and other fields.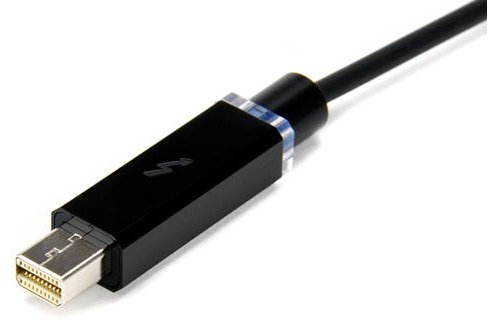 This year's CES show, Intel introduced a fiber optic Thunderbolt cable, an effective solution to the limitations of the length of the copper wire. Corning quick follow-up, launch its own brand of up to 100 feet (30 meters) a Thunderbolt wire and claimed its diameter and flexibility is not lost on any of a USB wire. It needs to be pointed out is that Fibre Thunderbolt cable can not provide power for the peripheral support.