10GbE 32-Port Switch Application and Configuration
Data centers are undergoing a major transformation due to the booming of Internet traffic and bandwidth intensive applications. 10G network switch has outperformed 1G switch to become the norm in inter-switch and server-to switch connections. This emerging trend also signifies a migration from traditional three-layer network architecture to the more efficient spine-leaf topology, with 10GbE switch working as leaf switch. So how a 10GbE switch fit for these cabling environment? How we can manage a 10GbE switch to unleash its potential? Taking FS 10GbE 32-port switch S5850-32S2Q as an example, this article will clarify the application and management of a 10GbE switch.
FS.com 32-Port Switch: A Mix of Availability, Security and Performance
The S5850-32S2Q is a 32-port SFP+ 10GbE switch featuring 32 10GbE SFP+ ports and 2 40GbE QSFP+ ports with very low latency. As a Layer 3 switch, this 32-port switch delivers high-performance 10GbE capacity of up to 800Gbps and forwarding rates of up to 596Mpps. The S5850-32S2Q 10GbE switch highlights hot swappable power supplies and fans to provide a redundant, high availability architecture. It boasts advanced data center features including MLAG, VXLAN, IPv4/IPv6, SFLOW, SNMP, Priority Flow Control (PFC) and Data Center TAP, as well as a complete set of security features like IEEE 802.1x, DHCP Snooping and L2/L3/L4 multi-layer ACL (Access Control Lists). The following video further illustrates some details of S5850-32S2Q 32-port switch.
Applications of a 10G 32-Port Switch
With a compact 1U design and front-to-back air flow, the S5850-32S2Q 32-port switch can act as ToR (Top of Rack) or leaf switch in data centers, enterprise and Metro network environments. Here we mainly illustrates two of its typical applications: 10G 32-port switch for Metro L2 ring network and for enterprise data center network.
Scenario One: As Access/Aggregation Switch in Metro L2 Ring
Ring network topology, as the name indicates, is a network configuration in which device connections create a circular data path. Ring network can be used in either Local Area Networks (LANs) or Wide Area Networks (WANs). It allows service providers to establish robust network and operate multiple services. S5850-32S2Q 32-port switch, featuring QinQ and ERPS features, provides protection for Ethernet traffic in a ring topology and ensures no loops within the ring at the Ethernet layer. Figure 1 presents the application of S5850-32S2Q 10GbE switch in a Metro L2 ring network.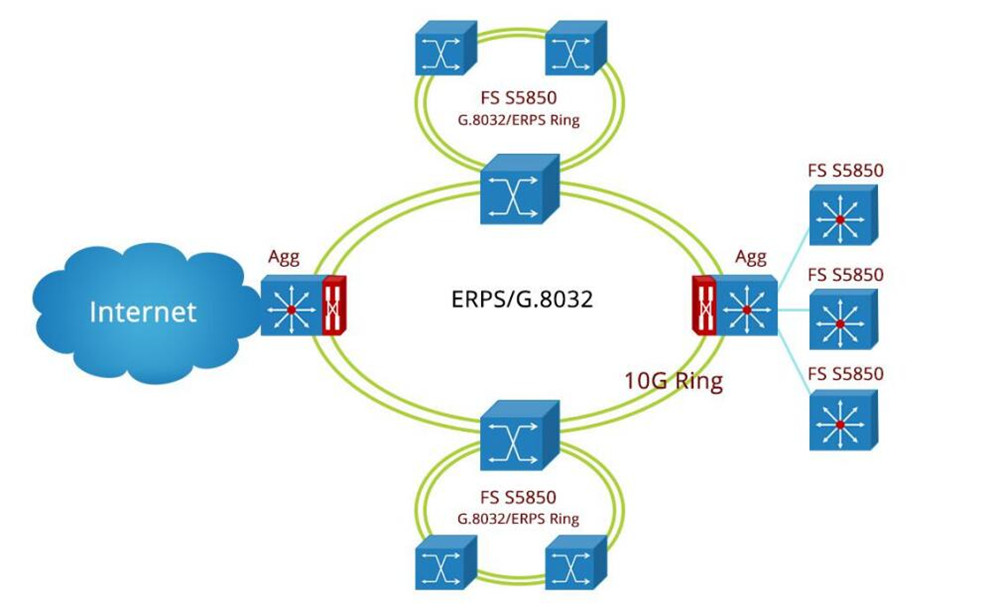 Application of S5850-32S2Q Switch in a Metro L2 Ring Network
Scenario Two: As Leaf Switch in Enterprise Data Center
The innovative leaf-spine architecture creates a fast, scalable, and efficient communication architecture for data centers. It has become a preferable choice for network professionals who aim to satisfy the current needs and get prepared for future growth. S5850-32S2Q 32-port switch, as a leaf switch, offers connection to endpoints like servers, storage devices, firewalls, load balancers, and edge routers. And the 2 QSFP+ 40G ports of S5850-32S2Q are used for uplinking spine switches. Figure 2 shows deploying S5850-32S2Q 32-port switch as leaf switch in a leaf-spine topology.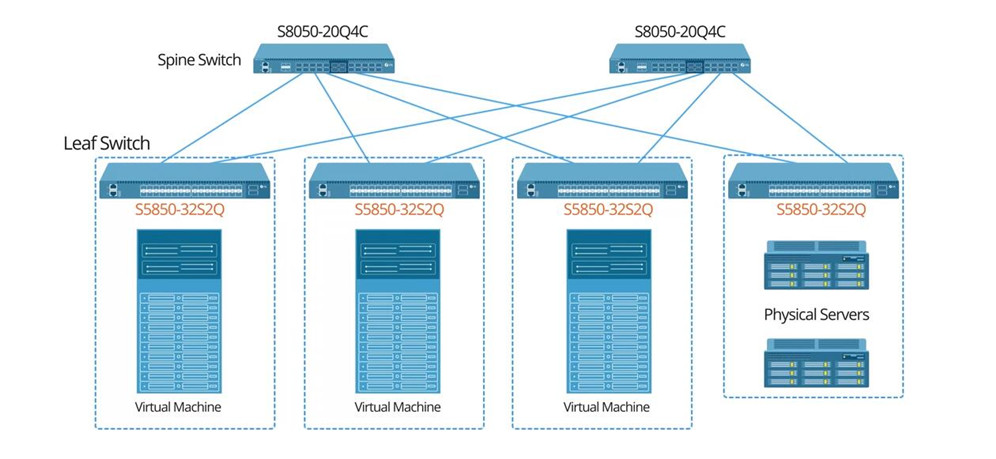 Deploying S5850-32S2Q 32-Port Switch as Leaf Switch
How to Manage a 10GbE 32-Port Switch?
A simple and straightforward way to manage FS S5850-32S2Q 32-port switch is through Web User Interface. Web user interface (Web UI), or graphical user interface (GUI) is built into each switch. With Web UI, users can interact with the data switch through graphical objects like windows, buttons, scrollbars and icons – by using the mouse and the keyboard. Getting switch configuration access through a web browser is a logic choice: it is easy-to-learn and intuitive, especially for those novice users who are not going to deal with advanced tasks. Configuring network switch via web user interface contains three major steps:
Connecting the console port of the switch to a PC
Enter the switch IP address in your browser's address line and logging on to the Web UI
Configuring the switch Web UI: the configuration wizard enables you to configure basic settings on the switch.
Here is a step-by-step tutorial for configuring Ethernet switch through Web UI.
Conclusion
10Gb Ethernet switch has been well established in data centers to underline the network bottleneck at the access layer. Data demand will continue to skyrocket, and the market share of 10GbE switch will grow sustainably. The 10GbE 32-port switch deployment scenarios and configuration method presented above can be applied equally to other 10GbE switches with the same feature sets. FS.com offers a complete set of data center switches with data rates ranging from 1G to 100G. If you are seeking network switch configuration or management solutions, or simply require more information, do not hesitate to contact us.
You might be interested in