Common DWDM Solutions for A Secured Network
DWDM (Dense Wavelength Division Multiplexing) is an optical technology used in networks to increase bandwidth over existing fiber optic backbones. Due to the large capacity, high survivability and flexibility, DWDM solution is commonly seen in backbone network and long haul transmission. However, in the actual cases, problems like optical fiber faults and line interruption may affect the communication and services that carried by optical fibers. Therefore, a secured DWDM network is required to address these issues. Here presents five common DWDM solutions for securing the optical network.
Five Common DWDM Solutions for Secured Networks
To minimize the network risks and cater to the network monitoring, here lists five DWDM transport network solutions, that is OLP, OPD, OPM, ring network protection and complete protection. The following sample DWDM solutions all adopt 40CH DWDM Mux/Demux with 10G DWDM 80 km transceivers, and G.652 fiber grade by default. In the point-to-point network, 80km distance is designed with the fiber attenuation of 0.25dB per kilometer. In the three-point ring network, the distance between every two sites is 40 km.
Optical Line Protection (OLP)
OLP is a device that is used to protect the optical network transmission line. It can achieve optical power monitoring and optical line automatic switching. In optical communication network, OLP monitors optical power of fiber and the standby fiber at real time. When the current optical power of optical fiber is less than pre-set switching threshold value, the alarm is triggered and the traffic will be switched over to the standby optical fiber automatically in less than 15ms to protect optical transmission system line. It should be noted that the length of the main link and the standby link must be similar. OLP is an ideal choice for backbone network when there are enough dark fibers. There are different types of OLP devices and the most commonly used OLP are OLP 1:1 and OLP 1+1. The following picture shows a point-to-point DWDM solution with OLP.

Optical Power Detection (OPD)
OPD is a kind of optical power monitoring device, which features high monitoring precision and wide optical power monitoring scope. It is suitable for the loss measurement of optical fiber, cable, and other optical passive devices, and the construction and maintenance of optical fiber communication system.
OPD is similar to the optical power meter, and it mainly has 1310nm/1550nm monitoring light. It can carry on real-time detection and monitoring of the link that help find out business failure. Thus it is able to improve the stability of the DWDM solution, the quality of maintenance, and minimize users' actual loss. However, OPD can not decide whether the fault is optical fiber or equipment.

Optical Performance Monitoring (OPM)
In DWDM networks, OPM mainly works for monitoring the quality of data channel by measuring its optical characteristics in real time. It can ensure correct switching in reconfigurable optical add-drop multiplexers, set levels for dynamic equalization of the gain of optical amplifiers, and provide system alarms and error warning for lost or out of specification optical channels.
Long-haul transmission involving DWDM solutions contain many components that may attenuate optical signal strength. The longer the fiber optic cables are, the larger possibility the signal strength will be affected. Therefore, it is crucial to deploy OPMs as strategic points along the routes, as they can ensure high-quality optical signal and data integrity. However, the use of OPM is constrained to C-band.

Ring Network Protection
When your network can form a ring topology, optical channel shared protection ring architecture is a cost-effective and secure choice. Take three-point ring network as an example. Business from one site can be transited clockwise or counterclockwise to another site. In this case, if the optical fiber between two sites cut, the business can run normally by sending the data in the opposite direction to the destination.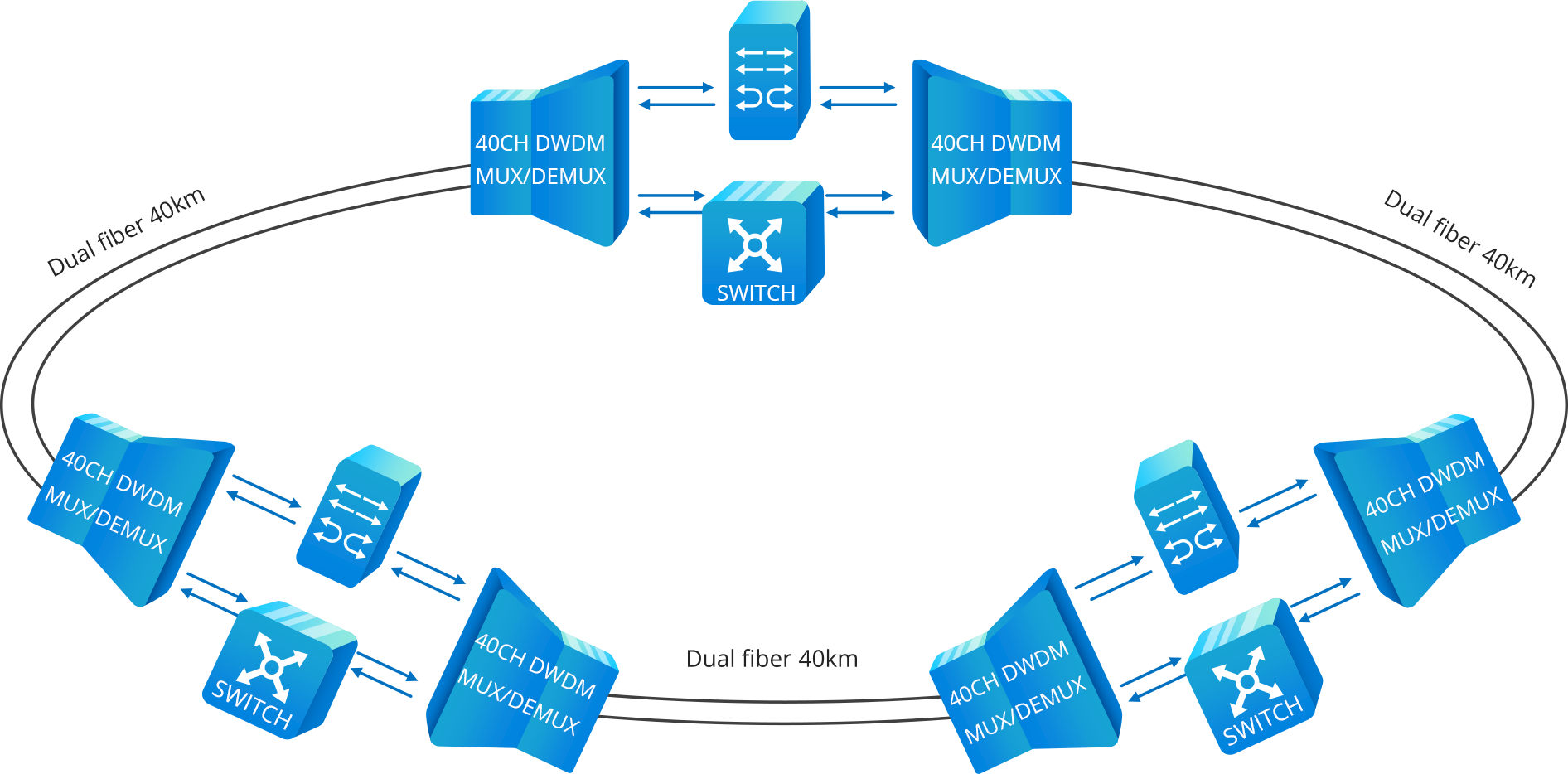 Complete Protection
It seems irrational to add another same configuration to the solution. However, it is highly applicable when the budget is adequate with excess fibers. The purpose is that the link, once being broken, can be switched onto the excess allocated capacity in certain time to ensure the normal work. It is viable to use the excess redundant portion of the network to provide network capacity in the event of a failure or fault, especially in point-to-point DWDM solution, as the failure of equipment, fiber or nodes is not a rarity, they sometimes result in a huge loss in revenue.

Conclusion
With increased automation level and fewer manual processes, it is critical to ensure that the right safeguards are in place to detect and mitigate security vulnerabilities. FS dedicated DWDM solutions are designed to help create secure networks that connect all sites over the DWDM network, and minimize network errors, leaving the possibility for meeting the future regulatory requirements.
You might be interested in