Compact WDM Solution for Metro DWDM Networks
Over the past few years, the optical network industry has witnessed the rise of new compact WDM solutions, which have continuously improved their standards for high performance, flexible maintenance and completed automation. Recently, FS has introduced the M6200 series compact WDM solution featured with large capacity, high integration and easy operation, which is regarded as the ideal solution for today's metro DWDM network. Reading this article to see how this WDM solution redefines your metro DWDM network.
Why Compact WDM Solution Is Important for Metro DWDM Network?
With the development of telecom technology, Internet services are toward a more friendly user experience, higher QoS, and higher bandwidth. Thus placing higher demands on the carrying capacity of the underlying network.
There is limited space in the data center of the convergence and access network and there exist multiple network technologies at the metro edge layer. So the WDM equipment must be much smaller than ever before and be accessed multi-service to load high efficiency. Additionally, there are numerous devices at the metro edge networks which power consumption accounts for a large proportion of the service supplier's OPEX. Thus the device selection, circuit wiring and heat dissipation must be taken into consideration for the WDM equipment.
So how compact WDM solution redefines the metro DWDM network? Through the latest generation of DSPs, WDM compact modular platforms are featured with lower power consumption, fewer fans, more compact management controllers to deliver a high capacity and high-density data transmission for metro edge networks. Besides, WDM compact modular platforms have adopted a smaller form factor and contained different types of network units in the same chassis, which has raised the bar on operational flexibility while reducing operating costs. This has also led to a dramatic reduction in power consumption, as depicted in the following figure.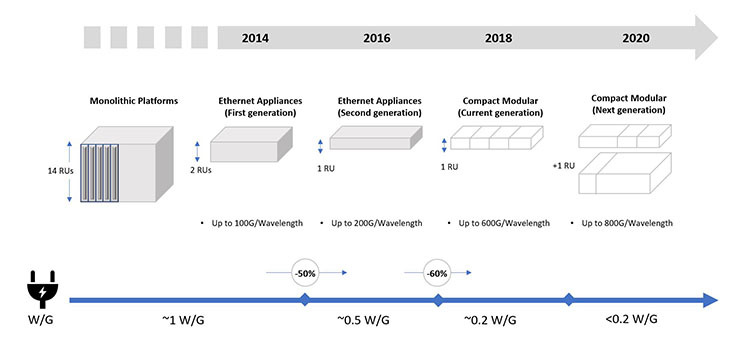 How FS M6200 Series Compact WDM Solution Helps to Build Your Metro DWDM Network?
In this age of new service explosion, like 5G and cloud services, increasingly higher bandwidth is needed at the metro network edge. FS released a whole set of M6200 series 10G WDM optical transport platforms, which leverage high integration and fast-paced optical innovation to reach unprecedented levels of scalability, efficiency, and easy operation in your high-capacity connectivity applications. So how do the compact WDM solution help to build your metro DWDM network? Reading more detailed in the descriptions below.
Large Capacity & Multiple Service Supported
FS M6200 series compact WDM solution is designed for long-haul transmission applications, which can transmit up to 400G over a 200km link. It is equipped with 5-channel 10G transponder (OEO) and passive 40-channel DWDM Mux Demux card, supports the access of all services at data rates between 100M and 11.1G, unified switching of multiple protocols like 10G WAN/LAN, Ethernet 100M, STM-16/64, OTU2/2e, 1/2/4/8/10G fiber channel over common OTN infrastructure.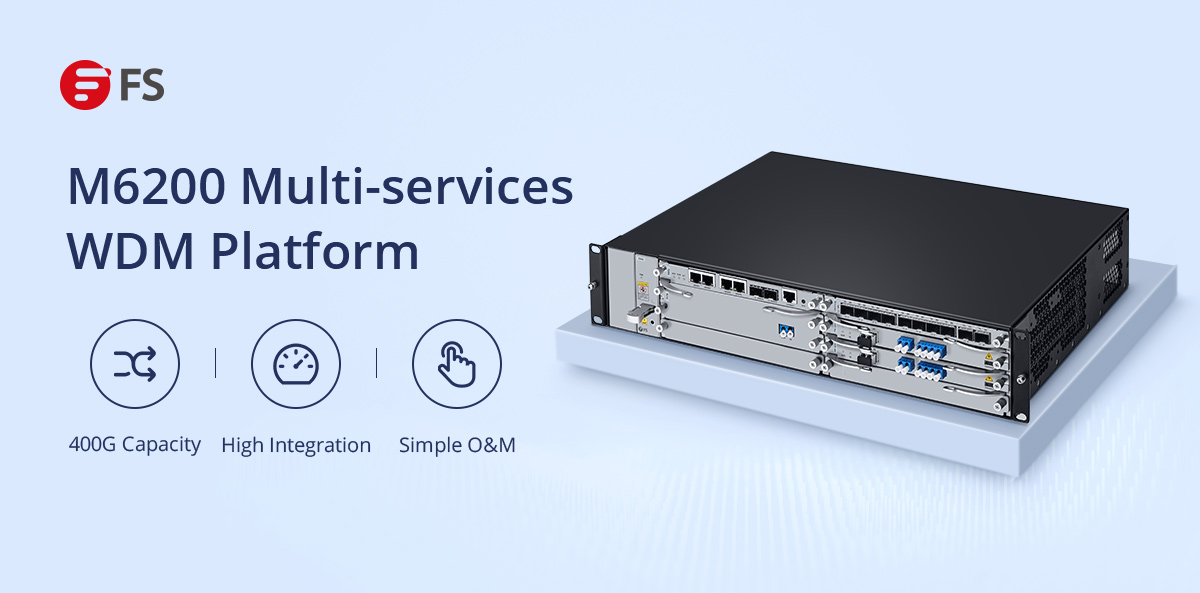 Additionally, this M6200 series compact WDM solution uniformly transmits multiple services at the metro edge network, including SDH, SONET, SAN storage, broadband, private line, and mobile services, serving as an ideal solution for the metro access layer optical transport network.
High Performance & Unmatched Flexibility
Incorporating EDFA, OLP, DCM, R/B, VOA, FS compact WDM solution offers high-quality and flexible optical transmission with reliable line protection, providing high network reliability and availability for managed chassis with low power consumption. Adopting the 1+1 redundant power supply, network unit cards, and fans which can be the backup to ensure disaster recovery and help you build a high-reliability metro edge network.
Besides, with a unified network management unit, the whole system enables fast setup within 7 minutes and eliminates the need for SQL database, which simplifies installation, shortens deployment time and provides full fault, configuration and remote monitoring management.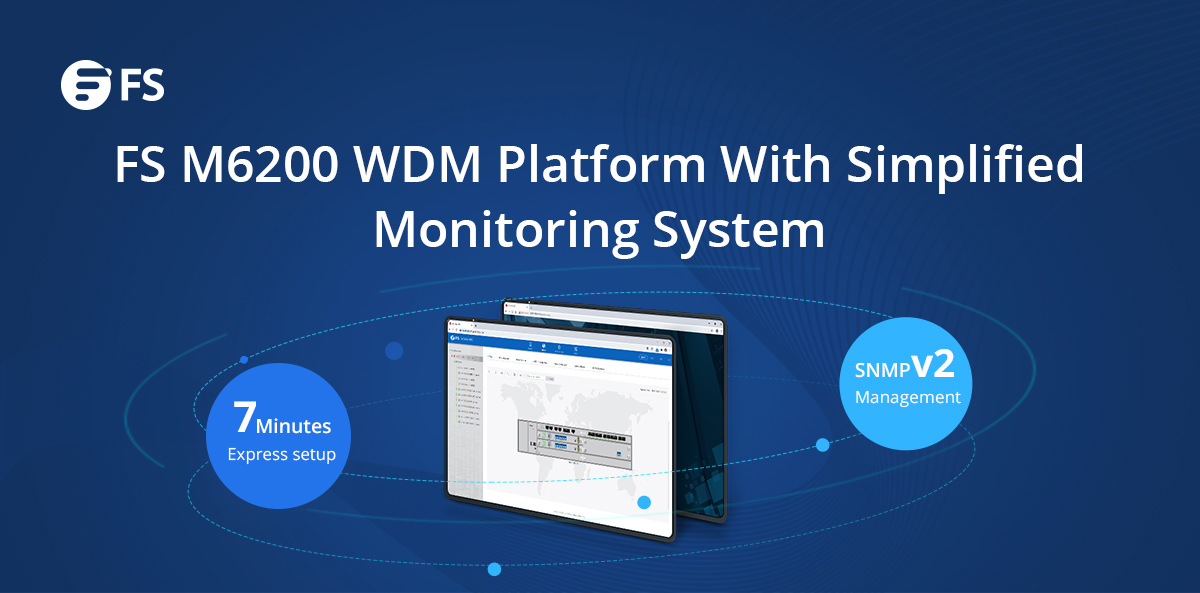 With the increasing demand for larger capacity and higher bandwidth, how to build a comprehensive metro edge DWDM has become a challenge for current Internet service providers. FS M6200 series compact WDM solution has passed solution-based testing and all yield good results to reach industry standards. Along with a quality warranty for 2 years, free technical support, and sufficient inventory in FS global warehouses, we genuinely help you easily implement worry-free metro DWDM network deployment.
You might be interested in