HDMI Over IP vs HDBaseT: Which Is Better?
Both HDMI over IP and HDBaseT can be used to transmit high-definition video and audio. What are their differences? Which one should we choose? Read through this post to get detailed comparisons of HDMI over IP vs HDBaseT and make an appropriate choice between them.
HDMI Over IP vs HDBaseT
HDMI over IP, also known as AV over IP, HD over IP, Video over IP, HDIP, etc., is a SDVoE technology for low-latency transmission. The HDMI (High-Definition Multimedia Interface) is a transmission interface technology used for video and digital audio data sent from HDMI-compliant devices. HDBaseT is the global standard for the transmission of uncompressed ultra-high-definition audio and video, Ethernet, controls, USB and up to 100 W of power over a single cable, for up to 100 m/328 ft. Here is the overall comparison sheet of HDMI over IP vs HDBaseT differences:
| | HDMI over IP | HDBaseT |
| --- | --- | --- |
| Cabling | HDMI cables | Ethernet cables (Cat5e or above) |
| Video signal | lossless compression | uncompressed |
| Transmission distance | unlimited | 100 m or longer with repeaters |
| Number of displays | unlimited | depending on number of ports on transmitter |
| Flexibility of device set up | flexible | relatively fixed |
| 4K capabilities | better | not so good |
| Cost | relatively higher | relatively lower |
| Future Expansion | convenient | not convenient |
Listed below are explanations of five main differences between HDMI over IP and HDBaseT.
Transmission Distance
HDBaseT can only transmit signals up to 100 m without repeaters, while HDMI over IP transmits signals without distance limitation. HDMI distribution is achieved by AV devices, such as HDMI extender transmitters and receivers, network switches and matrices. Since HDMI over IP is network based, it can take HDMI signals further such as 10 km if needed by stacking switches.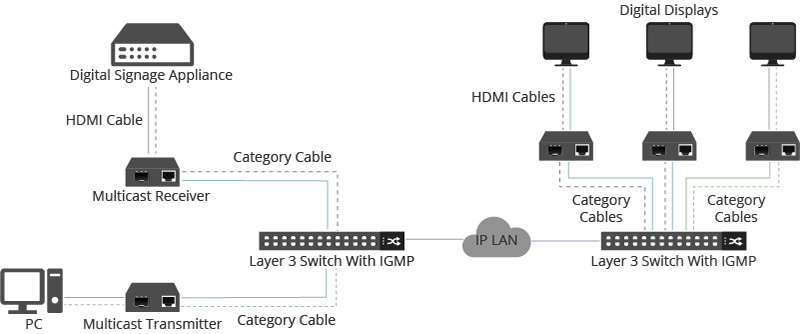 Figure 1: HDMI Content Distribution Diagram
Flexibility of Device Set Up
HDMI over IP systems offering more flexibility of device set up than HDBaseT systems. A HDMI over IP system allows HDMI source devices to be located in a centralised AV rack, local to rooms, or a combination of both. Once the HDMI source devices are connected to the Layer 3 managed switch, these devices all act as part of the HDMI matrix. While, in a HDBaseT system, even if some models of HDBaseT matrix switchers offer support for remote sources on one or two inputs, this feature is rare across HDBaseT systems as a whole. And the HDBaseT matrix units offering this feature tend to be expensive, because more HDBaseT chipsets are needed in the chassis to make this feature possible.
4K Capabilities
The 4K experience of HDMI over IP is better than HDBaseT. For example, on the same home network, HDMI over IP can support 4K and 1080P TVs at the same time. While, HDBaseT needs to purchase the corresponding hardware to support the same feature, and it only supports one of them (either reduce all TV resolutions to 1080P or upgrade all to 4K).
Cost
Using HDBaseT technology costs less than using HDMI over IP in a network. On one hand, HDMI cables are relatively more expensive than HDBaseT-based RJ45 Ethernet cables. On the other hand, HDMI is a closed standard, which requires a certain license fee for using the HDMI interface, while HDBaseT is an open standard and does not require additional fees.
Future Expansion
HDMI over IP can easily integrate new devices and provide better future expansion capabilities. For example, when using HDMI over IP, one can choose network switches with more ports than needed at present in case of additional devices required in the future. Under such circumstances, even if the number of TVs is increased in the future, it will not affect the TVs installed already. One doesn't need to worry that there will be no extra ports for subsequent new TVs. While for HDBaseT, it only supports limited devices, which is dependent on the number of transmitter ports.
Note: PoE switches are recommended (like the figure below) when choosing network switches with multiple ports in a HDMI over IP network since there is no need to add additional power source.

Figure 2: HDMI over IP for PoE Digital Signage
HDMI Over IP and HDBaseT, Which to Choose?
From all the comparison above, it is not difficult to understand that both HDMI over IP and HDBaseT have their advantages and disadvantages when compared to each other. One should choose between them according to the real needs and budget. HDMI over IP networks can distribute high-definition video signals from one source to an unlimited number of screens/displays and offer better 4K experience but with higher cost. While, HDBaseT could use the existing Ethernet infrastructure directly with a lower cost. Of course, one doesn't have to just use HDBaseT or HDMI over IP because HDBaseT is fully HDMI-compliant and it works with and supports HDMI.
You might be interested in