Wi-Fi 6 Access Points: How Can Enterprises Benefit From It?
We are living in a connected world where information is connected wired or wirelessly. For many enterprise environments, Wi-Fi is the key technology of digital transformation, especially when the Bring Your Own Device (BYOD) policy is implemented by many businesses. Since the new standard Wi-Fi 6 came out last year and brings the benefits of more than speed boost, Wi-Fi 6 devices are sweeping the market, pushing modern enterprise networks to upgrade towards Wi-Fi 6. As the heart of the Wi-Fi 6 wireless network, how can Wi-Fi 6 access points (APs) benefit enterprises? This post will drill down into it.
What Does Enterprise Wireless Network Focus on?
Before exploring what enterprise can benefit from the Wi-Fi 6 access points, let's take a closer look at the focus of a general enterprise wireless network. Following are some common expectations enterprises hold to the wireless network despite that their industries and organizations are different.
User experience
Wi-Fi is a necessity in an office. Communications, data management, and other works rely on a stable and reliable wireless network experience. If your organizations utilize VoIP technologies and frequently hold video conferences online, fast and clear video and audio experiences are of course what you expect. Besides, handling massive data at the same time, enterprise networks require intelligent control over the various business data and determine the priority level so as to guarantee the smooth operation of significant businesses.
Coverage
Users connect to the network from different locations, but the networks they connect do not always necessarily follow along with them. Different from home use Wi-Fi, the deployment of enterprise Wi-Fi often spans a broad range across different branches. In an enterprise network, staff may move from room to room or floor to floor and all of them should be available to access equal wireless services no matter where they are located. How to maintain a consistent network connection without losing access to resources becomes a key concern.
Security
Security is a major concern in enterprise Wi-Fi networks. Keeping the network communications secure is essential to the normal operation of your enterprise. Opposed to wired networks, the wireless network is often considered to be vulnerable to being infiltrated since it seems that everyone can get to your communications and you may get targeted while you are using Wi-Fi. Access points security, guest Wi-Fi access, and harmful devices are possible factors that lead to Wi-Fi security issues.
Scalability
No matter for new network setup or upgrading, future growth is a major concern. The wireless network organization should meet future needs, taking the enterprise development trend and the wireless network market trend into account. The Internet of Things (IoT) transforms the way businesses gather data and information and reshapes the future of wireless networking, which urges Enterprise-grade wireless devices to support more new features such as Bluetooth 5.
What Can Wi-Fi 6 Access Points Bring to Enterprises?
There are multiple wireless devices supporting Wi-Fi 6 protocols such as smartphones, laptops, and other devices. Only when you connect them to a Wi-Fi 6 access point can you reap the benefit of the Wi-Fi 6 protocols. Let's explore what you will get if deploying Wi-Fi 6 access points in your enterprise.
Optimized Wireless Source Experience
Multiple factors influence the speed and quality of the network connection, but wireless access points play an important role. If the access points have been used for many years with the number of users in an enterprise environment growing, the old access point will slow down your connection.
In Wi-Fi 6, access points utilize both the 2.4 GHz and 5GHz bands. A top speed of 9.6Gbps can be reached theoretically. There is one point that should be noticed: Wi-Fi 6 is not boosting the speed of an individual device but improving the connection speed when multiple devices are connected. Therefore the speed change by deploying Wi-Fi 6 access points is obvious in those large office ranges with heavy traffic. MU-MIMO and OFDMA are the two key technologies speeding up Wi-Fi-6 technology. In Wi-Fi 6, MU-MIMO will enable the access point to communicate with up to eight Wi-Fi devices. OFDMA technology allows one transmission to deliver data to multiple devices at once.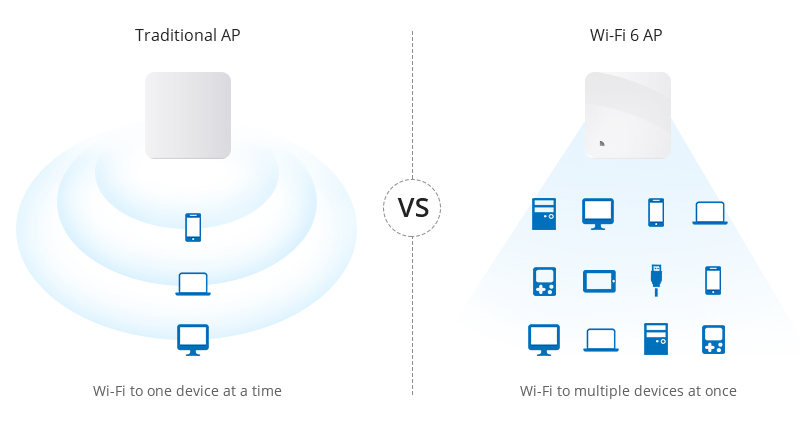 Added Capacity and Coverage
In Wi-Fi 6, 4 spatial streams are expanded up to 8 spatial streams, which represents Wi-Fi 6 MU-MIMO access points enabling more Wi-Fi devices to simultaneously receive data streams. The next-generation Wi-Fi 6 access points are introduced to configurations ranging from 8x8 MU-MIMO, tri-band 4x4 MU-MIMO, dual-band 4x4 MU-MIMO to dual-band 2x2 MU-MIMO. Choosing specifications can be dependent on the scale and the number of devices in an enterprise environment. Though theoretically 8 x 8 MU-MIMO AP provides higher throughput, however, 8 x 8 at 5GHz is not always better owing that it is expensive and power-hungry. Wi-Fi 6 AP with dual 5 GHz 4×4:4 radios will offer more capacity than a Wi-Fi 6 AP with a fixed 5 GHz 8×8:8 radio.
APs can be deployed in Wi-Fi 6 mesh networks for many enterprise network environments to expand capacity and coverage. For example, in the education industry nowadays, there is tremendous growth in video streaming, online class and other new education forms. By deploying Wi-Fi-6 APs in the schools and institutions, higher bandwidth and higher capacity can be provided compared with the old Wi-Fi 5 technologies.
Commitment to Security
As mentioned above, security is a significant concern in enterprise network design. The network is evolving, so do security threats. But luckily, Wi-Fi 6 access points improve security by implementing the new security standard Wi-Fi Protected Access 3 (WPA3), which allows for better encryption, better authentication with a greater value proposition than WPA2. Except for the giant advance of WPA3, Wi-Fi 6 wireless LAN controllers can be set up as an authenticator supporting web-based, 802.1x, mac address or local authentication for client identification. Combining Wi-Fi 6 access points with WLAN controllers and gateways, an enterprise wireless network solution delivers optimal security.
Enhanced Wi-Fi Scalability
On the one hand, Wi-Fi-6 access points are equipped with the latest processors, memory and software, which help future proof your network and prepare for the installation of more client devices in the future. FS Wi-Fi 6 access point AP-W6T6817C is able to handle up to 1536 end users at the same time theoretically, which is highly scalable for small or mid-sized campus networks. To better keep up with the trend of IoT, some AP vendors introduce Wi-Fi 6 access points that support Bluetooth and Zigbee radios. On the other hand, even when there are legacy client devices, Wi-Fi 6 access points support all current Wi-Fi devices. The Wi-Fi 6 access points enable backward compatibility with Wi-Fi 5 devices or devices based on earlier Wi-Fi standards.
Wi-Fi 6 Access Points Take Enterprise into a New Wireless Era
As the furious growth of Wi-Fi 6 is agreed by the industry market, is your business ready to embrace Wi-Fi 6? To create a Wi-Fi 6 wireless network, it is necessary to begin with Wi-Fi 6 access points, which will pave the way for Wi-Fi 6 network transition. With the wide deployment of Wi-Fi 6 access points and other Wi-Fi 6 infrastructure, the wireless network will help enterprises solve the current network problems as well as prepare for the expansion in the future.
You might be interested in
Subscribe to Get Latest News
Videos
FS Same Day Shipping Ensures Your Business Success