How to Apply 1U Cable Management in Your Server Rack?
Are you tired with messy networks? It is time to place the 1U cable management between switch and patch panel to arrange your rack and cabinet. Based on the existing equipment, you only need get some cable management kits to route the cooper or fiber cables. Most 1U cable managers feature high capacity slim cable fingers to provide maximum capacity at every rack space unit and a rigid design to decrease deflection when cables are routed in/out of the cable manager channel. Therefore, put the 1U cable management into use can help maintain the network performance.
What Is 1U Cable Management?
1U is the standard unit of measure for designating the vertical usable space or height of racks/cabinets. It is the smallest rack mount size and equal to 1.75 inches height. All racks/cabinets and equipment are measured in U. But for 1U cable management, it generally refers to horizontal cable management kit designed for standard 19" 1U of rack space. It includes 1U patch panel, 1U cable manager, 1U cable management panel, 1U brush panel, etc.
1U Cable Management for Rack & Enclosure
The 1U cable management is mounted on 19" 2- or 4-post rack, wall mount rack and bracket. Use with these server racks and cabinets, it provides a neat and tidy structured network distribution cabling for rack cable management. It also helps to eliminate cable stress for the rack enclosure and cabinet.
1U patch panel can be separated into copper and fiber version. Generally, 1U copper patch panel fits up to 24 copper outlets with individual port identification and accommodates both shielded and unshielded copper systems, from Cat5e to Cat7 patch panel. On the flip side, the 1U fiber patch panel can be selected by fiber connector (LC, SC, FC, ST, MTP/MPO, etc), port number (24-port, 48-port, etc), fiber count (48 fibers, 96fibers, etc), fiber type (SMF or MMF). The 1U wall mount and rack mount enclosure are all in the 1U patch panel category. The video below elaborates the 1U rack mount patch panel cabling solution.
The 1U cable manager offers a horizontal cabling to safely organize and protect the network cables. The finger duct and D-ring design are most popular in the market. For finger duct cable manager, the finger duct on either side and the pass-through hole at the back are designed to route the cables and reduce cable strain in the process. And the removable hinge cover allows for convenient cable MACs to reduce the installation time and cost and protects the cables for damage or dust. By the way, this 1U cable management kit is available in single sided and dual sided version. The dual sided horizontal cable organizer provides flexibility for front and back cable management. For more knowledge about D-ring cable management, please refer to How to Use D-Ring Cable Manager?
Cable management panel is available in a wide variety of styles to assist with the management of patch cords. Among the different types, the 1U detachable cable management panel is the most versatile choice due to its multiple applications. It can consists of four parts: horizontal lacer bar, horizontal lacer panel, D-rings and 1U patch panel. For easy installation, this horizontal cable organizer comes complete with rack screws (M5 and M6). It can be used with the existing devices to self-design the cabling. For instance, the 1U lacer panel and 1U cable management bar can be combined to form an pattern that holds the 1U fiber patch panel to efficiently manage high-density structured cabling in data centers. For more information about patch panel cable management techniques, please refer to Best Patch Panel Cable Management Techniques.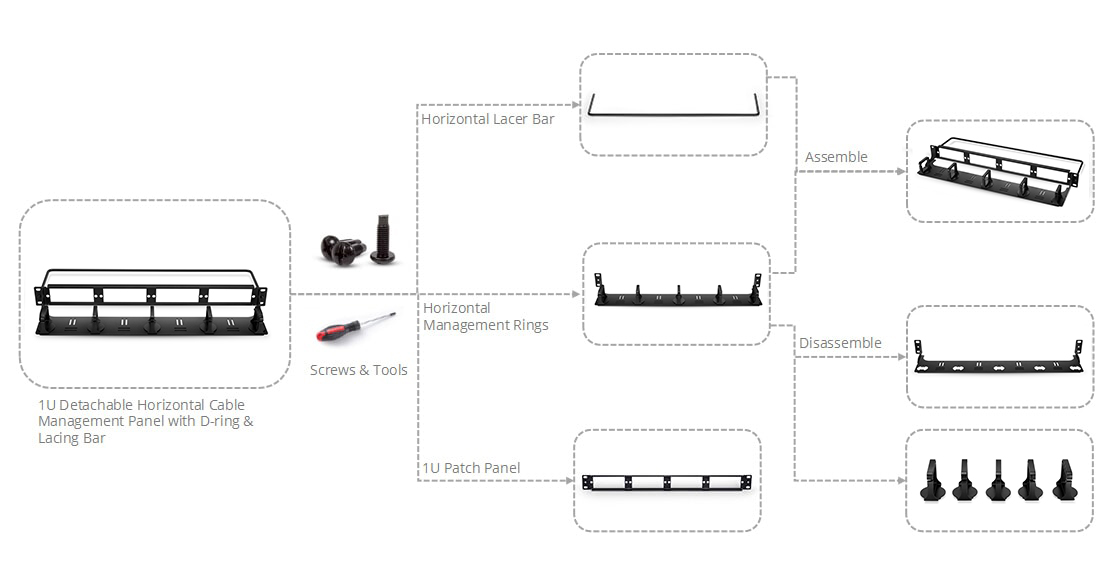 Made of high-quality steel with high-density nylon bristles, this kind of 1U cable manager is designed to block unwanted airflow inside rack enclosures and server cabinets. It helps to improve cooling efficiency and segregate cold aisle from hot aisle. Mounted to a standard 19" 2 or 4-post rack, the 1U brush panel keeps the dust and dirt out of the rack and offers cable separation for simple cable organization. So this pass-through cable management panel is an ideal solution for routing cables from the front of the rack to the rear.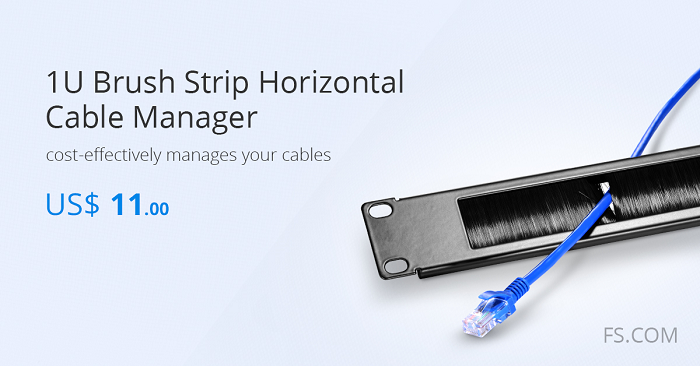 With the help of 1U cable management, space is rationally used with a safer cable routing. It is pretty simple to install the horizontal cable manager and use it to arrange large amount of cables. The cost of cable manager is always affordable, which is a necessary invest to avoid huge loss caused by cable mess in the future. For more cable management solutions, please feel free to visit www.fs.com.
Related Article: Proper Vertical Rack Cable Management Solutions
You might be interested in