How to Get 10Gbps Home Network for Less Than $60?
Over the years, 10GbE technology has developed rapidly. Its costs and performance have extended its reach beyond enterprise data centers to mixed networks. And the growing bandwidth requirements also drive the broader applications of 10G Ethernet. However, it's not easy for individuals and families to get a 10Gbps home network at a low cost. Today, this post will tell you the secret of getting a 10Gbps home network with less than 60 dollars, which comes from one of our clients' case.
This case is about connecting the NAS and VM server to 10Gbps home network connectivity as cheap as possible. And it mainly runs iSCSI (Internet Small Computer System Interface) for VMs. Here are the details.
In this 10Gbps connection process, there are three main components you may need.
NIC card—a NIC (network interface card) is a component that provides full-time connection for a computer and a network. There are various NIC cards on the market. Some have SFP+ interfaces but could be a little expensive. To achieve the goal with minimal cost, you can get a NIC card on Amazon or eBay, where you can find the card with cheap price. The client said he got a pair of NIC cards for $37.36 on Amazon, inclusive of shipping.
Optics/SFP+ DAC cable—according to the client case, to connect two NICs together, getting one of the DACs (Direct Attach Cables) is enough. He spent $21.70 to get a 3m SFP+ passive DAC cable delivered to India. If the distance is over 5m, an active version would be better, otherwise SFP+ passive DAC cable is ok.
Switch—this is not necessary if you want to connect NICs directly. However, if you need one with SFP+ slots, FS.com S3800-24T4S Gigabit Stackable Managed Switch with 10GE Uplinks is a good choice. With 24 RJ45 ports and 4 SFP+ ports, it offers flexible port combination form to facilitate user operations so that they can directly connect to a high-performance storage server or deploy a long-distance uplink to another switch.
| Components | Cost |
| --- | --- |
| 2x NIC cards | $37.36 |
| 1x3m passive DAC (shipping to India) | $21.70 |
| Total | $58.06 |
All the components are prepared. The final step is to test the components. The following method is about how the client finish his test.
Connecting all the components directly. Firstly, put the NIC card in a PClex8 slot and then attach the SFP+ DAC cable. PCIe 2.0 x8 can do speeds of up to 24Gbps so bottlenecking of PCIe lanes shouldn't be an issue. Both GNU/Linux and FreeNAS (uses FreeBSD under the hood) detected the NICs out of the box. Finally add both of them up in a 192.168.5.0/30 subnet and make sure you can ping each host from the other.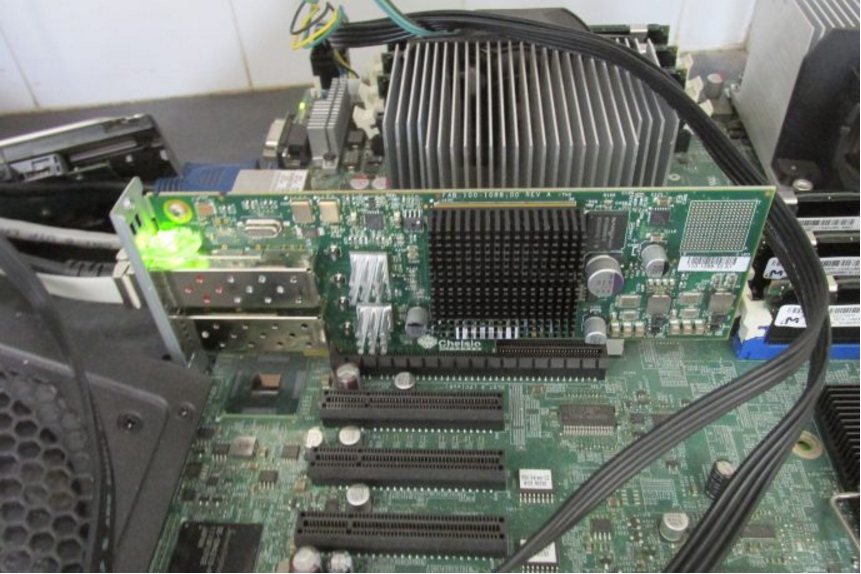 Using a network benchmarking tool test out the network, to see whether it has met our rate goal. The picture below shows one side testing result.

From the other side:

From the result, you can see it can push almost 9Gbps over TCP. Throughput should be higher. And there is very less increase in CPU power while pushing through large amount of data. If you need more throughput, you also can run LCAP or MPIO.
Here is a direct-viewing graph to illustrate the testing result. In the diagram, you can have a clearly comparison of the network traffic as the data volume increases.

This post mainly introduces how to purchase cheap components, NIC card, SFP+ DAC cable and 10G switches, to get 10Gbps home network, as well as a simple testing process. All the component mentioned are available in FS.com to get a 10Gbps network less than $60. And customer service is also provided to meet different application requirements. If you want to know more details, please contact us via sales@fs.com or visit www.fs.com.
Related Article: How to Build 10GbE Network for Small and Mid-Sized Business?
You might be interested in
Subscribe to Get Latest News
Videos
FS Same Day Shipping Ensures Your Business Success