OADM vs. ROADM: What's the Difference?
Over the past few years, the use of wave division multiplexing (WDM) to introduce more bandwidth on a single mode fiber (SMF) has become very popular. To fulfill the requirement of bandwidth flexibility and operational efficiency, the optical add/drop multiplexer (OADM) was introduced to multiplex and route different channels of light into or out of a single mode fiber. The traditional OADM used the fixed lasers/filters for fixed wavelengths, but now it can not meet the increasing use of bandwidth, thus driving the emergence of an improvement on traditional fixed OADM—ROADM. So what is the difference between fixed OADM and ROADM? And what are the advantages of ROADM over fixed OADM?
What Is OADM?
OADM is a device used in WDM networks where many wavelengths of light are transmitted on a single fiber to increase the overall bandwidth between two points. It was created to add/drop one or multiple CWDM/DWDM channels into a few fibers. Thus, the optical add/drop multiplexer can be divided into CWDM OADM and DWDM OADM according to its specified applications. In most cases, OADM is deployed with CWDM or DWDM MUX/DEMUX. Combined with MUX/DEMUX, a cost-effective 3-site point-to-point optical transmission system can be achieved.
So how can OADM perform the point-to-point networks? On account that an OADM can break apart the multi-color band of signals and pull out specific colors to drop from or add into the main signal collection. This function permits intermediate locations between remote sites gain access to the regular point-to-point fiber segment linking them. Specifically, if multiple signals on multiple colors are being transmitted between two locations A and C (as shown in the following picture), and the customer wants to also connect to a data center located at B (in between A and C). An OADM can be placed at B to break out some of the colors. Those broken-out colors will be dropped at location B, connected to equipment in that location, and added back into the collection (now with information from B) to connect to A and/or C. Consequently, the OADM has completed its task. For more detailed knowledge about OADM, please refer to OADM (Optical Add-Drop Multiplexer) Tutorial.

What Is ROADM?
ROADM, short for reconfigurable optical add/drop multiplexer, is a programmable version of OADM. It adds the ability to remotely switch traffic from wavelength-division multiplexing system at the wavelength layer. This is achieved through the use of a wavelength selective switch (WSS) components within the device. With a ROADM, the user can send a command to the hardware and tell it to change what colors are added or dropped at any location. By combining multiple sets of hardware together, ROADMs can connect multiple locations very flexibly and create a network that is easily modified as network requirements change.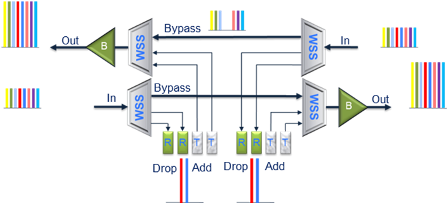 In fact, ROADMs have evolved through three main generations. Today, the ROADM market is in the midst of a transition to the fourth generation of ROADM subsystems characterized by the introduction of four new function: colorless, directionless, contentionless and flex spectrum. It remains to seen that the new technology will bring us more benefits. 
What Are the Advantages of ROADM over Fixed OADM?
As ROADM allows for remote configuration and reconfiguration, it offers many advantages over fixed OADM, which can be also called FOADM. The primary benefit of ROADM technology is to improve the efficiency of a WDM system at the granularity of a single wavelength. There are several advantages of ROADM over FOADM:
1. Simplify Transport Network Design
In ROADM systems, signal switching doesn't need optical-to-electric and electric-to-optical conversions just like FOADM does. The planning of entire bandwidth assignment does not need to be carried out during initial deployment of a system. It provides full flexibility of delivering any wavelength to any node throughout the ring infrastructure.
2. Quickly Respond to New Bandwidth Demands
FOADM solves capacity problem, but it is inflexible for spontaneous bandwidth needs. On the contrary, ROADM-based networks are appropriate when demand is unpredictable, growing, or expected to be moved regularly.
3. Extend Wavelength Transport
ROADM-based networks are enabling an automated optical layer with dynamic multipoint connectivity, independent wavelength add-drop, remote bandwidth allocation that has been enhanced power management capabilities.
4. Remote Reconfiguration
ROADM allows wavelength add/drops at a node point to be remotely reconfigured, rather than requiring a technician to install add/drop lasers/filters with specific wavelengths into the WDM system node, and equalize the power levels of wavelengths so they can co-operate on the same fiber.
5. Better in Service Network Upgradability
ROADM automates the optical layer to remove error-prone service provisioning, and equalizes signal loss across all wavelengths, reducing the need for expensive signal boosting equipment. So it can reduce the costs of networks.
6. Reduce OPEX & CAPEX
By comparison between ROADM vs FOADM, ROADM can reduce time and labor associated with the manual provisioning needed for fixed OADM sites.
Conclusion
Through FOADM vs. ROADM, we can see that fixed OADM plays an integral part of WDM networks, because it opens the opportunity for carriers to build a versatile, agile, easily manageable optical transport layer. Driven largely by cost savings and flexibility, the newer generation ROADM is now bringing more benefits to users and is on the verge of becoming commonplace in the WDM networks all around world.
You might be interested in