What Makes the Best Optical Transceiver Module?
Data center is the heart of your network operation, with fiber optic transceiver the building block of the data transmission. A qualified transceiver offers a reliable solution for incorporating flexibility, manageability and scalability into high-density fiber networks. When it comes to selecting transceiver module, how to make your choice valid and wise? Besides relying on optical transceiver manufacturers, you also have to know the trends on optical transceiver market. And more importantly, to justify the quality and compatibility of the optical transceivers, as well as the services and supports they come with.
The Evolvement of Optical Transceiver
The unceasing need for network speed and efficiency makes data center a more demanding place, and optical transceivers also evolve to satisfy the need for higher density and larger capacity. The broad transceiver portfolio usually consists of the following types, customers could choose the right one based on the specific usage environments and speed needs.
SFP: A wide range of protocols and rates (Fast Ethernet, Gigabit Ethernet, Fibre Channel, Sonet/SDH) which operate in either commercial or extended temperature environments.

SFP+: Designed for 10G Ethernet and 10G Fibre Channels.

XFP: Supporting a variety of 10Gbps protocols (Ethernet, Sonet/SDH, Fibre Channel).

X2: 10G Ethernet standard over a variety of distances.

SFP28: Designed for 25G Ethernet.

QSFP+: 40 Gbps interfaces support 40G Ethernet and OTN standards over multimode or single mode fiber.

QSFP28: 100 Gbps interfaces support 1000G Ethernet and OTN standards over multimode or single mode fiber.
What Makes Good Optical Transceivers?
To be fair, you should always look beyond price when picking a supplier of any network or IT device. Apart from the type of transceiver that basically depends on you device, there are still some critical aspects to consider, such as the transceiver performance, compatibility and interoperability testing, as well as the service and support provided.
Compliant With MSA Standards
Third-party optics has now secured a fairly important position in network component market, since they fill the gap to provide multiple compatible options at a considerably lower price. Currently an increasing amount of customers sees third-party optical transceivers as a decent choice over the cost-prohibitive OEM optics. In this case, transceiver compatibility with your network switch becomes critical. The Multi-Source Agreement (MSA) standards specify all the elements of a fiber optic transceiver - both mechanically and electrically, so optical transceiver companies are able to provide transceivers that are identical in form factor and functionality to original brands, while assuring compatibility across multiple OEM equipment. Driven by the fierce competition on the market, many third-party transceivers can even exceed OEM transceivers in performance, reliability and warranty.
Equipped With DOM/DDM Functions
DDM or Digital Diagnostics Monitoring, is a technology used to monitor real-time transceiver parameters, such as optical output power, optical input power, temperature, laser bias current, and transceiver supply voltage etc. DOM refers to Digital Optical Monitoring, which provides users critical information concerning the TX (transmit) and RX (receive) ports status, input/output power, temperature, and voltage. Apparently, DDM and DOM are identical functions that are usually applied together to deliver real-time monitoring of optical transceivers.These functions help predict module lifespan, locate fault and verify module compatibility, so that network technicians are able to check and ensure that the module is functioning well.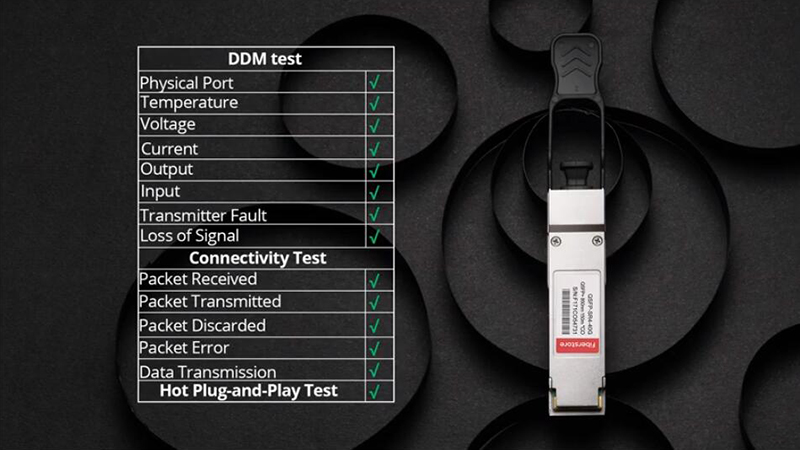 Strict Quality Control for Compatibility and Performance
The failure of a transceiver module will result in the disastrous network outage, thus a quality optical transceiver should be strictly tested on switches and routers from all major OEM vendors during the manufacturing process. It ensures the transceiver module to have the highest quality and performance possible, and justify the compatibility and quality criteria to avoid network disruptions and save time and money. Besides, there are also some prevalent industry standards that a transceiver must comply to, such as MSA, IEC, ISO etc. It is recommended to ask the supplier about the compliance and regulations followed before purchasing an optical transceiver. Qualified optical transceiver modules are expected to be Class 1 laser safe products so that they will not harm the eyes while installation/removal, they also should be RoHS approved for being environment-safe.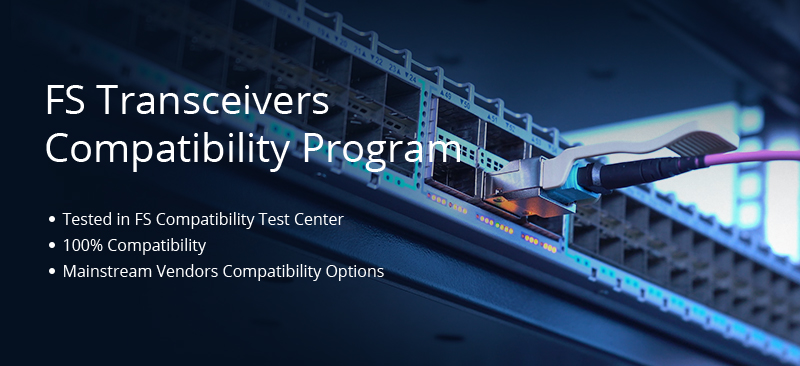 Provided With Reliable Warranty and Support
Even with those fancy brand OEM optics, it is inevitable that a few optics you are using may fail at one point or another. It occurs frequently when updating the software or hardware in data center, causing incompatibility with existing optics. The transceiver module that backed up by superior customer service and technical support will give you a peace of mind when problem occurs. With so many third-party suppliers highly focused and specialized in the optical transceiver market, some will offer a lifetime warranty on their products. And ideally they will be able to troubleshoot and replace the optic for you quickly in a timely manner at a minimize costs. More importantly, service and support are crucial and you should have those for the longest duration possible. Be sure they offer professional help to keep your network up and running.
More Affordable Price
The common transceiver modules on the market today are used in volume and for many access applications, which account for roughly 10% to 15% of network capital spending, thus the cost per gigabit and per transceiver unit is key. A good transceiver module is expected to retain a balance between quality and costs, so you can put dollars back in your IT budget while maintaining your peace of mind. Then take those savings and apply them to the innovation, automation and tools your organization needs to stay competitive, relevant and ready to reach the next level of business success.
Catch up With the 5G Curve
The next-generation network - 5th Generation (5G) wireless systems are rapidly evolving from existing 4G/LTE network and moving fast forward. 5G features higher capacity and lower latency which will support a higher density of mobile users and lay a solid foundation for IoT. It hence significantly increases the demands for high-rate 5G optical transceiver, both in quality and quantity. As for the chipset, silicon photonics based fiber optic transceivers are capable to meet the large bandwidth requirements of new 5G and IoT applications. Optical transceiver modules that have better heat-resistance to withstand the harsh environment is expected a mass deployment in the 5G era. And as 5G may inevitably encounter the fiber exhaust, it will need optical transceivers that are more fiber-conserving.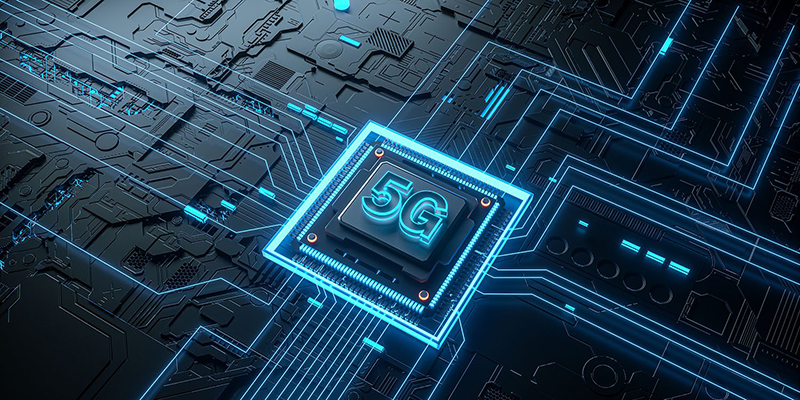 Conclusion
When purchasing optical transceivers, identifying the qualities with the lowest prices is a common goal. Wise customers should pick a reliable third party optics suppliers holistically, and consider factors like breadth of products supported, compatibility and testing processes, supports, and reputation into their buying decisions. FS broad product selection and innovative technology have made us the optical module manufacturer of choice for all major networking equipment vendors worldwide. If you need further info or to buy optical transceivers, please contact us. FS offers a wide range of optical transceivers and cables with guaranteed plug and play operation while providing cost optimized solutions and deployment flexibility.
You might be interested in