Selecting the Right Horizontal Cable Manager
Improper cable management can easily result in cable damage and failure, which will lead to data transmission errors and performance issues as well as system downtime. Thus one of the important things that should be taken care of is cable management after you have mounted all your network devices in the server rack. Vertical and horizontal cable managers are two essential tools for data center racks and cabinets cable management. This post will mainly focus on horizontal cable manager. For more details on vertical cable management, please read Proper Vertical Rack Cable Management Solutions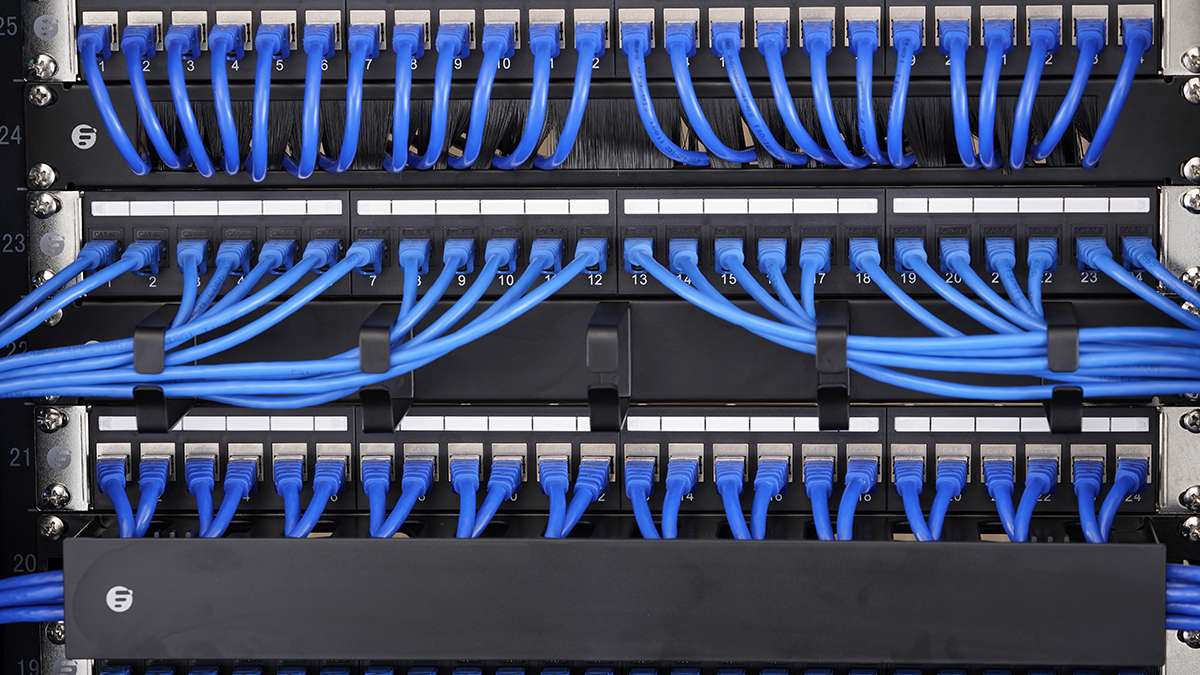 Horizontal Cable Management Basics
Horizontal cable management system is usually installed within racks or cabinets, commonly used to manage cables on front racks and draw cables away from equipment neatly. It is typically one or two rack units high, but could be higher if necessary. Horizontal manager is used, most commonly, with patch panel or rack-mounted device to manage cables traversing into the vertical manager. It can manage nearly any kind of cable – fiber, coax, patch cables, copper wiring and more, making sure rack cables are well-organized and protected.
Advantages of Horizontal Cable Manager
Minimize Downtime
When rack cables are unorganized, a technician can spend hours tracing wires when something goes wrong. In most circumstances, we can't afford to stay offline while a technician unravels a tangled nest of cables. Horizontal cable manager can effectively avoid this situation as it arrange cables neatly. This makes it easy for the technician to identify and access where goes wrong and fix it in far less time.
Good for Airflow and Cooling
As the horizontal cable manager makes cables gathered tidily in the rack, there is less risk of airflow being impeded. This helps to ensure data center runs efficiently, as fans and air-conditioning units will not have to work overtime to cool equipment.
Promote Growth
With horizontal cable management, we can easily consolidate equipment within racks or add additional racks without messing up cables. And since bundles and individual cables are able to be identified easily, there is no worry of time wasting on tracing what goes where in a move. And we can add new ports and cables without creating problems.
Cables live longer
With horizontal cable manager, rack cables can be installed properly and minimized the risk of excessive bending or subjecting cables to heat sources or sharp edges. Thus it diminishes damages and increases the life of cables.
Select A Right Horizontal Cable Manager
There are various types of horizontal cable managers in the market, each has its own advantage for different applications. To make better horizontal cable management systems, you need to select and buy a suitable one for your own case. Here introduce three common types of horizontal cable manager in details for your reference:
Horizontal Cable Manager with Finger Duct
Horizontal cable manager with finger duct is one of the most popular styles of horizontal cable management solution on the market. It offers a series of fingers and pass-through holes for routing rack cables and reducing cable strains. In addition, it often features a removable top cover that makes it easy to add or remove bundled cables quickly. Horizontal cable manager with finger duct is usually used with server racks and cabinets, structured wiring closets and network distribution cabling to keep cables neat and tidy.
Horizontal Cable Manager with D-Ring
Unlike finger duct cable manager, the horizontal cable manager with D-ring is an open-access management tool, which means the D-rings provide an "open" and efficient way to manage cables on the rack. In addition, the modularity design of D-rings also offers great flexibility. Thus Components and cables can be easily added as system requirements grow. D-ring horizontal cable manager can be used in multi-media applications with all coax, copper and fiber optic cables.
Horizontal Cable Manager with Brush Strip
Horizontal cable manager with brush strip is often made of steel and nylon bristles. It is mainly used for allowing cables to be passed from the front to the rear of the rack, with the advantages of promoting proper airflow through the rack and keeping dust and dirt out of the rack.
Conclusion
Horizontal cable manager provides an efficient way to manage high performance copper, fiber optic, or coaxial cables on server racks. It is typically used in applications where Moves, Adds and Changes (MAC) frequently happen. FS.com provides a wide array of cable management tools in multiple configurations. Our popular Horizontal cable management solution includes single-sided/double sided finger duct horizontal cable manager, metal horizontal lacer panel with D-rings, etc. Whatever you need to tidy up your server rack cables, feel free to visit www.fs.com.
You might be interested in