Third-Party Transceivers: New Opportunities for Data Center and 5G Applications
With the development of various IT solutions, 5G applications and data center upgrades, a large demand for optical modules emerged in recent years. Among these optical modules, third-party modules are becoming increasingly popular. This post will delve into why third-party optics will become popular and what opportunities it brings for 400G and 5G applications.
Why Third-Party Optics Is Getting Popular?
When third-party optics or compatible transceivers firstly emerged, people doubted their performance and compatibility compared to OEM transceivers (or original brand optics) provided by original equipment manufacturers. Thus, OEM transceivers were commonly adopted. After decades of development, third-party transceivers have proven their good quality. At the same time, many limitations have been found in OEM transceivers. The OEM modules are much more expensive than third-party ones and they have very limited services. For example, they don't support free upgrade, which is important for network users.
Furthermore, in addition to the huge discount (normally over 80%) and lifetime free upgrades compared with the OEM transceivers, third-party optics support legacy OEM equipment like OEM switches. It is hard to find matching transceivers from the OEMs as long as the product is end-of-sale. Even if the product from an OEM is available, it is not convenient to buy OEM transceivers when there are different OEM equipment in one network. In such situations, some third-party vendors can provide transceivers of multi-party compatibility, and some of them even provide recoding services to change module compatibility and help users solve the incompatibilities between different devices and make better use of OEM modules at hand.
Most importantly, third-party transceivers provide better services. And these transceivers have no influence on the OEM equipment warranty according to the Sherman Anti-Trust Act, a federal law formulating that OEMs cannot invalidate warranty or other support when users adopt third-party compatible products. To be short, third-party optics offer the same tested quality as OEM transceivers with a much lower cost and lifetime warranty. Given all the advantages against OEM modules, third-party transceivers have become a necessity.
Third-Party Transceiver Current Status and Trends
With the rise of third-party transceivers, many third-party vendors emerge. These vendors offer transceivers with a much lower price than the OEMs but with the same quality and even better services, which facilitates the quick development of third-party optics and makes the third-party optics hold an increasing share of the optical transceiver market.
According to Research Nester, a leading service provider for strategic market research and consulting, the global third-party transceiver market is predicted to achieve USD 1.3556 billion by 2027 from USD 620.0 million in 2017. And the year-on-year growth rate in 2027 will achieve 8.18% compared to the previous year.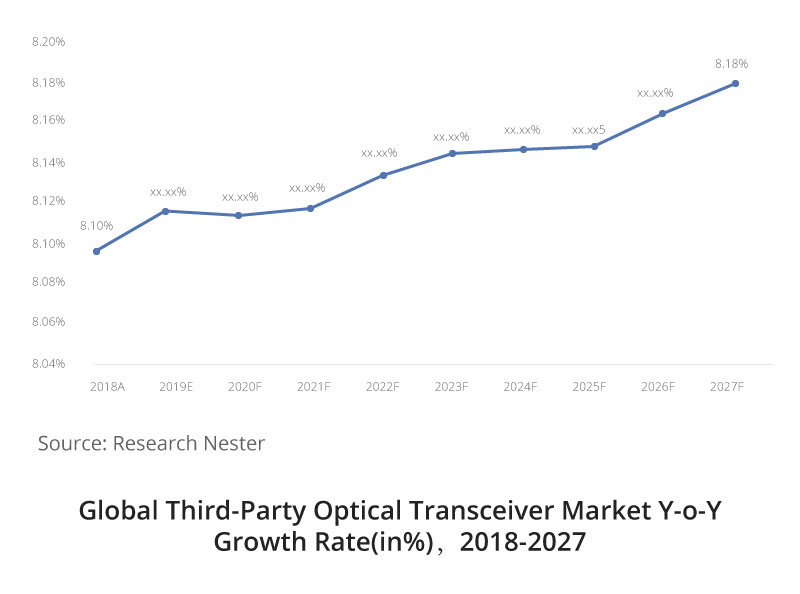 The Role of Third Party Optics in Data Center and 5G Applications
The global third-party optical transceiver market is thriving on the back of two main market opportunities. One is the high rate network demand in the rising 5G network and cloud solutions, the other is data center upgrades, such as the transition to 400G.
No one knows what the basic infrastructure of 5G will be like since it is still in the trials. With rapid technology updates, many pre-deployed modules are likely to be abandoned. Therefore, deployment of devices and modules in each stage such as fronthaul, mid-haul and backhaul needs cost-saving measures to reduce the risk of uncertainty. Third-party vendors provide cost-effective modules such as 10G WDM SFP+, 25G DWDM and 100G QSFP28 modules, which can help service providers reduce cost and similar risks to a certain extent.
As the dramatic data center traffic increases due to various applications, demand for transceivers with high transmission rates (normally over 100G) increases as well. Nowadays, many third-party vendors could offer 25G/40G/100G transceivers which have the same performance as the OEM modules. While, for higher-rate modules like 200G, 400G, etc., it takes time for data center upgrades in the whole industry. Under such circumstances, third-party transceivers have comprehensive benefits than OEM ones to offer the chance to do tests and try.
However, opportunities are often accompanied by challenges. Not all third-party transceiver providers are created equal. Many small third-party module vendors can't assure the quality of the transceivers, especially the newly released versions like 400G transceivers. These vendors don't have a qualified technical team and equipment to test the performance of their products. Therefore, choosing third-party transceivers with quality-assured tests is essential and is a big challenge to many third-party vendors.
Another big challenge is that some OEMs lack hardware to support third-party modules and they give caution messages against the use of third-party optical transceivers. This requires third-party vendors to provide qualified products and better services to win the trust of customers all the time.
From all the above, third-party transceivers could not only offer advantages such as cost reduction, better services, etc. compared to OEM optics, but also reduce the risk of using the newest technologies or applications like 5G. Although challenges still exist, it is worthwhile to enter the third-party world.
You might be interested in