Trends of Optical Products in 5G Revolution
The 5G revolution is projected to have a mass impact on the optical networking industry going forward in the 5G network infrastructure. And the coming 5G commercial deployment will create considerable new market opportunities for fiber optics, fiber optic cables and other high-speed connectivity optical products.
5G Promotes the Growth of 25G/50G/100G/200G/400G Transceivers and IC Chips
5G reconstructs the 4G baseband unit (BBU), radio remote unit (RRU) and antenna into centralized unit (CU), distributed unit (DU) and active antenna unit (AAU), which determines that the 5G network will include fronthaul, midhaul and backhaul. These changes have put forward new demands on optical transceivers to meet the high bandwidth and distance requirements associated with critical links in the 5G network architecture.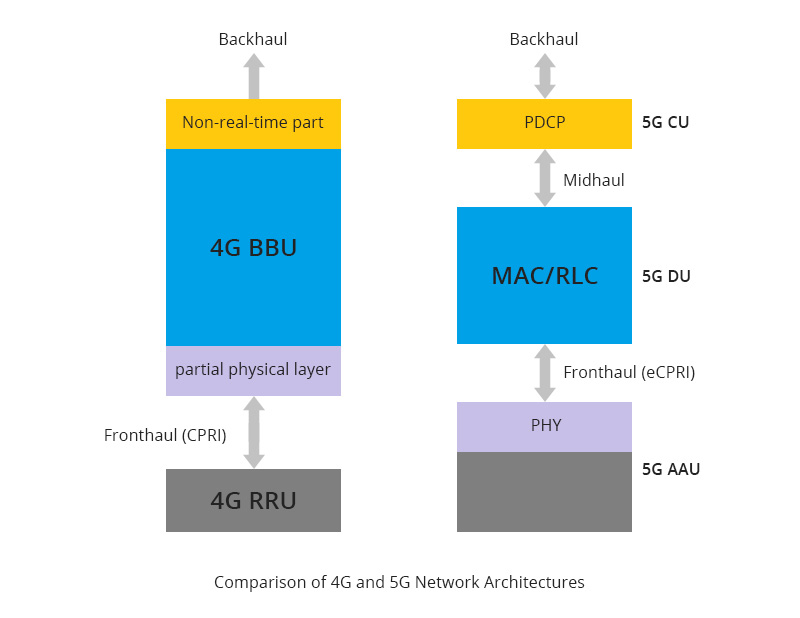 25G/100G Transceivers for 5G Fronthaul: 25G Will Dominate
5G networks require higher base-station/cell-site density, therefore the demand for high-rate optical transceivers will significantly increase. It is expected that 25G/100G optical transceivers shall be the preferred solutions of the 5G optical fronthaul network. According to a report from EJL Wireless Research, the revenue for the fronthaul optical transceiver (OTRX) market will reach $630 million by 2021, driven by volume shipments of 25G and 100G OTRX solutions supporting massive MIMO 5G networks.
As the eCPRI (enhanced Common Public Radio Interface) protocol interface (typical rate 25.16Gb/s) is used to transmit baseband signal of the 5G base station, 5G fronthaul networks will significantly rely on 25G optical transceivers. It is estimated that the 25G optical module market is anticipated to reach a 2 million demand count in 2021 as carriers work to get infrastructures and systems ready to facilitate the transition to 5G. Considering the 5G AAU full outdoor application environment, 25G modules used in the fronthaul network need to meet the industrial temperature range of -40 ° C - +85 ° C, as well as dustproof, etc. And both 25G gray and color transceivers will be deployed according to different fronthaul architectures used for 5G networks. 25G gray light modules are more suitable for fiber-optic point-to-point direct connection networks due to rich fiber resources. While 25G color light modules are mainly installed in Passive WDM and Active WDM/OTN networks because they can provide multiple AAU to DU connections by using one optical fiber. Read 25G Transceiver Market Pushed by 5G Front-Haul Network to learn more.
100G optical transceiver is also considered as the preferred solution of the optical fronthaul network. In 2019, the 100G transceiver, together with 25G modules, had been set for standard installations to stay even with the fast swiftness of 5G commercial applications and services. In fronthaul networks which require higher speed, 100G PAM4 FR/LR and 100G PAM4 DWDM transceivers may be deployed. 100G PAM4 FR/LR modules can support 2 km (FR) or 10 km (LR), while 100G PAM4 DWDM can support 3-5 km without T-DCM and 20 km with shared T-DCM and BBU site amplification.
50G PAM4 Optical Transceivers Will Be Mainstream for 5G Midhaul
5G midhaul network has requirements for optical transceivers at 50Gbit/s. Both gray and color optical transceivers can be adopted. And the 50G PAM4 QSFP28 transceivers, using LC optical interfaces and single-mode optical fibers, will become mainstream for 5G midhaul because they offer a simple way to double the bandwidth over a single-fiber link without having to install filters for wavelength multiplexing. They can support 40km with shared DCM and BBU site amplification. The demand for 50G optical modules mainly comes from construction of the 5G load-bearing network. Its market is expected to reach 10 million levels if widely adopted by the 5G bearer network.
100G/200G/400G Optical Transceivers for 5G Backhaul: 100G Is the Most Urgent
The 5G backhaul network will need to carry much more traffic than 4G due to higher performance and higher bandwidth 5G NRs New Radios (5G New Radios). Therefore the aggregation layer and core layer of the 5G backhaul network have requirements for 100Gb/s, 200Gb/s, and 400Gb/s rate DWDM color light modules. 100G PAM4 DWDM transceivers will be mainly deployed in the access and aggregation layers, which can support 60km with shared T-DCM and optical amplification. The core layer transport requires high capacity and extended distance of 80km, therefore 100G/200G/400G coherent DWDM transceivers are needed to support metro core DWDM networks. Now the demand for the 100G optical transceiver by the 5G network is the most urgent, and service providers will ultimately require 200G and 400G bandwidth to achieve the required throughput for 5G deployments. It is estimated that 5G backhaul transport equipment revenue will reach $3 billion by 2024 reported by Dell'Oro Group, which drives the growing demand for 100G, 200G, and 400G transceivers.
From the latter half of 2019, 5G commercial deployments have been led by China Mobile, China Telecom, China Unicom, Korea Telecom, SK Telecom, LG Uplus, Verizon, AT&T, and T-Mobile. This has lifted demand for optics to a new record and provided great opportunities for the transceiver market. A report from Research and Markets has predicted that the global optical transceiver market size is projected to grow from USD 5.7 billion in 2020 to USD 9.2 billion by 2025, growing at a CAGR of 10.0% from 2020 to 2025.
IC Chipsets for Optical Transceivers Is Heading Into a High-Growth Period
After several years of stagnant growth, the market for IC chipsets used in optical transceivers is reaching an inflection point now. This is mainly driven by the wider deployments of 50GbE, 100GbE, 200GbE, 2x200GbE, 400GbE and 2x400GbE transceivers with PAM4 DSP chips used for 5G midhaul and backhaul networks. A report from LightCounting says that the market for IC chipsets used in optical transceivers is entering a period of high growth, with a CAGR of 20% in 2020-2024. Sales of PAM4 DSP chipsets for applications in Ethernet transceivers and AOCs will account for half of this market segment by 2024. Strong demand for coherent DSPs used in DWDM transceivers will also contribute to the growth.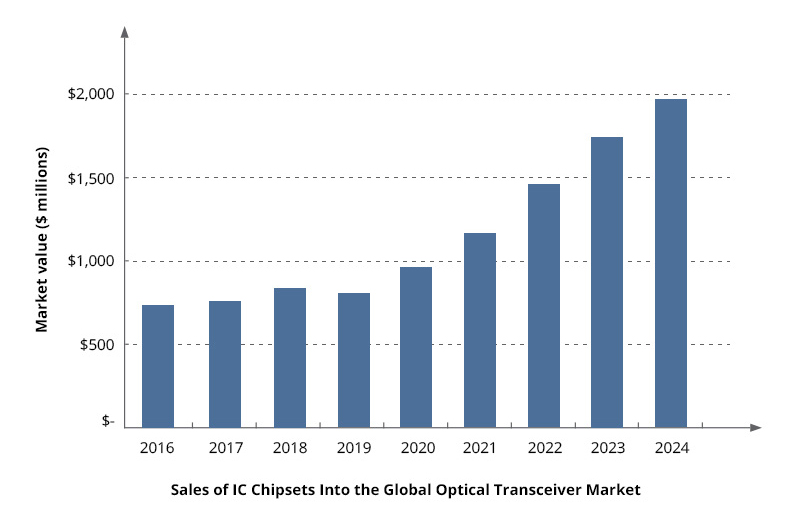 The roll out of 5G also boosts the silicon photonics chips market which is expected to show a remarkable growth in the future. In terms of market value, the optical waveguides, occupying a total market share of 45.4%, dominated the global silicon photonics market in 2015. And it is expected to reach a significant rate by the end of 2022, with a CAGR of 21.69%. In terms of product segment, the optical transceiver market held the highest share in 2015 and continues to be on the top. As the price of silicon photonics technology is showing a constant downfall, its demand has been extensively increasing. Over the years, Companies like Intel, Cisco, IBM and Juniper Networks are showing great interest and investing extensively in the silicon photonics chips market in order to improvise their products as well as to capture a major market share. Intel, for example, had introduced its first 100G silicon photonics transceivers in 2016 and demoed its first 400G silicon photonics transceiver in late 2019.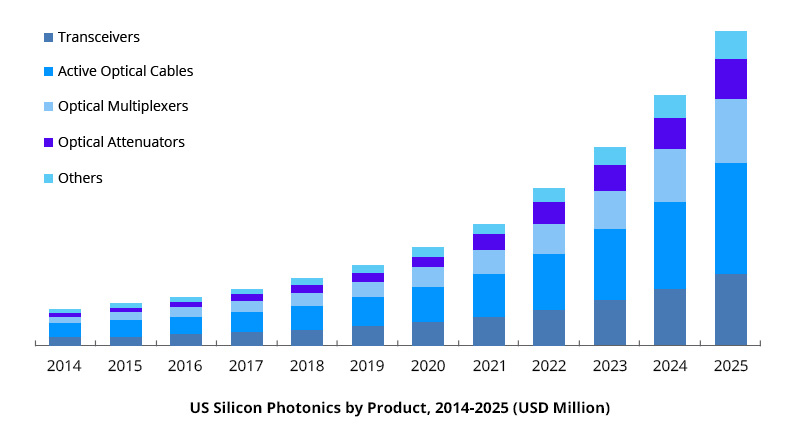 5G Drives the Growth of Fiber Cable and Structured Cabling Markets
Optical fiber is the preferred option to keep up with 5G bandwidth demands because of its scalability, security and ability to handle vast amounts of traffic with lower attenuation, plus it can offer unlimited bandwidth potential. In the 5G network infrastructure, abundant fiber optic cables are required to connect micro base stations and edge nodes. This will be the fundamental factor driving the growth of optical fiber demand. Furthermore, 5G low latency and high reliability application scenarios require edge computing solutions which also calls for fiber optic cable deployments. It is conservatively predicted that the total fiber demand in 2020 is 350 million core kilometers, with the demand expected to grow to 420 million core kilometers in 2021. Besides, the demand for fiber is anticipated to rise at a growth rate of 20 percent after 2020. The Asia Pacific region has emerged as the largest consumer market of the fiber optic cable industry. According to GSMA, 5G connections (excluding IoT) are anticipated to reach USD 670 million in the Asia Pacific by 2025, accounting for approximately about 60% of the global 5G connections. North America is the second-largest consumer market, followed by Europe.
Furthermore, optical fiber cables used for 5G networks should also be able to handle increased speeds and density while simultaneously reducing latency, consuming less energy, and generating less heat. In support of these new market demands, worldwide cable manufacturers such as Prysmian and Corning are working hard in developing innovative optical fiber cables.
The implementation of 5G also creates huge opportunities for the structured cabling market. In the era of 5G, there will be more businesses adopting structured cabling solutions to ensure their network security and the safety of IT devices. According to a recent report by Fact.MR, the structured cabling market grew at a CAGR of 6% from 2013 to 2017. In 2018, the value of the structured cabling market was estimated at nearly US$ 16 billion, and is forecast to record a CAGR of approximately 8% through 2028. Now North America still remains the leading structured cabling market. However, the Asia Pacific is predicted to be a high-growth market for structured cabling.
5G Boosts Demand for Fiber Optic Test Equipment
Fiber optic test equipment is the critical enabler of 5G commercial deployment, which will help operators and equipment suppliers validate their hardware, software and configurations to ensure they perform as expected and deliver an excellent customer experience. With the increasing investment for 5G infrastructure, the demand for equipment to test the 5G ecosystem at the chipset, device, network layer, and application layer levels will be rising. According to Frost & Sullivan's recent analysis, driven by the demand for specific testing solutions to validate 5G-based devices and chipsets, the global market for 5G testing equipment and solutions is expected to reach $2 billion in 2024, expanding at a CAGR of 11.5%. Asia Pacific region will be the biggest revenue generator for the global fiber optic test equipment market with 42.8% of the total 5G test market revenue by 2024, followed by North America and Europe with shares of 33.8% and 18.1%, respectively.
5G testing equipment and solutions need to keep pace with the network concepts and technologies developed for 5G. There are five important capabilities that fiber optic test equipment must measure for 5G networks, which are high bandwidth, data splicing, packet-based testing, network synchronization, and eCPRI/IEEE1914.3 (RoE).
Coronavirus Impacts on 5G
2020 was believed to be the year of 5G. But 5G deployment timelines for network operators will be impacted to some extent by the unexpected coronavirus pandemic. Recently, the 3GPP has delayed the upcoming release of additional 5G standards by three months due to the spreading coronavirus. This will directly delay the progress of 5G-enabled product development. However, the long-term prospects of 5G remain optimistic as it is the crucial foundation for the development of the Internet of Things (IoT), virtual reality (VR), big data analysis and other high bandwidth applications.
You might be interested in
Subscribe to Get Latest News
Videos
FS Same Day Shipping Ensures Your Business Success