25GBASE-T, or 25G Ethernet over twisted-pair, has become a sought-after technology over the past few years driven by cloud computing. With 25Gbps on a single channel, 25GBASE-T can also be a viable solution to meet the ever-higher demands for bandwidths, making it especially suitable for data centers and server rooms. This article will give an all-round introduction of 25GBASE-T.
25GBASE-T Standard and Technology
The 25GBASE-T standard was developed by IEEE 802.3 Task Force 802.3bq in 2016, which uses all twisted-pair cabling to support data transmission up to 25Gbps.
| Name | Standard | Media | Media Count | Gigabaud per lane | Reach | RS-FEC (802.3by CL 108) |
| --- | --- | --- | --- | --- | --- | --- |
| 25GBASE-T | 802.3bq (CL 113) | Cat 8 balanced twisted-pair structured cabling | 4 pairs | 2.000 | 30 m | No |
Table 1: 25GBASE-T Standard
25GBASE-T technology can be built on the well-established 10GBASE-T technology and developed to support 40GBASE-T. Comparing 10GBASE-T, 40GBASE-T, and 25GBASE-T transmission parameters in table 2, including baud rate, cancellation, relative signal-to-noise (SNR) margins, it demonstrates that the complexity of 25GBASE-T cabling over 30m resembles 10GBASE-T cabling over 100m. And the Channel row also indicates that 25GBASE-T follows the 30m-channel design of the earlier developed 40GBASE-T technology, largely reducing the complexity of 25GBASE-T equipment and minimizing time to market. In addition, SerDes (Serializer/Deserializer) technologies have already been widely available for 25GBASE-T. And technologies such as single-lane of 100GBASE-T 4-lane PMD (Physical Medium Dependent) and CAUI-S (Gigabit Attachment Unit Interface) specifications, as well as SFP28 can be reused in 25GBASE-T.
| Parameter | 10GBASE-T (ref-CI55) | 40GBASE-T (ref-CI 98d1.0) | 25GBASE-T (example) |
| --- | --- | --- | --- |
| Channel | 100m, CI55.7 (e.g., Cat6a) | 30m, CI 98.7d1.0 (e.g., Cat8) | 30m, CI 98.7d1.0 (e.g., Cat8) |
| Baud (MHz) | 800 | 3200 | 2000 (example) |
| RX_ENOB (bits) | 9.5-10 | 7.8 | 6.5-7.5 |
| Channel IL (dB, Nyquist) | 46.9 | 29.4 | 22.6 |
| Channel round trip (baud) | 880 | 1056 | 660 |
| Echo Cancellation (dB) | 55 | 47 (-6dB) to 55 | 43 (-12dB) to 55 |
| Next Cancellation (dB) | 40 | 34 (-6dB) to 40 | 28 (-12dB) to 40 |
| FEXT Cancellation (dB) | 25 | 22 (-3dB) to 25 | 19 (-6dB) to 25 |
| Relative SNR Margins (dB) | 0 (ref) | +2.7dB to 0.2dB | +8.7dB to +4dB |
Table 2: 25GBASE-T vs 10GBASE-T vs 40GBASE-T
25GBASE-T Benefits
Why is 25GBASE-T so well-received within such a short period of time? The main reasons are the following 25GBASE-T benefits.
Excellent Switch I/O Performance and Fabric Capability
25GBASE-T allows bandwidth capacity to be scaled cost-effectively so as to support next-generation server and storage solutions for cloud and web-scale data centers. Through 25GBASE-T, these data centers can achieve 2.5 times the network bandwidth performance of 10GBASE-T. Transmitted across a single channel, 25GBASE-T also provides 4 times the switch port density per switching chip and network scalability of 40GBASE-T requiring 4 channels to fully utilize the port capabilities.
Practical Auto-Negotiation and High Compatibility
25GBASE-T enables switch ports to automatically link at different speeds, simplifying network upgrades and reducing connectivity costs with an industry-standard interoperable specification, which makes 25GBASE-T easier enter in the early market occupied by the existing devices. The commonly interoperable systems are 10GBASE-T, 40GBASE-T, 50GBASE-T, 100GBASE-T. 25GBASE-T offers backward compatibility with 10GBASE-T and potential forward compatibility through auto-negotiation, undoubtedly increasing connectivity efficiency and saving costs.
Flexible Topology
25GBASE-T PHY (Physical Layer) can support a much broader range of topology architectures than 25G over Twinax DAC (direct attach copper) connections to easily facilitate all types of cabinet-to-cabinet, (Middle of Row) MoR, and (End of Row) EoR switch-to-server structures, which is attributed to the longer transmission distance of 25GBASE-T. And many large cloud data centers see as an advantage for managing switches in hundreds of racks. Limited to about 5 to 7m, 25G DAC cables are primarily targeted to ToR (Top of Rack) topologies where switches connect directly to servers in the same cabinet.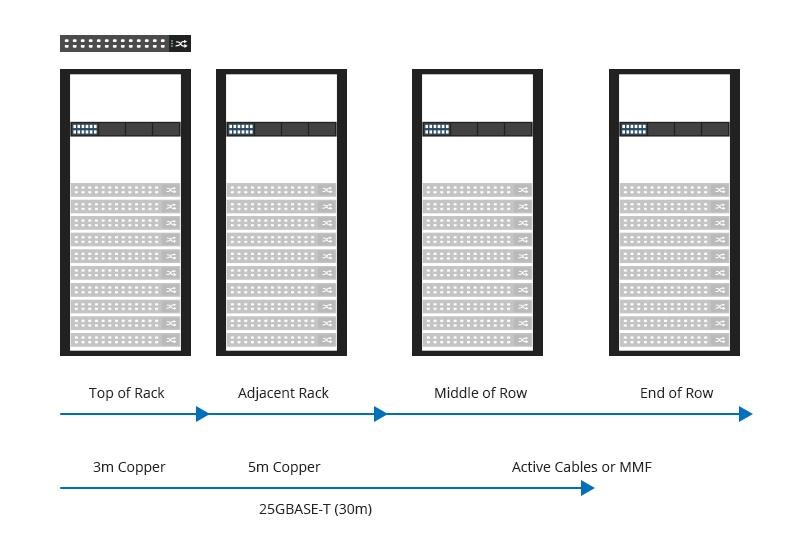 Figure 1: 25GBASE-T Topology
Lower Costs
25GBASE-T can reduce capital expenditures (CAPEX) and operating expenses (OPEX). Utilizing a 1x25Gbps channel, 25GBASE-T enables a simple and seamless 10G-25G-100G migration path compared with the traditional 10G-40G-100G path. In addition, the 10G-25G-100G path also avoids rewiring and network redesign, significantly cutting down the required number of switches and cables, namely CAPEX. As to the OPEX, 25GBASE-T offers superior switch port density by requiring just one channel compared with the four-channel 40GBASE-T, which brings lower power requirement and lower cost per unit of bandwidth.
25GBASE-T Application
As mentioned earlier, the application advantage of 25GBASE-T lies in its 30 m reach zone over the same Cat8 cables as 40GBASE-T, filling the gap for longer distances to support MoR and EoR connections and making it popular in cloud data centers for switch-to-server applications. Read this article for more details: Cat8 Cable for 25G/40GBASE-T Network. It is shown that 25GBASE-T can work anywhere in data centers, including fat tree, leaf and spine architecture, interconnected fat tree fabrics, traditional three-tier architecture, for full-mesh, interconnected mesh, and centralized switching.

Figure 2: 25GBASE-T Switch-to-Server Connection
Conclusion
Nowadays 25GBASE-T has gained more and more attention, as it offers excellent network bandwidth performances and high scalability with good compatibility. It also enables a more cost-effective path for network migration to 100G and ever higher speeds without rewiring. And 25GBASE-T is suitable for MoR and EoR architectures while saving considerable costs for cabling and management. All in all, 25GBASE-T is an optimal solution for cloud data centers and server rooms.
Related Article:
25G Direct Attach Cables (DAC & AOC) Overview
You might be interested in