Big Sale on FS N-Series Switches
Dec 22nd, FS News - Didn't get your dream deal on Black Friday or Cyber Monday? The good news is that you still have time in FS! As the Christmas is almost here, FS is offering a big discount on our N-series switches to give back to our customers, saving you $580 to $1100.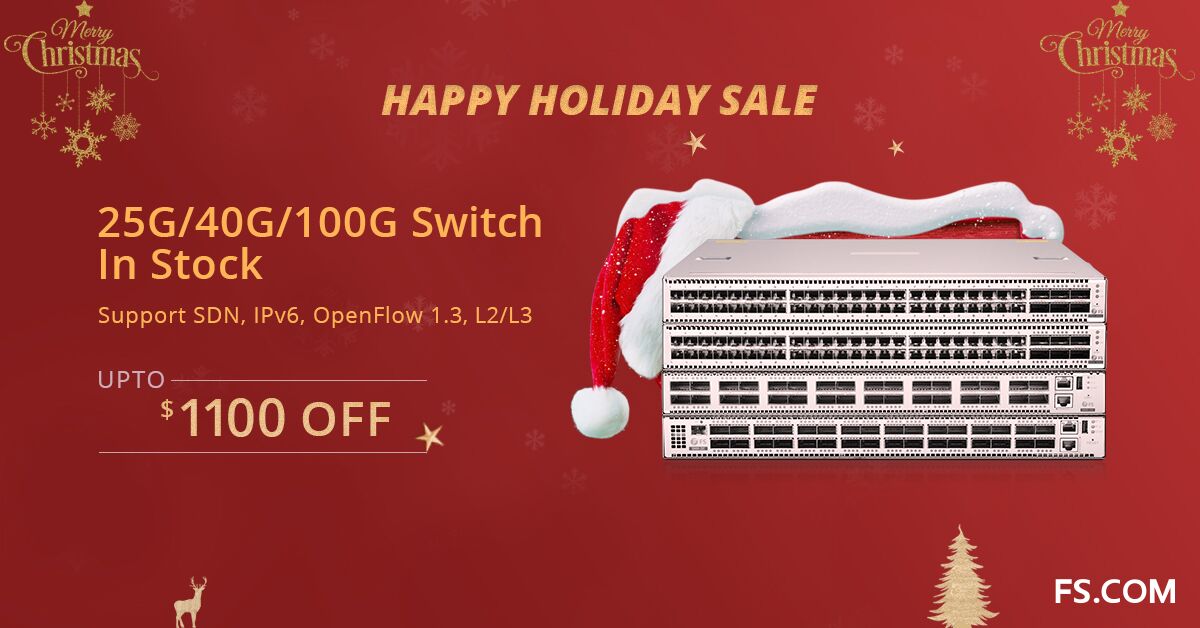 As part of our core competitive products, N-series high-performance L2/L3 switches can support for Software Defined Networks (SDN) via OpenFlow 1.3, offering many high-end features such as IPv6, VxLAN/NVGRE, VPLS, QinQ, VPC, and sFLOW. Equipped with the chip from Broadcom and CPU from Intel, our N-series switches can definitely bring excellent and robust performance to the user's network. Now for such exceptional products, you can bring them home at an amazingly low price. We offer same day shipping service with a large stock. Part of the products are listed below.
Product Category
Product Description
CPU
Switching Chip
Original Price
Discounted Price
Discount Percentage

Switches with Broadcom ICOS System

N5850-48S6Q (48*10GbE+6*40GbE) 10G SDN Switch with L2/L3 ICOS

Intel Rangeley C2538

Trident2 BCM56854

US$4,999

US$4,419

US$580

N8000-32Q (32*40GbE) 40G SDN Switch L2/L3 ICOS

Intel Rangeley C2538

Trident2 BCM56850

US$6,699

US$5,819

US$880

N8500-32C (32*100GbE) 100G SDN Switch with L2/L3 ICOS

Intel Rangeley C2538

Tomahawk BCM56960

US$10,299

US$9,199

US$1,100

Bare-metal Switch

N8500-48B6C (48*25GbE+6*100GbE) 25G L2/L3 Switch loaded with ONIE, Bare-Metal hardware

Broadwell-DE

Tomahawk+ BCM56967

-

US$6,199

-
The Broadcom ICOS that our N-series switches have been running is a robust, programmable full featured and most widely deployed networking operating system for enterprise and data center networking. It's built-in arbitration between conventional and SDN flows allowing customers seamless integration to Next Gen Open programmable networks. Other advantages of ICOS are listed as follow.
1. Ease of Use: Configuration and Management
ICOS supports easy configuration and management through open source server based tools. Additionally, it offers full industry standard CLI and linux command shells for configuration management. The Management plane supports a wide variety of management interfaces like CLI, SNMP, REST and Open API.
2. Server Like Linux Experience
ICOS runs as a linux application with seamless integration of linux tools while offering server like experience.
3. Best in Class Enterprise & DC Features
ICOS offers advance feature-sets for enterprise and data center, all in one common code with a choice of Linux, Industry standard CLI or programmatic interface.
And for our bare-metal switch, the compatible operating systems include: Cumulus - Cumulus Linux,  IP Infusion -OcNOS, Open Compute Project - Open Network Linux, Broadcom - ICOS,  Snaproute - Snaproute FlexSwitch, Pica8 - PicOS.
Note: For N-series switches that have already installed with robust Broadcom ICOS, they are also compatible to the above third-party operating systems. Customers can make adjustments based on their actual needs and preferences, which may require a longer adaptation period. For more details, kindly contact us at Sales@fs.com and wish everyone a happy Christmas.
You might be interested in