Build and Expand Your Network with FS New Introduced PoE Switches
Dec. 20th, Shenzhen, FS News–Recently, FS has introduced a series of fully managed PoE Gigabit switches, delivering robust performance and intelligent switching for growing networks.
PoE (Power over Ethernet) technology enables an access point to receive electrical power and data over the same cable. The PoE switch provides power and data from a single point, using PoE over a single Cat5 cable, which is ideal for small business networks that need to inexpensively use PoE to deploy wireless access points, VoIP phones, and IP-based network surveillance cameras that are optimally installed on a ceiling or high on a wall, away from most electrical outlets.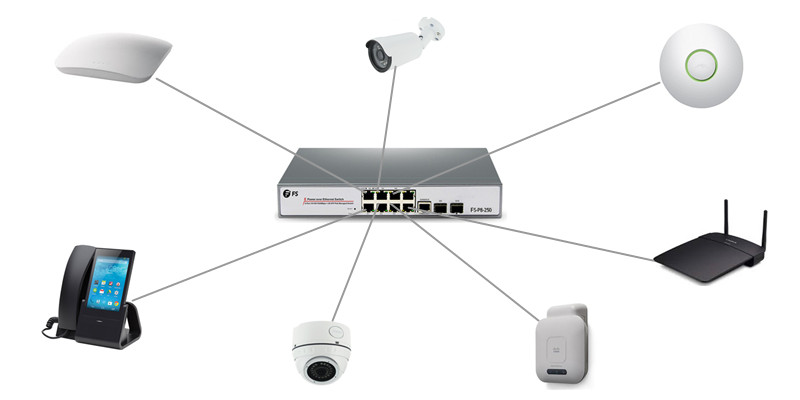 The PoE switch models introduced this time are available with 8, 24, and 48 PoE Gigabit Ethernet, which can provide fiber connectivity options for easy expansion of your networks. Each 8-port and 24-port PoE switch model includes two SFP ports for uplinks of up to 1 Gbps. Each 48-port model includes four SFP+ ports for high-capacity uplinks of up to 10 Gbps, so you can directly connect to a high-performance storage server or deploy a long-distance uplink to another switch.
PoE switches give you an easy way to add PoE devices to your network. The plug-and-play switches will automatically detect whether connected devices are PoE and send power accordingly. Easy, reliable and economical, PoE Gigabit switch will be a best choice to install and manage your devices. For more information, please contact us over sales@fs.com or call us on +1 (718) 577 1006.
FS is a leading manufacturer and supplier of fiber optic subsystems, components and solutions. With last four years growing, we have built our strong and professional teams in optical communication product R&D, systematic solution and supply chain management. Nowadays, we are doing business with more and more worldwide well-known corporations like CloudFlare, EXFO, Apple, MRV, JDSU, ADTRAN, Avago, EMC, etc., who have put large volume of our products into production for their Data Center or Cloud Computing application and speak highly of our service and products. We will be working together with our customers, partners and co-workers to benefit them more and contribute more to the global popularity of optical communication.
You might be interested in