DWDM Tunable SFP+ Modules: Optimized Transceivers for Extending Data Center Networks
Aug 14th, FS News - Currently, enterprise data centers and networking environments are undergoing an infrastructure transformation, requiring higher speeds, greater scalability, and higher levels of performance and reliability. As a customer-oriented company, FS has extended its family of SFP+ transceiver modules by launching 10G tunable SFP+ DWDM modules to better meet the demands of business.
The conventional light sources in optical communication field are all the laser modules based on a fixed wavelength. However, the fixed-wavelength DWDM lasers have come with some problems, requesting a large number of common optical transceivers with different wavelengths to support the dynamic wavelength assignment in optical network and improve network flexibility, but the usage rate of each transceiver is very low, thus resulting in a waste of resources. To solve these problems, FS has successfully developed its own tunable optical modules, where different DWDM wavelengths can be configured and output in the same optical module, and these wavelength values and intervals all meet the requirements of ITU-T (50GHz DWDM ITU-T Full C-band).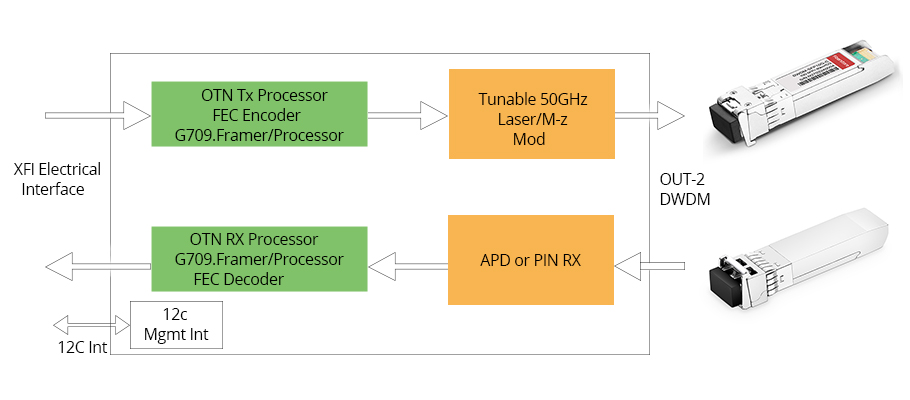 FS 10 Gbps Tunable DWDM 80km DOM transceivers support highly reliable operations in enterprise networks. They have undergone rigorous qualification and certification testing to provide an end-to-end solution that is easier to maintain—helping to improve the availability of data center networks supporting mission-critical applications.
Key features of the FS tunable SFP+ modules include:
1. Hot-pluggable SFP+ footprint
2. Support a maximum data rate of 10.3125 Gbps
3. 50GHz ITU-based channel spacing (C-Band) with a wavelength locker
4. Maximum link length of 80km on single-mode fiber
5. Operate within a temperature range from 0 to 70 degrees Celsius
6. Support high Tx power (-1~3dBm)
7. Duplex LC connector
Now, DWDM tunable SFP+ modules are important building blocks for next generation network equipment which can reduce the size and power consumption for 10G connections while supporting the network operators' rapidly increasing bandwidth capacity needs driven by data-intense applications. At FS, we offer our customers high-quality DWDM tunable SFP+ transceivers with a lifetime warranty. For pricing, possibilities, test reports and more information about the tunable modules, please contact us at www.fs.com.
You might be interested in