Embracing Big Data Era With FS 40G/100G Open Switches
May 15th, FS News – FS has introduced a series of high performance 40G/100G open switches to support next generation metro, data center and enterprise network applications. FS open switches are designed to handle today global data traffic explosion and improve flexibility and efficiency while lowering the total cost.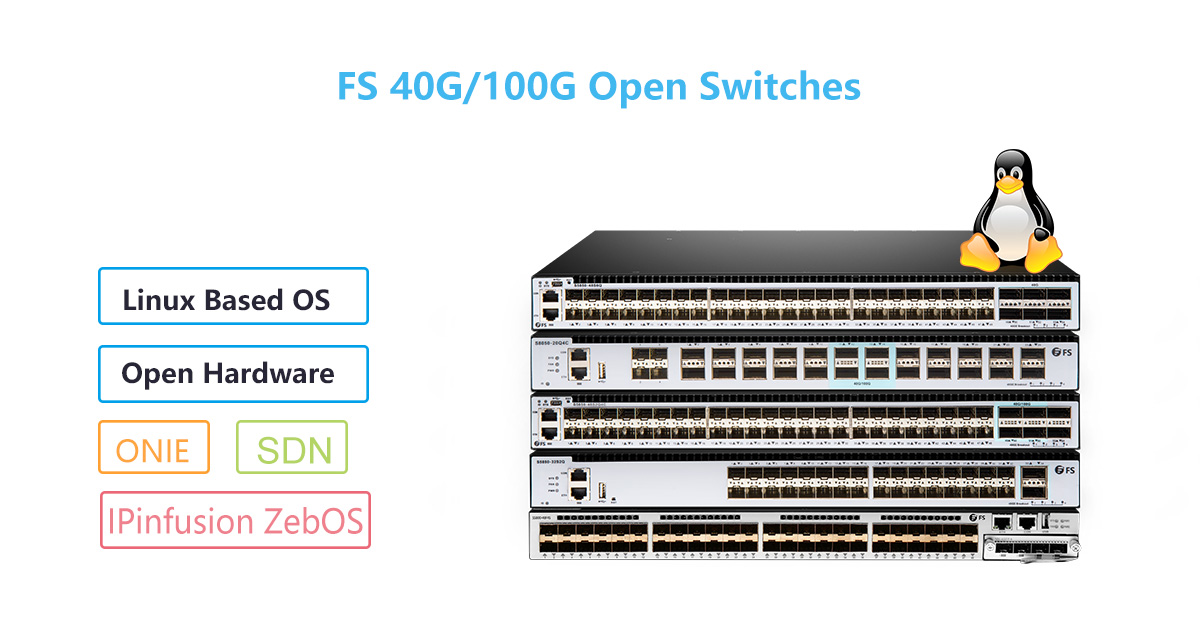 As the fast development of Cloud services and networking, new network applications are emerging continuously. More and more enterprises and service providers are rapidly adopting 40G and 100G Ethernet switches in their networks. In this process, white box switches or brite-box switches are gaining popularity due to their lower cost and great flexibility. FS 40/100G open switches are that types of switches to meet the market requirements.
"The routing networking continues to evolve and has changed fundamentally over the past years. Customers are always trying to find a new way to improve efficiency and reduce cost," FS CEO Daniel said, "FS 40/100GbE open source switches that integrate fully open-sourced hardware and software, which can effectively lower the cost and meet the requirement for SDN (software-defined networking) application environment."
FS 40G/100G open switches are based on IPinfusion's ZebOS with integration of Layer 2 to Layer 4 packet processing engine, traffic management and fabric interface, aiming to achieve flexibility, scalability, efficiency and cost effectiveness in data center networks. Furthermore, the operating systems of FS 40G and 100G Ethernet switches are developed on the basis of Linux. All the 40G/100G open switches in FS support SDN function which can make networks more affordable and easier to manage.
All open switches mentioned above are available in FS. Here is a list of FS 40G/100G open networking switches and some equivalents that have the same switching capability. Welcome to contact us via sales@fs.com for more detailed information.
| | | | |
| --- | --- | --- | --- |
|   | S5850-48S6Q | S5850-48S2Q4C | S8050-20Q4C |
| Ports | 48*SFP+ & 6*QSFP+ | 48*SFP+ & 2*QSFP+ & 4*QSFP28 | 20*QSFP+ & 4*QSFP28 |
| Throughput | 1072Mpps | 1200Mpps | 1200Mpps |
| Switching Capacity | 1.44Tbps | 1.92Tbps | 2.4Tbps |
| CPU | Freescale PowerPC P1010 | Freescale PowerPC P1010 | Freescale PowerPC P1010 |
| Equivalents | Cisco Nexus 9372PX,  Arista 7050SX-72Q | Arista 7280E | Cisco Catalyst 9500-24Q |
FS 40G/100G data center open switches are high performance gigabit switches that support SDN deployment while providing cost-effective solutions for next generation metro, data center and enterprise Ethernet networks. FS is dedicated to providing best networking gears for our customers and we have cumulated years of experience and expertise. Our products have been deployed in data center and cloud computing applications all over the world.
You might be interested in