FS S5860-24XB-U Switch Guarantees High-reliability Power Supply
Why the Stability of PoE Power Supply Matters?
PoE systems have been widely applied in enterprise networks currently. Reliable PoE power supply has escorted an enterprise's daily operation. Insufficient electricity supply or power failures may cause damage to the equipment and influence the normal "power + data transmission." What's worse, it will even cause fire hazards due to electric shock or short circuit, resulting in economic losses, and even casualties.
Then how to ensure reliable PoE power supply in a PoE working environment? First and foremost, a standard PoE switch is a must. Other considerations are covering: the selection of high-quality patch cables, the confirmation of the transmission distance, the required power consumption, the number of terminal devices, etc. PREREQUISITE: Pick a type of reliable PoE standard switch—crucial to effective enterprise network operations.
FS S5860-24XB-U Switch With Powerful Hardware & Functional Software Stabilizes Power Supply
FS S5860-24XB-U Switch Highlights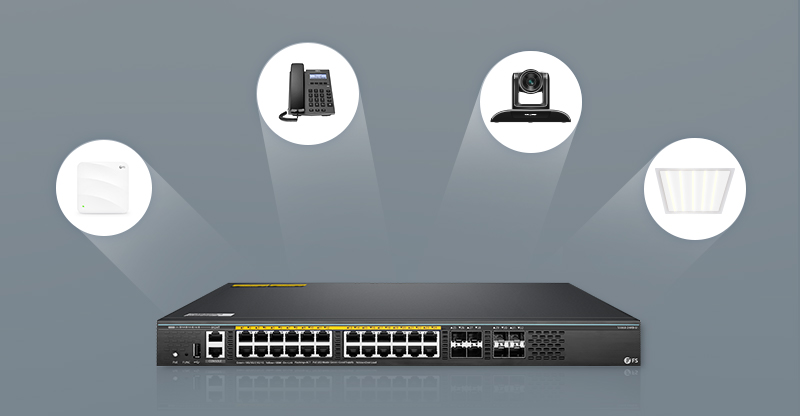 The PoE standard has three subordinate categories PoE/PoE+/PoE++, which is not fresh news. The previous two are common in most enterprise networking scenarios with the max. power consumption of 30W theoretically. With the aid of the IEEE802.3bt-compliant High Power over Ethernet technology, FS S5860-24XB-U 10GBASE-T/multi-gigabit switches just meet the urgent demands for higher power—providing up to 90W PoE output of one SINGLE port and 1030W output of the WHOLE switch. 100-meter PoE++ (90W) power supply is applied for multiple IoT & AP devices to connect in the enterprise networks.
FS S5860-24XB-U switches are equipped with built-in redundant power modules, which can be hot-swapped and do not affect the normal operation of devices. Independent fan trays are deployed in a redundancy mode. Cleaning or replacing a fan won't affect the operation of other fans to ensure the device's non-stop operation.
Additionally, fault detection and alarm functions are added for the power modules and fans. The speed of the variable-speed axial fans can be automatically adjusted to better adapt to the ambient environment, so as to reduce the power consumption and noise while ensuring stable operation of the devices.
FS S5860-24XB-U switches provide front-to-back ventilation channels to improve heat dissipation efficiency, device-level, and link-level reliability protection as well as over-current protection, over-voltage protection, and overheating protection.
Adopting fault isolation technology for FS S5860-24XB-U switches, a short-circuit in an optical module can be detected promptly, and the faulty module is then isolated from the other ports and the entire device. That is to say, the power supply of the PoE ports won't be affected, either. Therefore, the impacts of optical failure will be minimized without influencing the whole business operation.
Adding anti-grid fluctuations—the main line is monitored, all on-board power supplies will be powered off when the grid fluctuates. Services will automatically be restored after the recovery of the power grid.
Embedded 6kV surge protection will help to protect the whole PoE systems against lightning risk. The tri-proof painting will protect crucial equipment like power modules or fans from environmental attack.
Aside from the abovementioned hardware and technology innovations, FS strong-security S5860-24XB-U switches support various protocols: Spanning Tree Protocols (802.1d, 802.1w, and 802.1s), Virtual Router Redundancy Protocol (VRRP), Rapid Link Detection Protocol (RLDP), Rapid Ethernet Uplink Protection Protocol (REUP), and Bidirectional Forwarding Detection (BFD), which can largely decrease the failure rate and minimize the fault recovery time. As a result, the overall reliability of the switches and effectively ensure the flawless transmission and connectivity will be improved.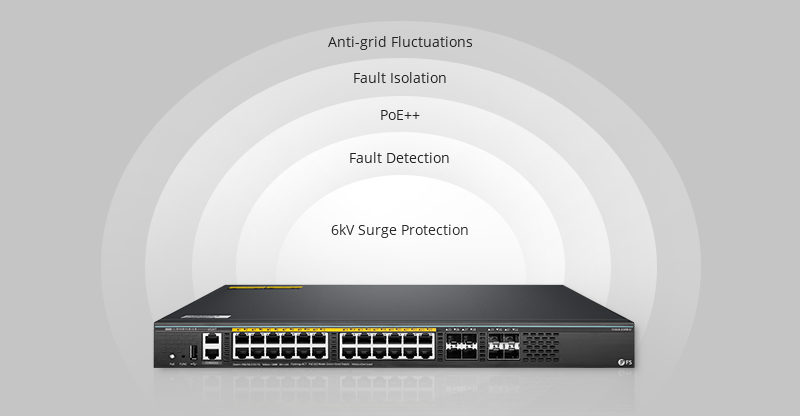 Why Choose FS S5860-24XB-U Switches for Your Enterprise Network?
FS S5860-24XB-U switch has multi-rate ports including 4*10G SFP+ and 4*25G SFP28 ports, and it can also provide multi-gigabit RJ45 port types including 100M, 1000M, 2.5G, 5G, and 10G adaptive Ethernet ports to adapt to Wi-Fi 6-compliant wireless APs.
Providing robust performance and sound end-to-end services, the FS S5860-24XB-U switch solution also possesses complete security mechanisms, flexible networking scalability, and simplified networking management, which is optimal for the convergence layer of large-sized networks and the core layer of small and medium-sized networks.
The 5-year warranty can also assure you effective assistance and superior after-sales services for both hardware & software, offering you enjoyable shopping experience.
You might be interested in