FS Delivers A Complete 25G Portfolio for Next-Generation Server Connection
Mar. 26th, FS News - FS, a global networking solution provider for data centers, enterprises and ISP networks, has launched a full series of 25G products for data centers to meet the current and future higher bandwidth demand. These products include 25G network switch, 25G server adapter, 25G SFP28 optics and cables.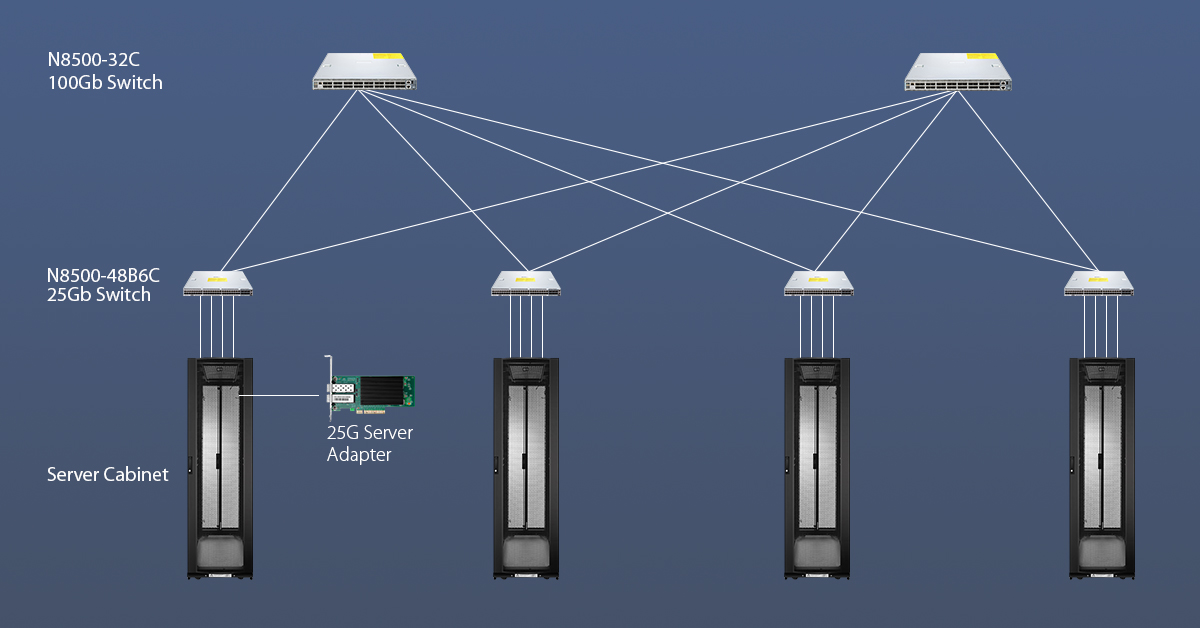 Though 10G Ethernet has been the cost-effective, high-performance interconnect in the data center server network in recent years, 25G now is recognized as the industry standard for next-generation server access rate. Actually, cloud providers and other large-scale data center operators such as Google and Microsoft have already adopted 25G Ethernet in their networks. This is driven by the explosive growth of cloud computing, Internet of Things (IoT), and high throughput supported by servers.
To help cloud providers upgrading their server access connections from 10G to 25G, various 25G Ethernet products from different vendors are now flowing into the market. FS is one of the leading 25G solution providers who offer high-performance and cost-effective 25G products for cloud computing data centers. FS 25G portfolio includes:
N8500-48B6C 48-Port 25G ToR Switch: A powerful SDN switch with built-in Cumulus Linux OS, which has many advanced features such as MLAG, VXLAN, SFLOW, BGP and OSPF. It is designed to meet the high-performance, availability, and network-scaling requirements of enterprise and cloud data centers.
Dual Port SFP28 25G Server Adapter: A PCI Express x8 server adapter based on Intel® XXV710 chipset, delivering excellent performance for 25GbE connectivity that is backward compatible with 1/10GbE, making the migration to a higher speed easier.
25G SFP28 Transceiver Modules: FS 25G modules include 25GBASE-SR, 25GBASE-LR and CWDM SFP28 transceivers which can be used in Cisco, Arista, Brocade and Mellanox devices.
25G DAC & AOC Cables: FS SFP28 DAC and AOC cables are the most cost-effective alternatives of 25G transceivers in short-link applications. They are popular among customers for switch-server connections.
These products are ideal for data center ToR networks. The N8500-48B6C 25G switch is mainly used for ToR or leaf switch connecting to 25GbE servers in an open networking environment. With Cumulus Linux 3.7 pre-loaded, it allows customers to deploy fast, flexible, high-capacity fabrics, and help to lower operational and capital expenditures. The 25G server adapter is an IEEE 802.3 standard Ethernet interface which can be plugged into the server's motherboard expansion slot. While the 25G SFP28 optics and cables FS provided are the most cost-effective solutions for connecting 25GbE ports between servers and switches.
There is no doubt that 25GbE will be the switch-server speed at the edge in the near future. FS has made full preparations for the coming 25G Ethernet. Now there are large stocks of 100% tested 25G DAC/AOC cables, 25G SFP28 transceivers and some 25G switches in FS US, DE and AU warehouses. So customers can enjoy fast delivery and timely local customer services at any time. Next, FS will provide more variety of 25G products according to customers' needs. By integrating FS 25GbE solutions, you can optimize your data center with a 25GbE infrastructure that will help increase performance, reduce cost and simplify management.
About FS
FS has set the goal to provide high quality and cost-effective data centers, enterprise and ISP networking solutions for global customers. Since then, the company has built up seven oversea branches and warehouses within the United States, Germany, United Kingdom, Australia, Singapore, and Russia. In the future, more branches and warehouses will be set up. This allows FS products to be exported to companies and individuals all around the world. More information is available at www.fs.com.
You might be interested in
Subscribe to Get Latest News
Videos
FS Same Day Shipping Ensures Your Business Success