FS Participates in SC18 as a SCinet Contributor
Nov. 13th, FS News - FS, a networking solution provider for data centers, enterprises and ISP networks, was a bronze SCinet contributor at the International Conference for High Performance Computing, Networking, Storage, and Analysis (SC18), held earlier this month in Dallas, Texas. FS was invited as a contributor to SCinet, the dedicated high-capacity network infrastructure supporting the conference.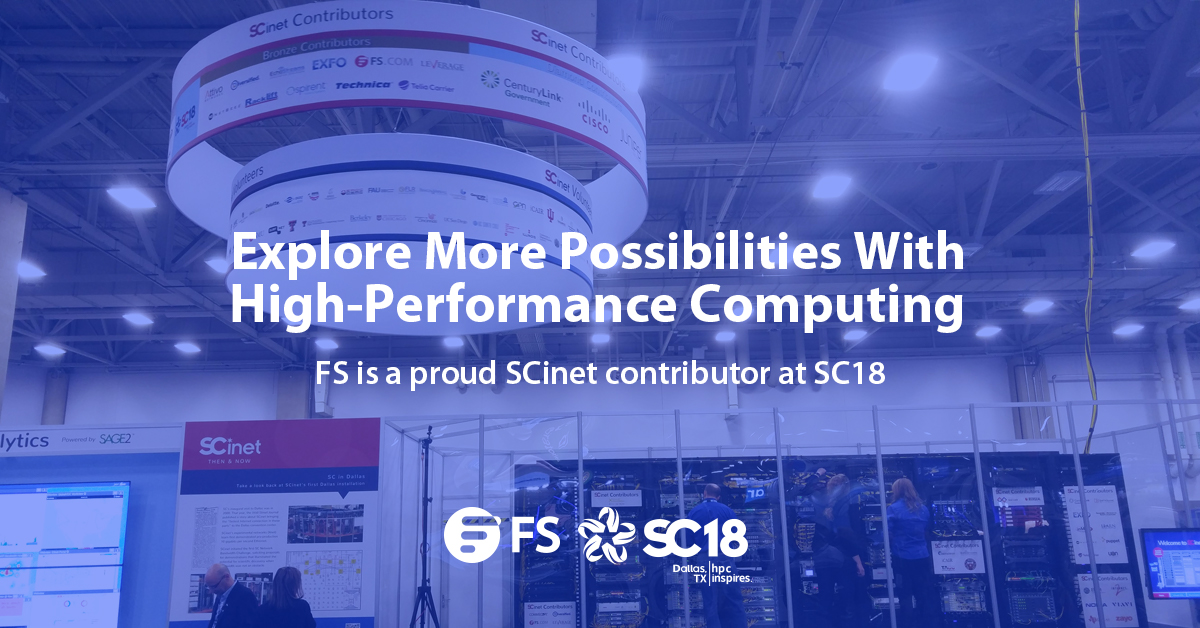 SCinet is a collaborative effort by 225 volunteer experts from 85 organizations that span industry, academia, and government. This year, SCinet delivered 4.02 terabits per second of bandwidth across 1 million square feet in the Kay Bailey Hutchison Convention Center Dallas.
FS was recognized as a bronze contributor for supplying fiber patching solutions to SCinet. FS supplied modular fiber enclosure panels, MTP fiber cassette modules, and MTP trunk cables for their fiber patching systems, all at a reduced cost for use in the SCinet Network Operations Center.
"FS products used for the rack-to-rack fiber connections allowed SCinet to increase the density of the number of connections in the existing rack-footprint, as well as cut down on the time needed to build and tear down the physical parts of the network," said JP Velders, SCinet routing team co-lead.
About FS
Founded in 2009, FS has set their goal to provide high quality and cost-effective data centers, enterprise and ISP networking solutions for global clients. Since then, the company has built up seven oversea branches and warehouses within the United States, Germany, United Kingdom, Australia, Singapore and Russia. In the future, more branches and warehouses will be setup. This allows their products to be exported to companies and individuals all around the world. Learn more about FS.
About SC18
SC18 is the premier international conference showcasing the many ways high performance computing, networking, storage, and analysis lead to advances in scientific discovery, research, education, and commerce. The annual event, created and sponsored by the IEEE Computer Society and the ACM (Association for Computing Machinery), attracts HPC professionals and educators from around the globe to participate in its complete technical education program, workshops, tutorials, a world-class exhibit area, demonstrations, and the world's fastest temporary computer network. SC19 will be held next November 17-22, 2019 in Denver, Colorado. For more details, go to http://sc19.supercomputing.org.
You might be interested in
Subscribe to Get Latest News
Videos
FS Same Day Shipping Ensures Your Business Success