Feb. 5th, Shenzhen, FS News– 2016 saw the great improvements FS have made. Since the year of 2016 has gone, it's time to review what we have done and what we have achieved.
Major Events in 2016
March. 2016–FS optimized official website to improve the user experience and upgraded the logo with high-tech design which implies determination to innovation. June. 2016–FS built a new multilingual system for global services, including online Self-service Translation Function, Multilingual Live-chat Support, Global Telephone. October. 2016–FS launched self-developed flexible FMU series CWDM Mux/DeMux products which provide cost-effective and easy-to-manage solutions for increasing network capacity. November. 2016–FS finished the construction of local warehouse in Seattle, USA, to offer quicker and better delivery service for our clients.
Great Achievements
Annual Sales–Due to the continuous promotion of user experience, customer service, advanced technology and fast product delivery, by 2016, our annual sales have reached a new high. Among the total sales, products from categories such as WDM & Optical Access, Fiber Optic Transceivers, and Fiber Cable Assemblies contribute a lot. New products such as MTP patch cables, FMU series WDM Mux/DeMux and FHD series fiber enclosures also did well. The following diagram shows the top 10 products by sales volume in 2016:

Customer Service–In 2016, FS further improved its multilingual system and serviced customers covering all over the world, mainly from United States, United Kingdom, Canada, Australia, and France. In addition, by setting up local customer service, customers can get prompt reply at any time. Till the end of the year 2016, our customers have increased to 40,470, including both business customers and new registered customers. And our service and products have got highly recognized among customers all around the world.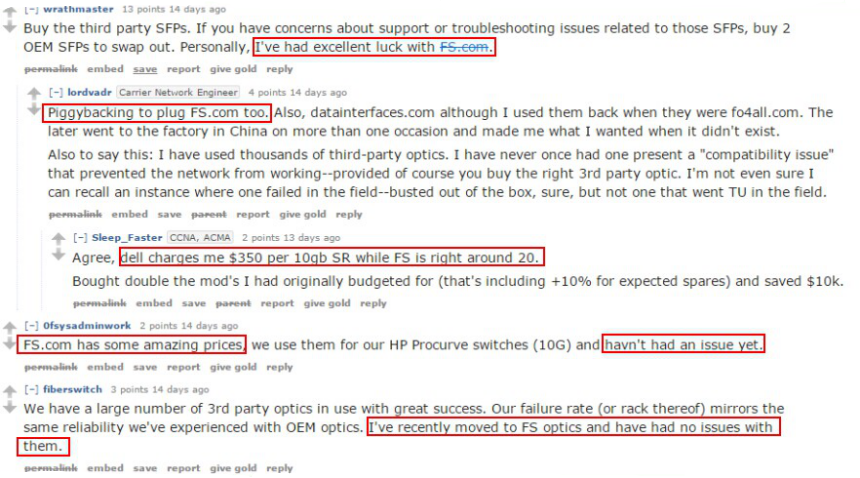 Product System–In the past year, we increased investment in improving quality system, and developed comprehensive test assured program and perfect packaging system to ensure clients get the best performance of products. Besides, we raised investment in product research and development in order to build up a set of solutions to satisfy the demands on enterprise network.
Logistics and Warehouse System–In 2016, we have continued to improve our logistics and warehouse system. So far, we have built exclusively good logistics and warehouse system in Shenzhen, Wuhan in China, and Seattle.WA in America to ensure adequate inventory of most products. Same-day shipping is available for most popular products and the overall shipping speed also changes to be faster.
Goals in 2017
Thanks to customers' support and trust, as well as the unyielding efforts of each people in FS team, we have made remarkable progress in 2016. In the new year, we will keep on pursuing in product quality and services, offering better product solutions and customer services to satisfy each of our customers.
FS is a leading manufacturer and supplier of fiber optic subsystems, components and solutions. With last four years growing, we have built our strong and professional teams in optical communication product R&D, systematic solution and supply chain management. Nowadays, we are doing business with more and more worldwide well-known corporations like CloudFlare, EXFO, Apple, MRV, JDSU, ADTRAN, Avago, EMC, etc., who have put large volume of our products into production for their Data Center or Cloud Computing application and speak highly of our service and products. We will be working together with our customers, partners and co-workers to benefit them more and contribute more to the global popularity of optical communication.
You might be interested in