FS Designed FMT Platform for Long-Haul DWDM Networks
May 2nd, Shenzhen, FS News– FS designed new series of FS multiservice transport (FMT) products to provide centralized deployment, management and monitoring platform for DWDM network, including devices like OEO, EDFA, DCM and OLP.
To build a DWDM network, FS has provided high density FMU series DWDM MUX/DEMUX with low typical insertion loss to support long-haul transmission. Other devices like OEO, EDFA, DCM and OLP are also necessary in a DWDM network to ensure good transmission performance. For these devices, FS designed them into small plug-in cards and provides a centralized rack unit and a free software for easier deployment, management and monitoring.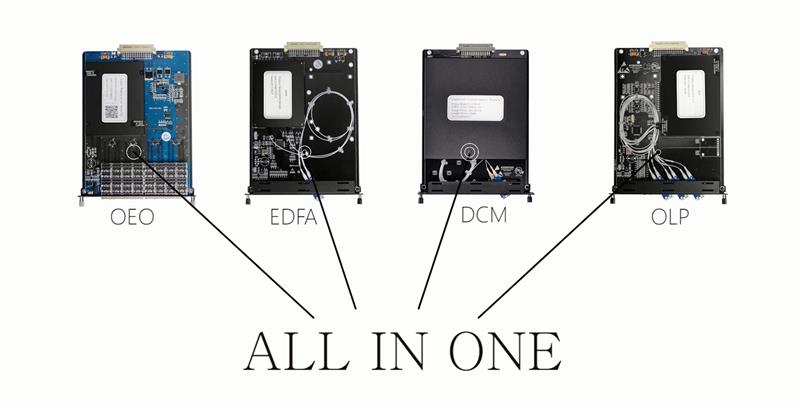 Figure 1: OEO, EDFA, DCM, OLP plug-in cards.
All these FMT series plug-in-cards in one rack unit share the same power supply and support hot-and-play operation. FMT cards can be flexibly added in our special designed 1U/2U/4U rack for DWDM networking. Each 1U/2U/4U managed chassis has specific space for NMU card and cooling fans, and you can add your needed pluggable cards in the chassis, including OEO, OLP, VOA, EDFA, DCM, R/B splitter. Apart from the managed chassis and plug-in cards, we also offer some devices in 1U rack mount form.

Figure 2: 1U managed chassis, loaded with several pluggable cards.
To learn about the basic information about every card installed on the rack, you can refer to the LED screen on the NMU card (illustrated in figure below). Press the button to shift the card shown on the screen. In addition, you can install our software on a computer connected with the NMU card on this centralized rack unit, to get more detailed information about the working status of each plug-in card and DWDM network.

Figure 3: NMU card on a 1U managed chassis.
FS designed FMT series products in order to provide cost-effective all-in-one solutions for DWDM network. FMT series can solve your problems and help you achieve management flexibility, resource conservation, monitoring and control simplicity.
FS is a leading manufacturer and supplier of fiber optic subsystems, components and solutions. With last four years growing, we have built our strong and professional teams in optical communication product R&D, systematic solution and supply chain management. Nowadays, we are doing business with more and more worldwide well-known corporations like CloudFlare, EXFO, Apple, MRV, JDSU, ADTRAN, Avago, EMC, etc., who have put large volume of our products into production for their Data Center or Cloud Computing application and speak highly of our service and products. We will be working together with our customers, partners and co-workers to benefit them more and contribute more to the global popularity of optical communication.
You might be interested in