FS Devotes Great Effort to the Active Optical Cables
Mar. 22nd, Shenzhen, FS News – According to market trend of AOC (Active Optical Cables) in 2015, it can be forecasted that the market demand for AOC in 2016 would still have sustainable growth. Thus, FS has been devoting great effort to the active optical cables.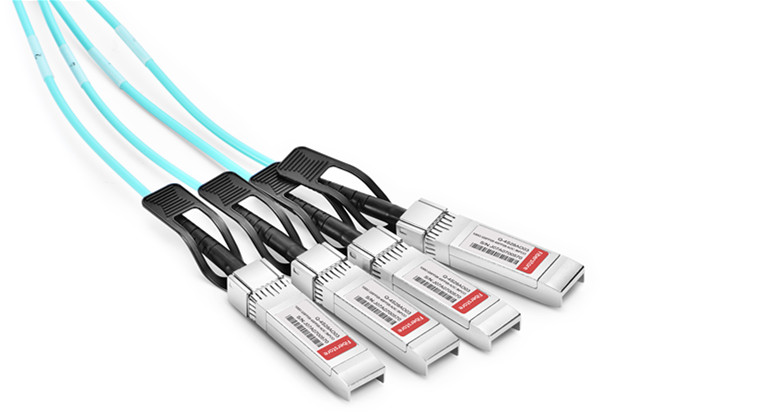 As is known to all, active optical cables embed optical transceiver technologies into enclosed cables which hide the high-speed optics behind two transceiver ends with an electrical interconnect presented to the outside. This factor absolutely makes the cost of AOC significantly lower than that of two separate connectorized transceivers and fibers when creating high aggregate data rate links.
At present, we offer 10G, 40G and 120G active optical cables. The 10G AOCs are designed with SFP+ to SFP+ connector type in various cable lengths and compatible brands options which offer a comprehensive solution for 10GbE short-distance interconnection. The 40G AOCs and 120G AOCs are designed to meet the demands for 40/100GbE applications. For 40 and 100G direct cabling, 40G QSFP+ to QSFP+ AOC and 120G CXP to CXP AOC are available and able to provide 40 Gbps and 120 Gbps respectively. While for 40/100GbE migration, the breakout AOCs play an important role and surge in shipment. In our solution, we offer the cost-effective QSFP+ to 4SFP+ AOC and QSFP+ to 8xLC/SC/ST/FC AOC for 10GbE to 40GbE migration and CXP to 3xQSFP+ AOC for 40GbE to 100GbE migration. In addition to the product supplies, to ensure the product quality and compatibility, we will continue to invest the test assured program this year. Each of our AOC product will be tested in the real environment before shipping. Furthermore, we will also increase our AOC inventory to meet the surging shipment.
Active optical cables will still have huge market demand due to data centers' turning to 40G or even 100G. The team of FS will conform to this trend and make great effort to cope with the fiercer competition and strives for further improvement in optical communication industry.
FS is a leading manufacturer and supplier of fiber optic subsystems, components and solutions. With last four years growing, we have built our strong and professional teams in optical communication product R&D, systematic solution and supply chain management. Nowadays, we are doing business with more and more worldwide well-known corporations like CloudFlare, EXFO, Apple, MRV, JDSU, ADTRAN, Avago, EMC, etc., who have put large volume of our products into production for their Data Center or Cloud Computing application and speak highly of our service and products. We will be working together with our customers, partners and co-workers to benefit them more and contribute more to the global popularity of optical communication.
You might be interested in