FS Introduced Cost-Effective QSFP28 Transceiver Modules for 100G Data Center Applications
Jan. 15th, Shenzhen, FS News – Recently, FS officially introduced a cost-effective solution of 100GBASE-LR4 and 100GBASE-SR4 QSFP28 transceiver modules which meets the 100G Ethernet applications within the data center in an absolute cost-saving manner.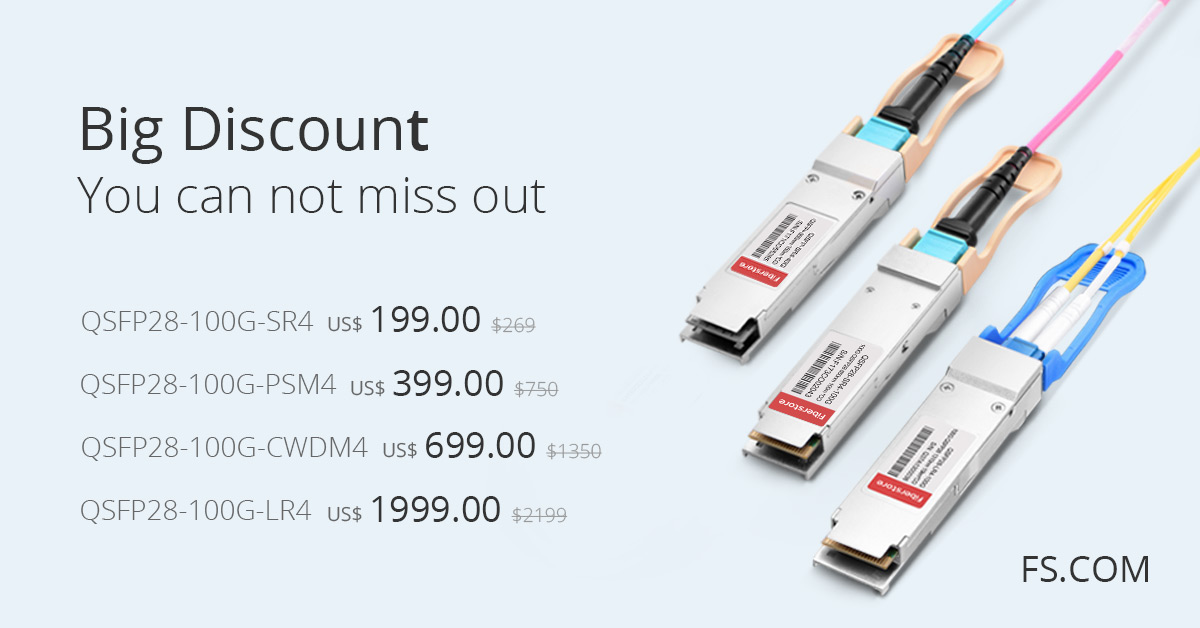 According to the market report of the technology market research firm IHS Infonetics (NYSE: IHS), the market for 100G data center optics will change dramatically in 2016 as cheap 100G silicon reaches production and QSFP28 shipments surge as a result. At present, new higher density 100G module form factors: CFP2, CFP4, QSFP28. QSFP28 seems more popular than other two alternatives as it increases density and decreases power and price per bit. The QSFP28 is the exact same footprint as the 40G QSFP+. Just as the 40G QSFP+ is implemented using four 10-Gbps lanes, the 100G QSFP28 is implemented with four 25-Gbps lanes. In all QSFP versions, both the electrical lanes and the optical lanes operate at the same speed, eliminating the costly gearbox found in CFP, CFP2, and the CPAK. The QSFP28 module has an upgraded electrical interface to support signaling up to 28 Gbps signals, yet keeps all of the physical dimensions of its predecessor.
However, because few suppliers can offer this kind of 100G module at present, the price of 100G QSFP28 transceiver is still high. For instance, a 100GBASE-SR4 QSFP28 transceiver is generally more than $2,000.00 in the market. With advanced OEM technology and strict cost control, we can help you save more than 30%~50% off on the cost of the QSFP28 modules. At present, the 100GBASE-SR4 QSFP28 for multimode application and 100GBASE-LR4 QSFP28 for single-mode application are available on line. Users can order directly on line or contact our sales team over sales@fs.com for quotation.
Order Information
Model#
Data Rate
(Gbps)
Wavelength
(nm)
Transmission Distance
Fiber Type
Interface
DOM Support
Application
QSFP28-SR4-100G
103.1 Gbps
850 nm
100 m (OM4)
MMF
MPO
Yes
IEEE 802.3bm
(100GBASE-SR4)
QSFP28-LR4-100G
103.1 Gbps
1310 nm
10 km
SMF
Duplex LC
Yes
IEEE 802.3bm
(100GBASE-LR4)
For more details about the brand-compatibility, please contact us.
FS is a leading manufacturer and supplier of fiber optic subsystems, components and solutions. With last four years growing, we have built our strong and professional teams in optical communication product R&D, systematic solution and supply chain management. Nowadays, we are doing business with more and more worldwide well-known corporations like CloudFlare, EXFO, Apple, MRV, JDSU, ADTRAN, Avago, EMC, etc., who have put large volume of our products into production for their Data Center or Cloud Computing application and speak highly of our service and products. We will be working together with our customers, partners and co-workers to benefit them more and contribute more to the global popularity of optical communication.
You might be interested in