FS Introduced SFP+ Converter Modules for Flexible 10GbE Transmission Applications
Mar. 14th, Shenzhen, FS News – Recently, FS officially introduced 10G XENPAK to SFP+ and X2 to SFP+ converter modules which enable migration from XENPAK or X2 to SFP+ transceiver without having to upgrade or replace the switches. In fact, the SFP+ converter module series were produced by Cisco in 2009. This introduction is mainly aimed at providing more extensive, cost-effective and flexible solutions to our customers.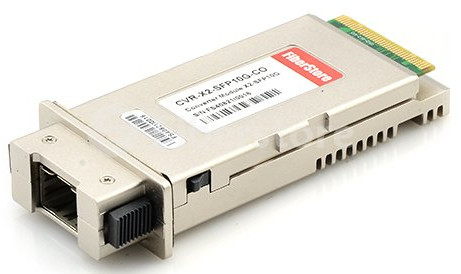 XENPAK transceiver is the oldest of the 10G form factors for 10Gbit/s data transmission applications. It has the same connector type as an X2 module (SC). Since XENPAK optics are an older technology and are more bulky than the newer optics modules which limits amount of line cards and switches which are using XENPAK optics, therefore, they have been replaced by the X2 modules, and this was then replaced by the XFP and SFP+.
10G XENPAK to SFP+ and X2 to SFP+ converter module separately converts a 10GbE XENPAK and 10GbE X2 port into a 10GbE SFP+ port. With these two kinds of converter modules, customers have the flexibility to use the 10 Gigabit XENPAK or X2 interface port of a switch with SFP+ modules. This flexibility is important when the specific type of interface is not available in one or the other form factor or when customers want to use the same form factor for interfaces across multiple platforms deployed in their network.
In order to perfect our product solutions and better meet our customer requirements, FS then decided to add a series of SFP+ converter modules to our fiber optic transceiver products line. FS's XENPAK to SFP+ and X2 to SFP+ converter modules support many platforms that use XENPAK or X2 interfaces. And all the SFP+ optics can be used in these two media converter modules. Besides, they are both in stock and enjoy the same day shipping. For more details about our converter modules, please contact us at sales@fs.com.
Order Information
| | | | |
| --- | --- | --- | --- |
| FS P/N | Data Rate (Gbps) | Network Technology | Expansion Slots |
| XENPAK-SFP10G | 10 Gbps | 10GBase-X | (1 Total) SFP+ |
| CVR-X2-SFP10G | 10 Gbps | 10GBase-X | (1 Total) SFP+ |
FS is a leading manufacturer and supplier of fiber optic subsystems, components and solutions. With last four years growing, we have built our strong and professional teams in optical communication product R&D, systematic solution and supply chain management. Nowadays, we are doing business with more and more worldwide well-known corporations like CloudFlare, EXFO, Apple, MRV, JDSU, ADTRAN, Avago, EMC, etc., who have put large volume of our products into production for their Data Center or Cloud Computing application and speak highly of our service and products. We will be working together with our customers, partners and co-workers to benefit them more and contribute more to the global popularity of optical communication.
You might be interested in