FS Introduces Low Loss Polarity Switchable LC Uniboot Cable
May 20th, Shenzhen, FS News – FS introduces new polarity switchable LC uniboot cables of low insertion loss. These fiber patch cables can achieve polarity switching without additional tools.
This polarity switchable LC patch cable makes duplex fibers into single cable and terminates duplex LC connectors with single boot at each end. And in order to solve the troublesome problems in changing the polarity of traditional LC duplex patch cables, a novel connector type is developed—polarity switchable uniboot connector. For FS switchable LC uniboot cable, it takes only three steps to reverse the polarity of this LC uniboot cable. No any other tools are needed, and no fiber cable re-termination is required. It is very suitable for high density cabling.

Our polarity switchable LC uniboot patch cable can not only bring convenience in polarity switching, but it is also featured with the space-saving advantage and lower insertion loss than standard LC duplex cable. This optimized switchable LC uniboot has an insertion loss no more than 0.2 dB, which is lower than the typical 0.3 dB of standard LC duplex cable. Single-mode and laser optimized OM3 and OM4 types are both supplied.
In addition, our polarity switchable LC uniboot patch cable has passed IEC61300-3-35 end-face and EIA/TIA-455-171A attenuation standards, providing customers with the outstanding, standards-compliant products and services.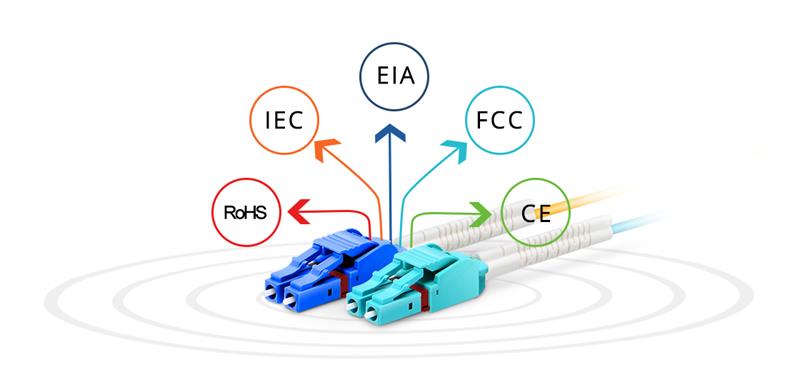 Apart from this switchable LC uniboot cable, we also launched bend insensitive fiber patch cables with ultra low insertion loss. And they are all of low bend radius and are compatible with traditional fiber optic cable.
FS is a leading manufacturer and supplier of fiber optic subsystems, components and solutions. With last four years growing, we have built our strong and professional teams in optical communication product R&D, systematic solution and supply chain management. Nowadays, we are doing business with more and more worldwide well-known corporations like CloudFlare, EXFO, Apple, MRV, JDSU, ADTRAN, Avago, EMC, etc., who have put large volume of our products into production for their Data Center or Cloud Computing application and speak highly of our service and products. We will be working together with our customers, partners and co-workers to benefit them more and contribute more to the global popularity of optical communication.
You might be interested in