FS Launched DWDM C-band Tunable XFP with 40/80 Km Transmission Distance Options
May. 6th, Shenzhen, FS News – FS has announced that it has further expanded its 10G optical transceiver module product lineup by launching the multi-protocol C-band tunable 10Gbps XFP transceiver for DWDM transmission. This new product will enable the service operators to turn up circuits faster and reduce their sparing costs dramatically.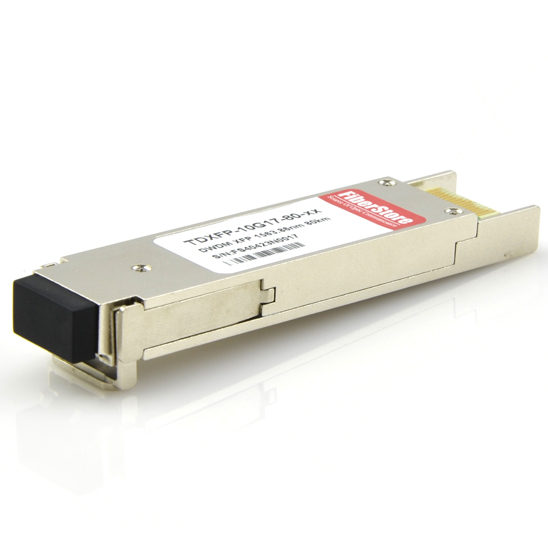 This week, FS has launched a new type of DWDM XFP which features with tunable and multi-protocol functions in order to further expand the product lineup of the 10G optical transceiver modules. The new product, called DWDM C-band Tunable XFP transceiver, is now on sale with 40 or 80 km transmission distance options. Compared to the regular static DWDM XFP, the "tunable" function is definitely a main selling point.
With the spread of new services in recent years, such as cloud computing, on-line streaming, or mobile broadband service using smart phone etc., the volume of communications traffic has rapidly increased. In order to enable high-capacity optical networks, DWDM systems which use a single optical fiber for optical signals of several different wavelengths are widely used. As an important component that enables ROADM (Reconfigurable Optical Add Drop Multiplexer) functionality in next-generation networks, wavelength tunable optical transceivers are becoming more and more popular. These transceivers feature that their wavelengths can be switched between different DWDM channels while being used in the network. This capability of Channel switching can help the users to reduce the number of components and cost in today's DWDM systems. In general, tunable optical transceivers are typically used as "spare optics", in case of emergency, because we can tune them to the right channel and reduce the amount of spare optics that we need to hold in stock. However, though it can help to save the cost in a further plan, tunable optical transceiver module is usually two or four times more expensive than the regular static DWDM optical module, because a special tunable laser is applied in it.
FS has successfully commercialized the C-band tunable XFP transceiver for DWDM optical networks to fill the demands of customers. It complies with the ITU-T G.698.1 S-D100S1-2D standard with 50GHz channel spacing for SONET/SDH, IEEE DWDM 10GBASE-ZR for 40 or 80 km reach (Ethernet), and DWDM 10G FC (Fibre Channel) for 40 or 80 km reach applications. Furthermore, this module features a hot-pluggable XFI-compliant electrical interface. The modulator driver biases and modulates a C-band-tunable integrated laser, enabling data transmission over single-mode fiber through an industry-standard LC connector. On the receive side, the 10Gbps optical data stream is recovered from an APD/transimpedance amplifier, re-timed, and passed to an output driver. With the advanced compatibility technology, FS's DWDM C-band Tunable XFP transceivers can be designed to be compatible with many major brands which provide the high speeds and compact dimensions that today's demanding networks require while delivering the deployment flexibility and inventory control that network administrators demand. Designed to Multi-Source Agreement (MSA) standards for broadest compatibility, they perfectly match many optical transmission solutions.
Order Information
Model #
Data Rate
Frequency
Channel/Wavelength
Distance
Fiber Type
Connector
Temp. Range
Application
TDXFP-10GHXXX-40
9.95~11.1 Gbps
50 GHz
C17~C61 (1563.86~1528.38 nm)
40 km
SMF
LC
0~70℃
Ethernet, SDH, 10GFC
TDXFP-10GHXXX-80
9.95~11.1 Gbps
50G Hz
C17~C61 (1563.86~1528.38nm)
80 km
SMF
LC
0~70℃
Ethernet, SDH, 10GFC
Notes: XXX means DWDM ITU Channel (C17 = 1563.86nm, C18 =1563.05nm, C19 = 1562.23nm, C20 = 1561.42nm, etc.)
FS is a professional manufacturer and supplier of optical networking solutions. We can supply 100% compatible Fiber Optic Transceiver modules and Direct Attach Cable of many brands with a incredible discount for 10GbE to 40GbE, or even 100GbE applications. In addition, according to your requirements, we welcome any inquiry for customized fiber optical transceiver. FS's aim is to offer the best quality products and perfect solutions, to save customers' time and money, and to make customers enjoy personalization.
You might be interested in