FS Releases 100G QSFP28 AOC
May. 16th, Shenzhen, FS News – FS recently releases 100G QSFP28 AOC (quad small for-factor pluggable active optical cable) for high speed data transmission.
As data center traffic increases continuously, the communication industry needs to upgrade its networks from 10G to 40G to 100G. While QSFP28 emerges as the preferred form factor for 100G networks in data center following the wide adoption of the QSFP+ form factor in 40G.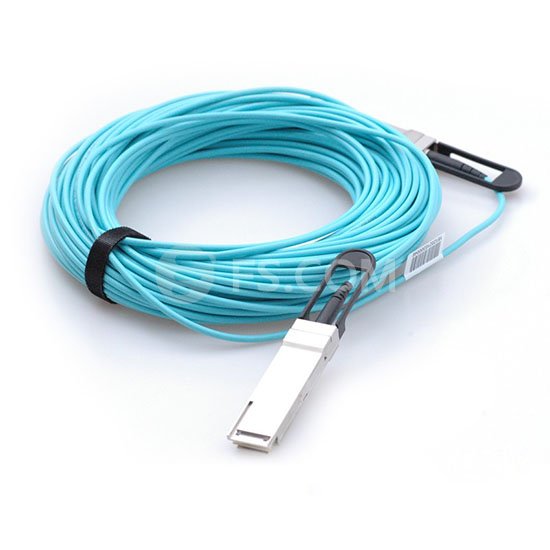 Based on industry-standard QSFP28 form factor, 100G QSFP28 AOC is able to transmit 100Gbps (25Gbps x 4 channels) over multimode fiber cable with the transmission distance up to 10 meters. It conforms to QSFP28 MSA (multisource agreement) and IEEE 802.3ba. It's well suitable for InfiniBand EDR, 4x25 and 100G Ethernet the applications.
FS's 100G QSFP28 AOC is a high performance, lower power consumption, long reach 100G Ethernet interconnect solution. It's easy for fiber installation and management with small bend radius. And FS 100G QSFP28 AOCs are compatible with the brands of Cisco, Arista, and Juniper. All these AOCs are fully tested for 100% functionality and compatibility for outstanding network performance. These AOCs provide customers a cost-effective alternative to interconnect 100G QSFP ports in data center applications. For more information, please contact us via sales@fs.com.
FS is a leading manufacturer and supplier of fiber optic subsystems, components and solutions. With last four years growing, we have built our strong and professional teams in optical communication product R&D, systematic solution and supply chain management. Nowadays, we are doing business with more and more worldwide well-known corporations like CloudFlare, EXFO, Apple, MRV, JDSU, ADTRAN, Avago, EMC, etc., who have put large volume of our products into production for their Data Center or Cloud Computing application and speak highly of our service and products. We will be working together with our customers, partners and co-workers to benefit them more and contribute more to the global popularity of optical communication.
You might be interested in