FS Releases FHD Series 6-port Multimedia Modular Panel for Flexible Cabling
April 24th, Shenzhen, FS News – FS introduces a new type of panel—FHD series 6-port blank multimedia modular panel—to offer configuration flexibility for both high-density fiber system and copper network installations.
Patch panel is a useful component to create a flexible, reliable and tidy cabling system in data centers and other applications. The most commonly used patch panels like Cat 6a patch panel or fiber adapter panel only accept one type of modules. Different from those singular panels, the 6-port blank multimedia modular panel that FS newly introduced has a wide selection of keystone jacks including Cat5e/6/6a and fiber adapters, which is designed to optimize network performance.
Modules on this panel, no matter copper keystone jacks or fiber adapters, can be moved, added and changed easily. And this 6-port multimedia modular panel can be used together with FS FHD series products such as fiber enclosures and cable management panels. Overall, this 6-port multimedia modular panel is ideal for multimedia applications and provides flexibility to customized installation.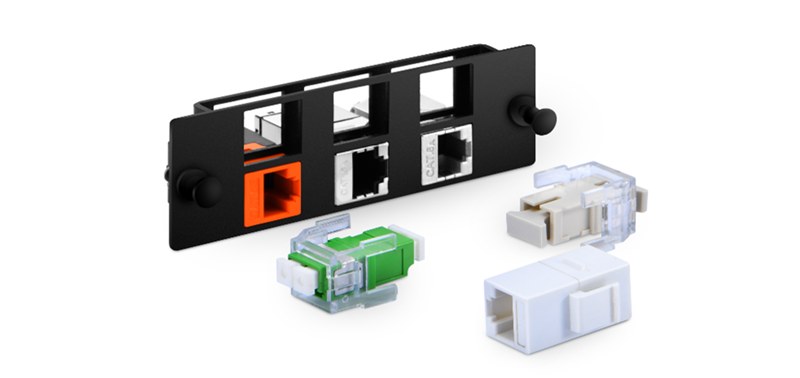 Furthermore, taking the size of fiber optic adapter consideration and to offer better installation services, 4pcs optional plastic clips will be provided freely for adapters installation. If you have any needs, please visit our website www.fs.com or contact us via slaes@fs.com directly.
FS is a leading manufacturer and supplier of fiber optic subsystems, components and solutions. With last four years growing, we have built our strong and professional teams in optical communication product R&D, systematic solution and supply chain management. Nowadays, we are doing business with more and more worldwide well-known corporations like CloudFlare, EXFO, Apple, MRV, JDSU, ADTRAN, Avago, EMC, etc., who have put large volume of our products into production for their Data Center or Cloud Computing application and speak highly of our service and products. We will be working together with our customers, partners and co-workers to benefit them more and contribute more to the global popularity of optical communication.
You might be interested in