FS Solutions for 25 Gigabit Ethernet Network
May. 23rd, Shenzhen. FS News – FS has launched 25G SFP28 to SFP28 DAC and 100G QSFP28 to 4 SFP28 DAC to satisfy the booming market demands for 25G network solutions.
With cloud providers looking to decrease cost and improve density, 10G server speeds cannot meet this requirement any more. As many of these environments have standardized on a top to rack (ToR) topology, keeping up with these connections at 10G would require more switches in the rack and therefore higher cost. Accordingly, the deployments of 25G will take place in cloud and hyper scale data centers. FS conforms to this trend by providing the following products that will drive the data center and enterprise interconnects.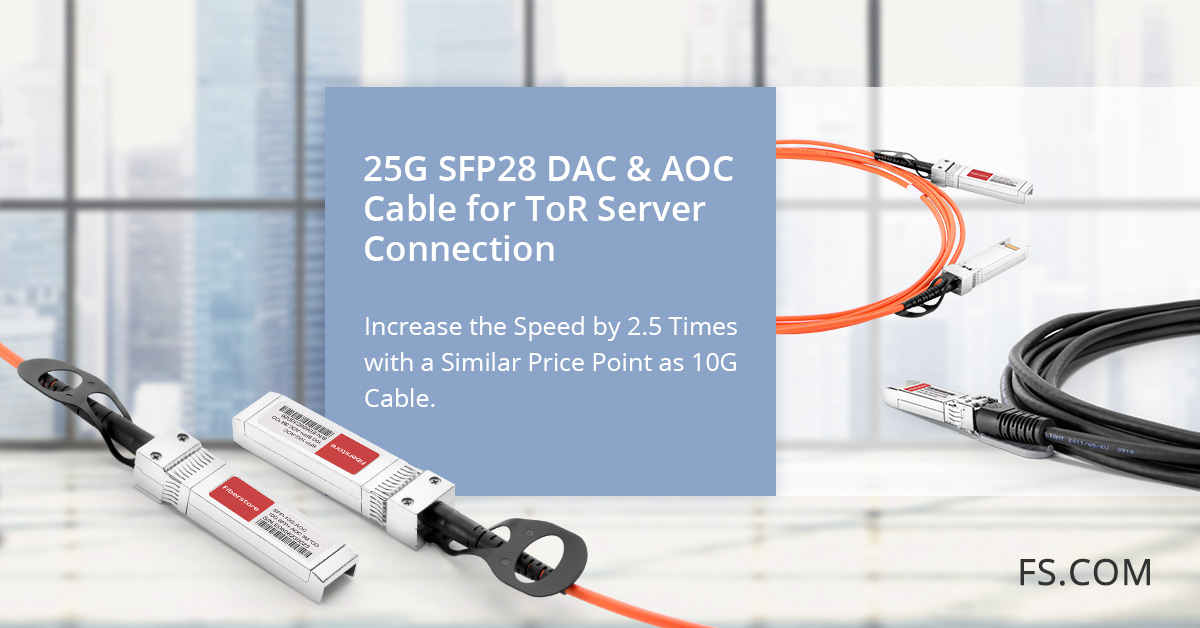 Based on SFP28 form factor, the 25G SFP28 to SFP28 DAC offers customers a wide variety of high-density and low-power 25 Gigabit Ethernet connectivity options for data center and high-performance computing network applications. Moreover, it offers a highly cost-effective way to establish 25 Gigabit link between SFP28 ports of switches within racks and across adjacent racks. We currently offer 25G SFP28 to SFP28 DAC in lengths of 1, 3 and 5 meters.
With one QSFP28 on one end and four individual SFP28 on the other, the 100G QSFP28 to 4 SFP28 DAC offers customers a cost-effective interconnect solution for 100G QSFP28 and 25G SFP28 enabled host adapters, switches and servers. It provides four parallel, bi-directional channels each operating at 25 Gbps. Currently, we have generic QSFP28 to 4 SFP28 DAC in lengths of 1, 2, 3 and 5 meters. Beside generic ones, the QSFP28 to 4 SFP28 DAC compatible for major brands, such as Cisco, Juniper, are also available.
Both the two kinds of DACs enable error-free data transmission of 25 Gbps and high-density 25G Ethernet switches, facilitating server connectivity in data centers and a conventional and cost-effective upgrade path for enterprises deploying 10G Ethernet links today in the ubiquitous SFP+ form factor. For more details, please visit www.fs.com or contact over sales@fs.com.
FS is a leading manufacturer and supplier of fiber optic subsystems, components and solutions. With last four years growing, we have built our strong and professional teams in optical communication product R&D, systematic solution and supply chain management. Nowadays, we are doing business with more and more worldwide well-known corporations like CloudFlare, EXFO, Apple, MRV, JDSU, ADTRAN, Avago, EMC, etc., who have put large volume of our products into production for their Data Center or Cloud Computing application and speak highly of our service and products. We will be working together with our customers, partners and co-workers to benefit them more and contribute more to the global popularity of optical communication.
You might be interested in