FS Upgrade Cable Management Panel With D-Ring and Lacing Bar for Flexible Cabling

November 14th, Shenzhen, FS News – To offer a simple but flexible cabling environment, detachable horizontal cable management panels with D-rings and lacing bars are provided in FS.
Good cable management is an important solution to decrease fiber cable failures. In many cases, fiber enclosures are usually used in rack mount cabling. However, in some cases, the simple and easy patch panel is enough to satisfy the cable patching solutions. To provide a more stable platform and easier patch solution, FS upgrade the simple patch panel by using D-rings and lacing bars, which offers multiple choices to the customers during cable management.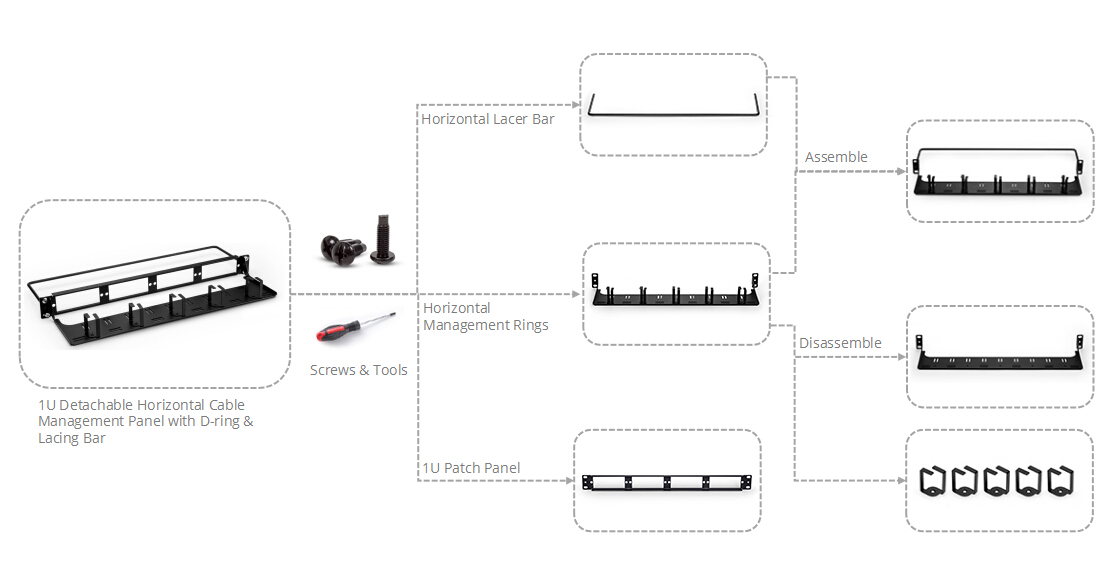 This detachable horizontal cable management panel is mainly composed of three parts: a 19" horizontal lacing bar, a 19" horizontal management lacer bar with D-rings and a 1U patch panel. The details of this cable management panel are shown in the above picture. Installing four fiber adapter panels on the 1U fiber patch panels, this product made of metal provides a secure environment for easy and flexible fiber cable routing in the organized rack.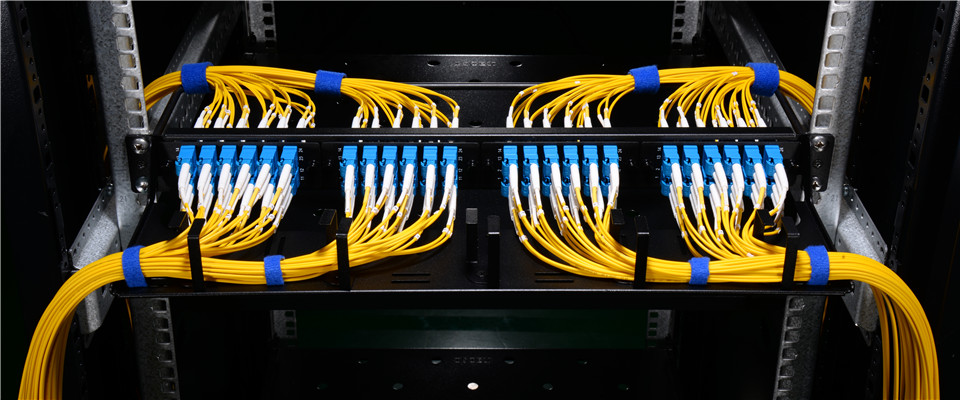 Customers can also assemble the three parts randomly and freely to meet different cable management applications. The following picture shows the multiple applications of this detachable cable management panel. The assemblies that used with this product are also mentioned in this picture.
This horizontal cable management panel is available in fs.com now. And the assemblies of this product are also sold separately. The following table listed the details of this cable management panel and its assemblies. Kindly visit FS or contact sales@fs.com for more details.
| | |
| --- | --- |
| Part Number | Description |
| 59576 | 1U Detachable Horizontal Cable Management Panel with D-ring & Lacing Bar |
| 64457 | 1U Metal Horizontal Lacer Panel with D-rings |
| 57522 | 3" Single Vertical Cable Management D-Ring |
FS is a leading manufacturer and supplier of fiber optic subsystems, components and solutions. With last four years growing, we have built our strong and professional teams in optical communication product R&D, systematic solution and supply chain management. Nowadays, we are doing business with more and more worldwide well-known corporations like CloudFlare, EXFO, Apple, MRV, JDSU, ADTRAN, Avago, EMC, etc., who have put large volume of our products into production for their Data Center or Cloud Computing application and speak highly of our service and products. We will be working together with our customers, partners and co-workers to benefit them more and contribute more to the global popularity of optical communication.
You might be interested in