FS UPS Power Supply for Industry-Leading Power Solutions
Aug 2nd, FS News - With a complete line of UPS (Uninterrupted Power Supply) system, FS offers a competitive edge to businesses in need of first-rate power solutions. FS UPS power supplies are designed to help enterprises protect their important applications by maintaining a steady flow of energy when an emergency occurs.
With today's increasingly complex facilities and interconnected networks, problems resulting from poor power supply may cause serious negative effect. The growth of a business should never be at risk of limitation or delay due to avoidable technical restrictions of existing power hardware. That's the reason why a UPS is needed to protect hardware such as computers, data centers, telecommunication equipment or other electrical equipment where an unexpected power disruption could cause injuries, fatalities, serious business disruption or data loss.
Generally speaking, UPSs can be divided into two types: mechanical type, which includes motors and generators as the power source, and static type, which supplies backup power through a battery bank and operated on power electronic devices. Online and offline UPSs can be classified into the category of static UPSs depending on their functionality. The key difference between online and offline UPS is that offline UPSs power-up the load directly from the mains when the main supply is available whereas online UPSs supply power to the load through a rectifier-inverter combination without connecting the load directly to the mains.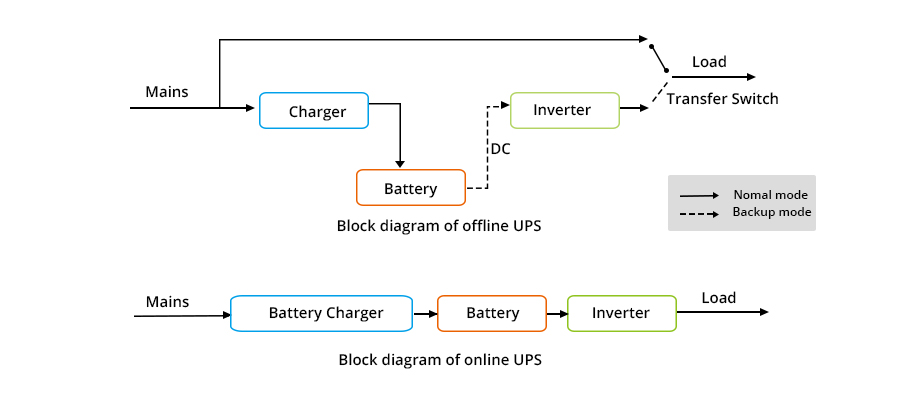 At FS, we mainly deal with the second type—online UPS, including one-phrase and three-phrase type. Unlike offline UPSs, online UPS does not connect the mains power to the output. Online UPS always provides power from the battery, so the load always gets clean power regardless of any power problems. Therefore, online UPS is recommended for sensitive and critical electronic devices. The online UPSs offered by FS act as advanced power managers, ensuring the availability of an uninterrupted power supply to protect hardware and mission critical applications. As it has been shown in the picture below, FS online UPS can be divided into eight parts and each of them has its unique function.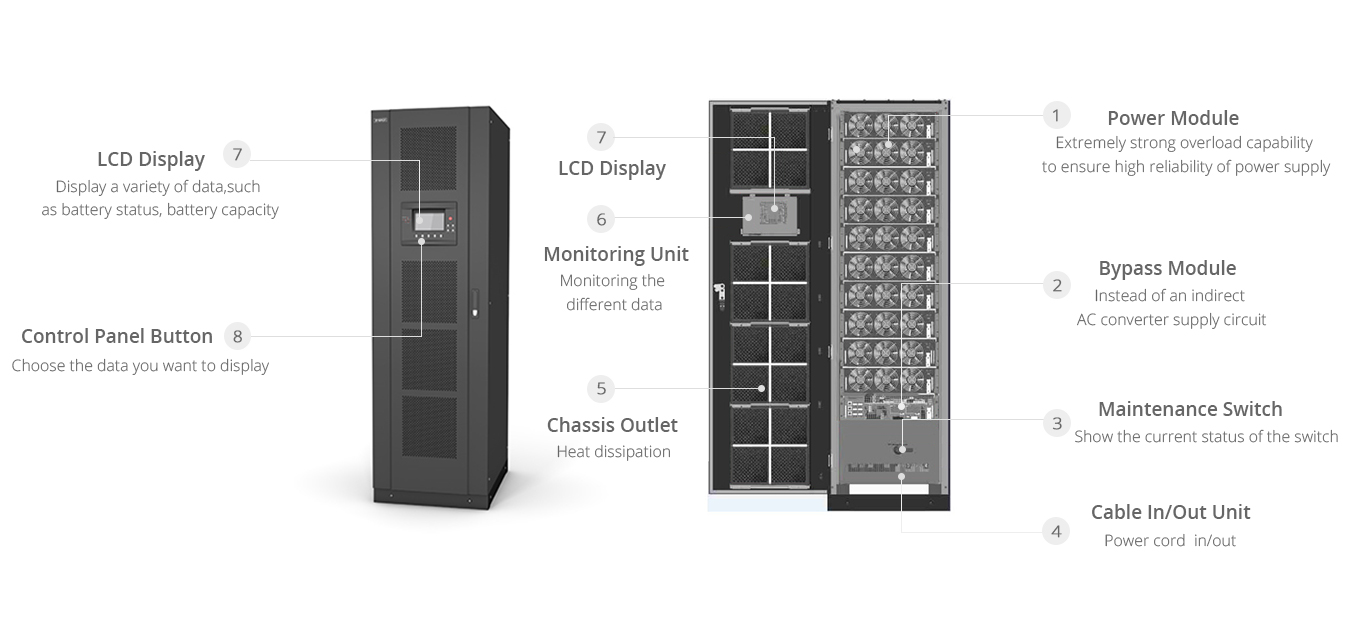 High-quality UPS plays an important role in safeguarding against many potential energy issues, including voltage surges and spikes, voltage sags, total power failure, and frequency differences. As an industry leader and globally recognized provider of optic products, FS offers a variety of online UPS for our customers to choose and make sure their systems are set up to retain access to a stable power supply, even during failure events, thus helping our customers greatly reduce their costs while continuing to keep operations running smoothly. If you are unsure which UPS product might be best for you, or you would like to discuss your particular power problem, please contact us through our website. We can provide the technical assistance you need to select the proper UPS system for your needs.
You might be interested in