Is There A One-Size-Fits-All Transceiver Module?
In large data centers that feed countless end users, it is inevitable to house a large quantity of equipment that may come from different vendors to cover harsh needs. The problem is, for example, that every newly-purchased brand network switch requires to work with the optical transceivers that are embedded with some matched codes, which increases the total expenditures. What's worse, to purchase, communicate and seek for after-sales services and maintenance will drain up your energy. Is there a turnkey solution to make all devices, at least the fiber optic transceiver modules, interoperable and compatible? Of course, FS gives a positive answer with the rolling out of FS Box.
What Is FS Box?
FS Box is designed to solve real-time compatibility needs and upgrade the transceiver firmware in the data center. It is implanted with three ports for SFP/SFP+, XFP, and QSFP+/QSFP28 optical transceivers as well as DAC/AOC cables. Users are accessible to module configurations of more than 200 brands like Cisco, Juniper, Arista and other customized reprogramming services. The configuration can be done on the instant online platform fsbox.com with an intuitive web-based interface.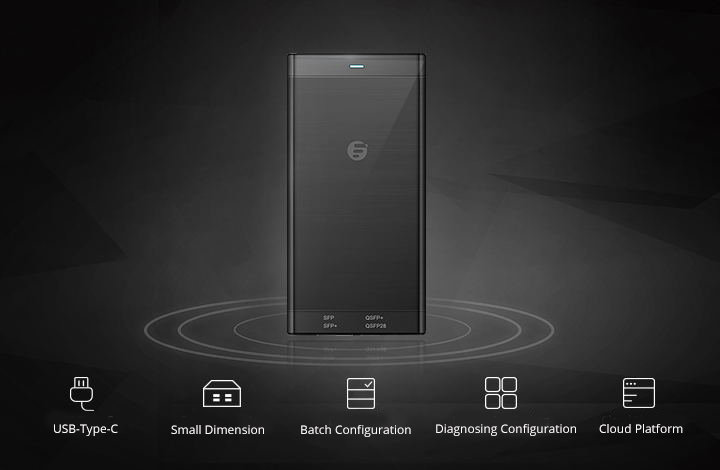 The box available online is the FS Box V2 which ramps up performance on the basis of Version 1. Learning from user experience, experts have made improvements on the Version 1. The plain square shape is replaced by the compact rectangle design (20.6x72x145mm) which is welcomed as user-friendly and portable. USB Type-C with extended power delivery capability supersedes USB 2.0. The reversible Type-C connector not only caters to the needs of the majority, but also paves the way for the mobile APP. Moreover, the additional batch configuration and diagnosing configuration function make the box smarter. It is worth mentioning that the new smart cloud platform fsbox.com is also applicable to the Version 1 box.
How Does FS Box Benefit Customers?
First, numerous, classified configuration choices spare you a lot of effort to search configuration files by yourself, and save hours by making FS optics usable for any network hardware within seconds. Available in a well-protected FS Box package, it's convenient to modify optics any time at any place, whether it is the cramped server room or the large data centers.
Second, Batch configuration helps when there are a lot of transceivers that need the same configuration. In large data centers where there exist even hundreds of optical transceivers of varied types, it's exhausting to repeat configuring manually. In this respect, users can simply reconfigure these transceivers by clicking the "Batch" button on the platform and entering the needed quantity, thus increasing network uptime.
Third, with the FS configuring box, you can save costs on purchasing firmware. The idle or even the mal-configured optical modules can be put to good use by reproduction with new configuration, which avoids spending money on extra fiber optic transceivers.
Fourth, with the diagnosing configuration function, users can diagnose the information of an available FS transceiver by FS cloud platform, and match that to another mal-configured or incompatible FS transceiver, which can fix the two types of problematic transceivers and efficiently solve the after-sales problems.
How to Reconfigure Optics with FS Box?
The transceiver reprogramming is easy to accomplish with a few clicks. Here presents a brief instruction to get you understood the configuring procedure.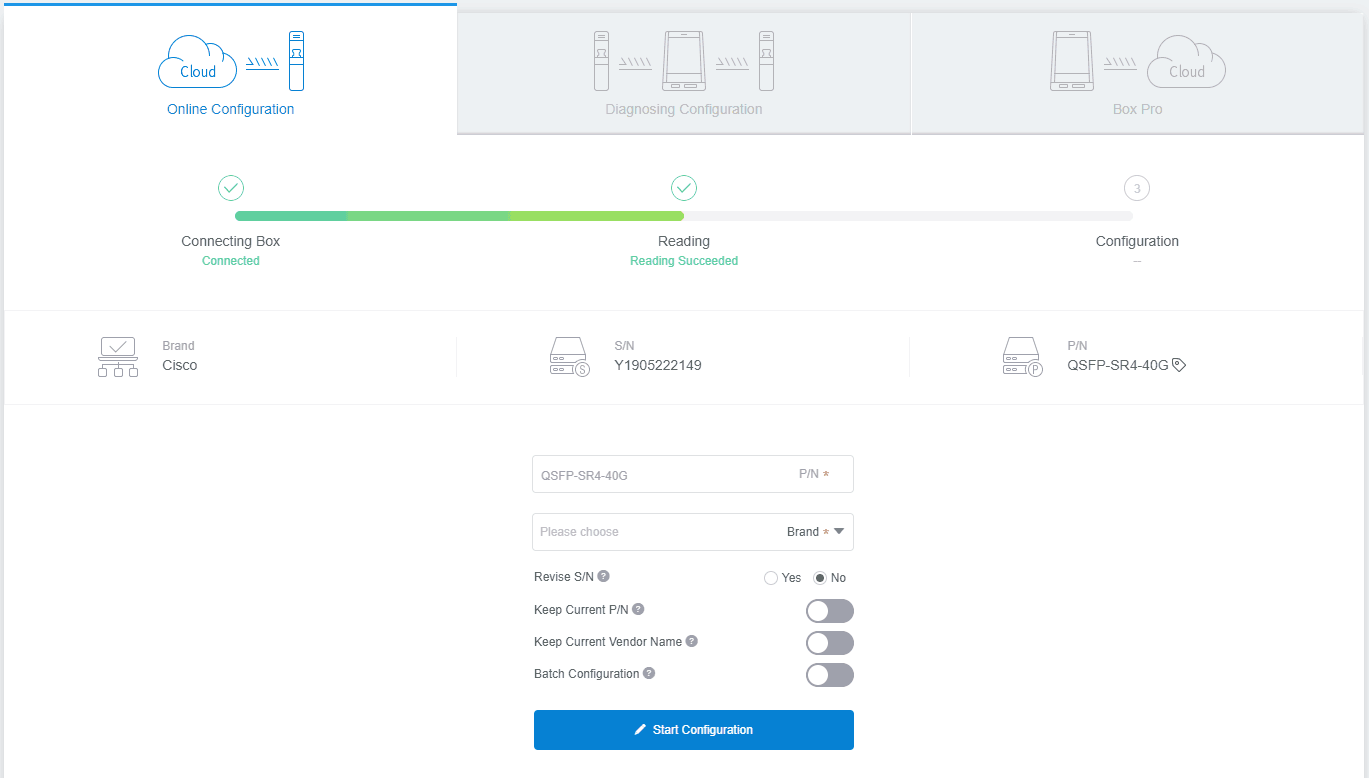 Connect the FS Box to your computer installed with operating systems like Windows 10 (recommended) or newer, Mac OS 10.13 or newer. Next, log into fsbox.com with your FS account in the web Chrome browser (69 or newer). Insert the transceiver into the corresponding port of FS Box. After reading the transceiver's information, FS Box user-friendly web interface will showcase the compatible brand, serial number and part number. Simply select your desired configuration and click "Start Configuration", FS Box will work. After successfully configuring, the updated information of the transceiver will be shown in the reading column.
Note: FS Box only supports FS transceivers reconfiguration, other optics can only be studied on it.
FS Box—Make It Possible
With a wide range of configuration choices to keep up with changing needs, the practical and technician-friendly FS Box not only solves the real-time compatibility requirements faced by optical network engineers, but also can continuously upgrade the transceiver firmware, including part number, serial number, vendor name, etc., to make it compatible with the upgraded switches. User feedback will be appreciated as FS strives for the best, all-round solution to make your networking better.
You might be interested in