Pre-terminated Cabling System for Data Center Structured Cabling
Field termination has been widely used during the deployment of data center in the past years. However, with the data center increasingly depending on high-density cabling, traditional field termination methods will result in extended deployment time, higher installation costs and increased downtime. To solve these issues, pre-terminated cabling system, which can accelerate the installation process, reduce costs and errors, is introduced to the data center structured cabling system.
Data center structured cabling is a telecommunications cabling infrastructure consists of a number of standardized smaller elements. According to TIA-942 standard, a data center structured cabling system always includes five key functional subsystems: Entrance Room (ER), Main Distribution Area (MDA), Horizontal Distribution Area (HDA). Zone Distribution Area (ZDA), and Equipment Distribution Area (EDA). MDA holds the main cross-connect, the core routers and LAN/WAN switches. HDA acts as the telecom room. ZDA is the consolidation point for all the data center network cabling and switches. EDA is main server area where the racks and cabinets are located.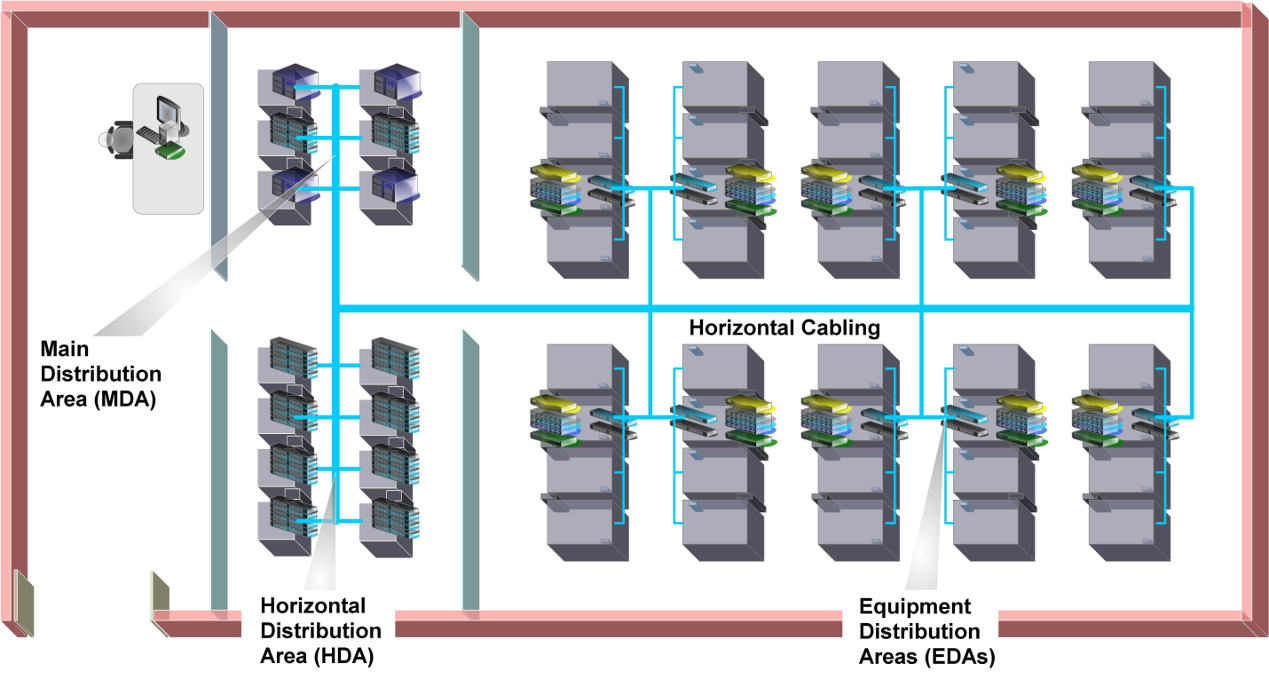 Image source: EEP (Electrical Engineering Portal)
Generally, there are two types of cabling design for connecting the above mentioned systems: backbone cabling and horizontal cabling. Horizontal cabling supports mechanical termination, patch cord and horizontal cross-connect to the HDA, which may connect either to the ZDA or the EDA. Horizontal cabling can be fiber, copper or a mix of both. Backbone cabling on the other hand simplifies the design of the data center network cabling as it supports patch cord, mechanical termination and main cross-connects to various areas of the data center. Read more details on backbone cabling and horizontal cabling at Backbone Cabling vs Horizontal Cabling
Pre-terminated fiber/copper cabling solutions are ideally suited for data center structured cabling design in MDA, HDA and ZDA areas. Usually, pre-terminated fiber-optic cable assemblies offer high-density small-form-factor cabling-up to 144 fibers per cable and are used as backbone cabling MDA. Pre-terminated copper assemblies are typically comprised of bundles of 6 or 12. They are used in the HDA to connect switch cabinets to server cabinets, and in the ZDA to run from the HDA to zone boxes.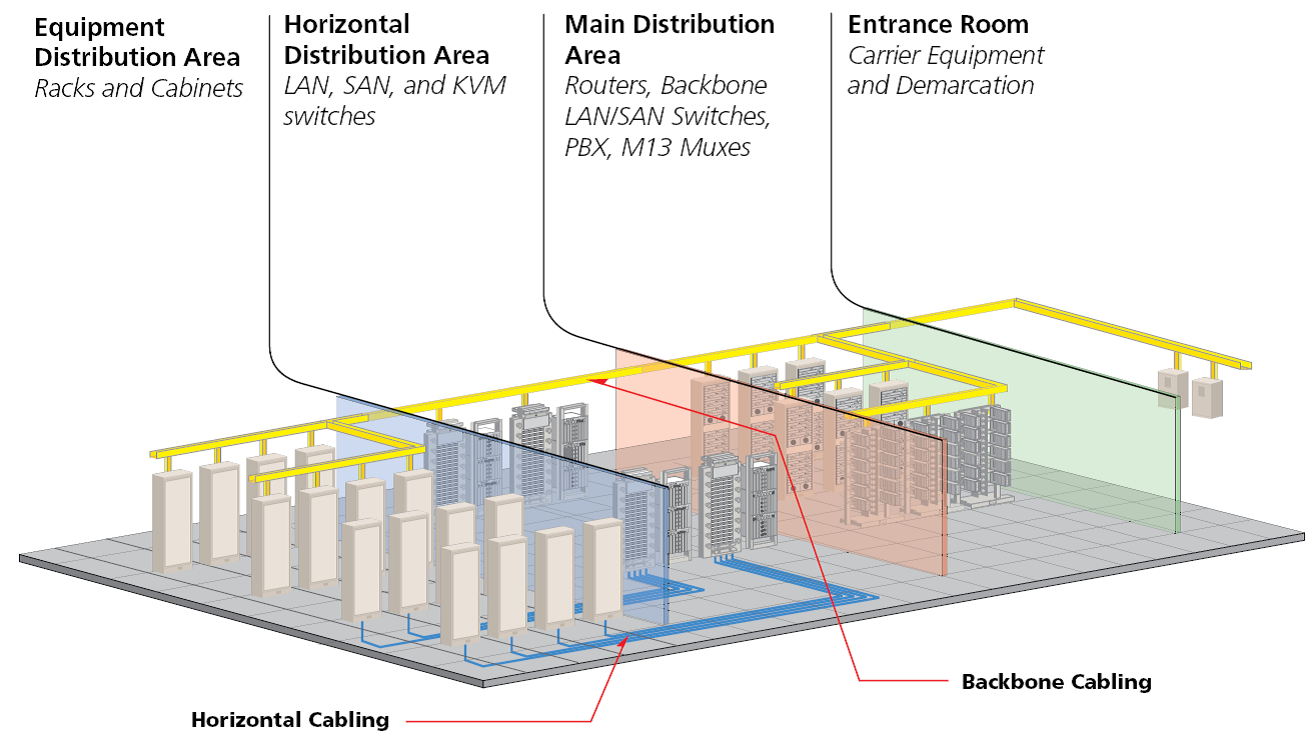 Image source: Cansol Consulting
Pre-terminated cable provides a plug-and-play solution for links between switches, and servers in the data center. These solutions often include MTP trunk cables, fiber patch cables, and Pre-terminated copper trunk cable.
Pre-terminated with high-quality and good-performance MTP/MPO connectors, this pre-terminated cable can meet the demand for high speed and high density in the current and future network. Generally, there are MTP/MPO trunk cable and MTP/MPO harness cable in this category. Both these two pre-terminated cables can be used for 40G, or even 100G applications.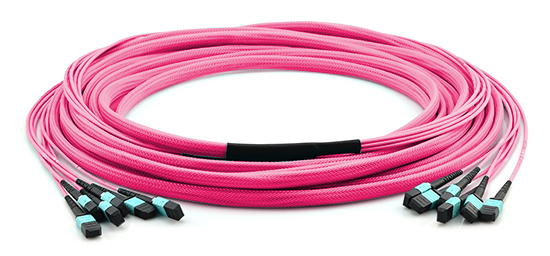 Divided by different connector type, core diameter and fiber cable structure, there are a wide range of fiber patch cables, such as LC fiber cables, single-mode patch cables and duplex patch cables and so on. Fiber patch cable helps to ensure a reliable temporary fiber optic interconnection, making it become the most commonly used pre-terminated fiber cable in data center.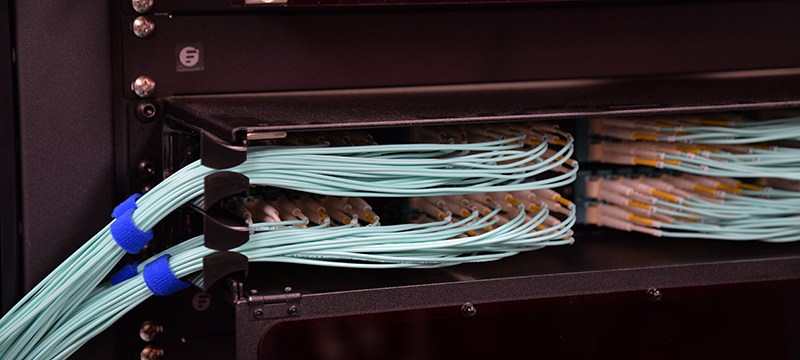 Pre-terminated copper trunk cables provide a quick plug-and-play solution for links between switches, servers, patch panels, and ZDA in the data center. With the right upfront planning and coordination, these trunks can offer major benefits over terminating twisted-pair cable in the field. Copper trunks are typically comprised of bundles of 6, 12, or 24 and factory terminated with jacks and plugs. There are various pre-terminated copper trunk cables available in Cat5e, Cat6 and Cat6a UTP and STP cable construction with different termination types, such as jack to jack, jack to plug, plug to plug, etc. on the market.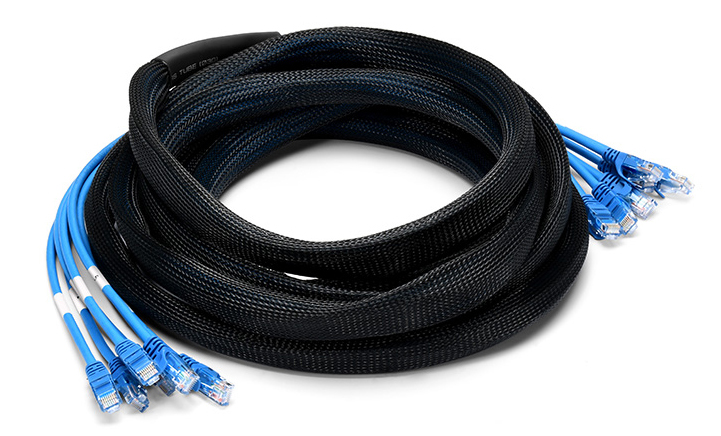 Pre-terminated cabling solutions are designed for rapid deployment in data center structured cabling installation and upgrade. They are ideal for environments where performance, flexibility, and scalability are critical. As the on-line leader in providing data center solutions, FS.com offers all kinds of Pre-terminated MTP/MPO cables, LC/SC Pre-terminated cables and Pre-terminated copper trunk cables. All of our products are 100% tested for good quality and high performance. Now these products are with huge stock in our US and DE warehouses. Custom service are also available for special needs.
You might be interested in
