Upcoming FS N Series Spine/Leaf Switch for Data Center
June 24th, FS News – FS will soon introduce high performance open networking 10G/25G/40G and 100G switches with Broadcom chip and ICOS network operating system, enabling easy implementations of next-generation leaf-spine architecture and software defined (SDN) and network functions virtualization (NFV).
FS N series open networking switches are produced with Broadcom's StrataXGS Trident II and StrataXGS Tomahawk switch chips. Broadcom is the worldwide leading vendor for switching merchant chips. The Broadcom's StrataXGS series chip is the mostly used hardware in many high-speed switching equipment from the largest-switching vendors including Cisco, Dell, IBM, Arista and Juniper.
Forthcoming FS new open networking switches are with licensed Broadcom operating system ICOS.
With ICOS as part of the new FS open network switches, customers will be able to leverage the rich and expanding configuration, management and engineering tools available through open source and commercial ICOS communities to develop cloud data center environments that best fit their business.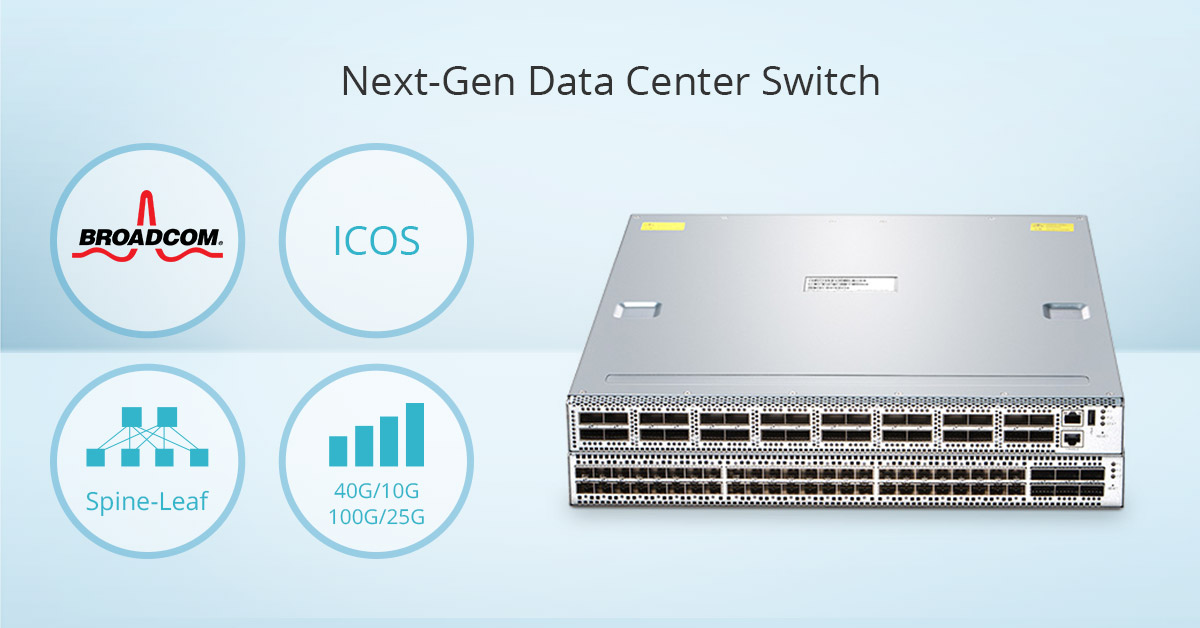 FS new line of switches provides web scale customers with increased choice in open network environment and the ability to adapt data center networks to meet their requirements. The new open networking switches not only enable 40G to 10G spine-leaf data canter deployment, but also include 25G/100G switches for higher performance web scale data centers. FS high performance leaf-spine switches provide hybrid networking solutions in a box, which enables customers a seamless migration to network modernization for network virtualization and automation.
Here gives the switching chip and CPU information of our superior 10G/25G/40G and 100G open switches:
Product Number
Price
Ports
Switching Chip
CPU
Operating System
N8500-32C
US$ 9,199.00
32*100GbE QSFP28
Broadcom Tomahawk
Intel Rangeley C2538
w/o Broadcom ICOS
N8500-48B6C
US$ 6,199.00
48*25GbE SFP28 & 6*100GbE QSFP28
Broadwell-DE 2.2Ghz 2-core
N8000-32Q
US$ 5,819.00
32*40GbE QSFP+
Broadcom Trident 2
Intel Rangeley C2538
N5850-48S6Q
US$ 4,419.00
48*10GbE SFP+ & 6*40GbE QSFP+
Intel Rangeley C2538
Other Compatible Networking OS:
Cumulus Networks - Cumulus Linux
IP Infusion - OcNOS
Open Compute Project - Open Network Linux
Pica8 - PicOS
---
FS open platform switching products are of super quality with top Broadcom StrataXGS chips and licensed ICOS operating systems. FS is dedicated to providing best networking gears for our customers and we have cumulated years of experience and expertise. Our products have been deployed in data center and cloud computing applications all over the world.
You might be interested in