40G QSFP+ Cables: DAC vs AOC, What Are the Differences?
Today's networks require higher performance of cabling and cost-effective connections. For 40G connections, the QSFP+ cables - DAC (direct attach copper cable) and AOC (active optical cable) can meet the two requirements with plug and play feature, and are becoming popular in data centers and enterprise networks. But what are they? Is there any difference between the two QSFP+ cable types? What's the difference between QSFP+ cables and QSFP+ transceivers with connected fibers? This article offers explanations.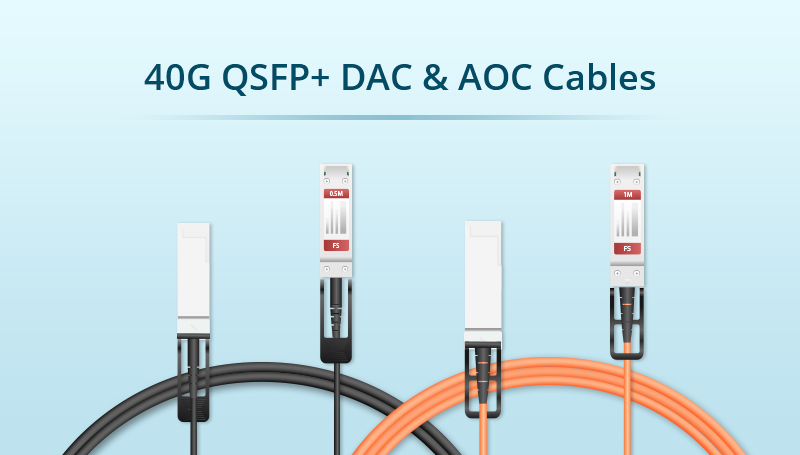 What Is QSFP+ DAC Cable?
40G QSFP+ DAC is a high-speed twinax cable with QSFP+ connector on either end of the cable. 40G DAC cable uses silver-plated conductor and foaming insulation cable as the materials, and adopts line-pair shielding or completed shielding to deliver the electric signals. The gauge of its shield copper cable varies from 24 to 30AWG. Longer DAC cable requires a larger gauge, so as to reduce the signal transmission loss through the cable. For example, one meter 40G QSFP+ to QSFP+ DAC cable uses 28 AWG, and 7 meters 40G QSFP+ to QSFP+ DAC cable of the same brand adopts 24 AWG.
QSFP+ DAC Types
Direct attach copper cable can be divided into two types, passive DAC and active DAC. Passive DAC does not amplify or condition the signals in any way because it has no electric components. The signals are passed through and regenerated by the host network equipment. Normally, the max. distance of passive DAC is 7m. Active DAC is similar in construction to passive DAC but has a more driving chip for signal conditioning. And the length limit of an active DAC cable is about 10m or more, which is longer than a passive DAC's limit.
QSFP+ DAC Application
On the market, QSFP+ DAC cables include 40G QSFP+ to QSFP+ DAC and QSFP+ to 4x SFP+ breakout DAC cable. They are used in different scenarios. The QSFP+ to QSFP+ DAC cable is used to connect two 40G port of different network switches, while QSFP+ to 4x SFP+ breakout DAC cable splits one 40G signal into 4x 10G, which is usually applied in the migration from 10G to 40G (refers to QSFP+ to SFP+ configuration guide to see the details).
What Is QSFP+ AOC Cable?
QSFP+ AOC cable consists of a duplex of fiber optic terminated with QSFP+ connector on either end. The cables used in an AOC are multimode optical fibers. And the connectors in an AOC are actually optical transceivers, which makes AOC a bit more complex and expensive than the DAC. An active optical cable requires external power to complete the conversion of electric and optical signals. The optical fibers and technology used in AOC make it a reach of up to 100m.
QSFP+ AOC Application
At present, a variety of QSFP+ AOC cables have been launched for 40G applications, including 40G QSFP+ AOC, 40G QSFP+ to 4x SFP+ breakout AOC, and 40G QSFP+ to 4x duplex LC breakout cables (sometimes also named 40G QSFP+ to 8x LC connectors breakout cables). And some providers offer a customized service of 40G QSFP+ to 8x SC/ST/FC connectors breakout cables. The 40G QSFP+ AOC cable is a cost-effective means to connect 40G ports on two switches directly. The 40G QSFP+ breakout AOC cables are suitable for network upgrade from 10G to 40G. Note that, the QSFP+ to 4x duplex LC breakout cables should use four SFP+ transceivers to connect the LC connectors, like the following figure shows.

QSFP+ DAC vs AOC, What's the Difference Between the Two QSFP+ Cables?
The differences between the two QSFP+ cables are working principle, transmission distance and cost.
Working Principle
Because DAC and AOC use different designs, they work differently. Passive and active DAC use copper cable to deliver the electric signals. Passive DAC can transmit signals directly without signal conditioning, active DAC uses the driving chip inside the transceivers to boost signals, and AOC requires external power to convert signals from electric to optical, and then electric at last. It uses optical fibers not the copper cables to complete the transmission.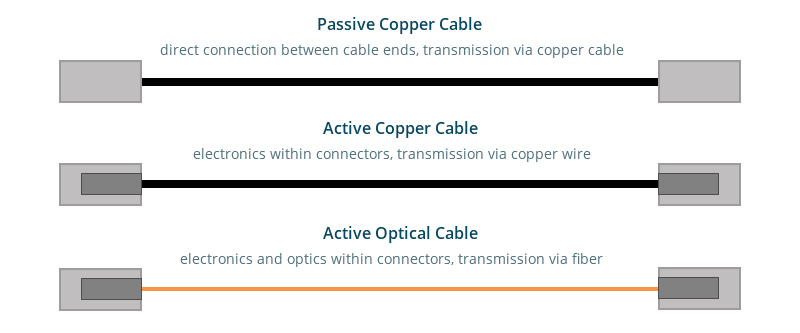 Transmission Distance
As mentioned above, AOC cable is designed with optical fibers, while DAC cable uses copper cables design. Thus, AOC offers longer reach capability than DAC's 10m limit. Besides, AOC is thinner and flexible bend radius, which may increase airflow cooling in the racks.
Cost
By product structure, DAC is more simple with fewer components. Normally, the cost of DAC is lower than AOC. For example, at FS, one Cisco compatible 40G QSFP+ to QSFP+ passive DAC cable with 3 meters requires 25 dollars, while a Cisco compatible 40G QSFP+ to QSFP+ AOC with 3 meters costs about 95 dollars.
FAQs
How Are the QSFP+ Cables Different from QSFP+ Transceivers with Connected Fibers?
Simple and direct QSFP+ cables yield a surprisingly large number of technical benefits and cost advantages, they enable:
Lower Price. QSFP+ DAC and AOC cables are less costly than using 40G QSFP+ transceiver modules with connected fiber cables, because the direct interconnections are simplified. There aren't any additional connectors, cassettes and so on along the path of a communication channel.

Lower Power Consumption. Power consumptions of QSFP+ cables are less when compared to the use of 40G transceivers and fiber cables, because the transceivers modules are designed for longer transmission distance (more than 100m) which requires more power consumption. Therefore, using QSFP+ cables will consume less power consumption of a whole network.

Plug and Play Design. QSFP+ cables are "plug and play" cable solutions, rather than the "plug, assemble and clean" solutions as with fiber transceivers and fiber cables. Using DAC or AOC cables, IT people don't need to clean and inspect the transceivers' connectors and fiber cables in the field. This may also lower operational costs and time.
The following figure shows the differences between 40G QSFP+ cables and 40G modules.
Parameter
DAC
AOC
Transceivers
Reach
up to 7m (passive)
up to 10m (active)
up to 100m
100m to 40km
Cable Type
Twinaxial copper
Optical fiber
Optical cable
Price
$ (passive)
$$ (active)
$$$
$$$$
40G QSFP+ DAC vs. AOC vs. Transceiver, How to Choose?
The decision is made by different factors, such as the network budget, transmission distances and so on. For transmission distance under 10m, using reliable QSFP+ passive copper cable is recommended. Though AOC cable is also designed for short link, from the perspective of cost, reliable QSFP+ direct attach passive copper cable is a better choice. When 40G link distance is between 10m and 100m, 40G QSFP+ AOC is more suitable. If the link distance is longer than 100m, you can choose 40G QSFP+ SR4 transceiver, working with OM3 over 100m or OM4 over 150m. But if the 40G network is deployed over a longer distance, 40G QSFP+ LR4 transceiver and single-mode fiber will be the choice.
You might be interested in