QSFP-40G-BiDi vs QSFP-40G-SR4, Which to Choose?
There are four major QSFP+ transceiver modules designed for short-distance transmission (<1km): 40GBASE-SR4, 40GBASE-BiDi, 40GBASE-CSR4, and 40GBASE-UNIV. The first two are the most commonly used modules among them. After finishing this article, you will figure out what QSFP-40G-SR4 & QSFP-40G-SR-BD are and the differences between them, which may help you to deploy 40G network wisely.
QSFP-40G-SR4 & QSFP-40G-SR-BD at a Glance
QSFP-40G-SR4 Overview
QSFP-40G-SR4 transceiver for 40G connection is in a QSFP+ form factor, which supports link lengths of 100 meters and 150 meters on laser-optimized OM3 and OM4 MMFs (multimode fibers) respectively. For a 40G connection, it enables high-bandwidth 40G optical links over 12-fiber parallel fiber terminated with MTP/MPO female connectors. The 4x10G connectivity can be achieved using an external 8-fiber parallel to 2-fiber duplex breakout cable, like MTP to LC breakout cable.

Figure 1: QSFP-40G-SR4
QSFP-40G-SR-BD Overview
40G BiDi transceiver, known as QSFP+ bidirectional transceiver, operates over two different wavelengths to transmit and receive in both directions over one strand MMF by adopting WDM (wavelength division multiplexing) technology. Also served as a short-reach optical transceiver, QSFP-40G-SR-BD transceiver can reach 100 meters over OM3 or up to 150 meters via OM4.

Figure 2: QSFP-40G-SR-BD
QSFP-40G-SR4 vs QSFP-40G-SR-BD, What's the Difference?
Through the above-mentioned introduction, it's effortless to conclude that both QSFP-40G-SR4 and QSFP-40G-SR-BD work through MMFs with transmission distance up to 150 m. After learning the working principle of both modules in this part, the differences will be revealed accordingly.
The Working Principle of QSFP-40G-SR4
The MTP-interfaced QSFP-40G-SR4 uses independent transmitter and receiver sections. 4 independent full-duplex transmit and receive channels are capable of running up to 10G data rates per channel, achieving the aggregated 40G data rates. This module is often used with the 12-fiber MTP trunk cable, four transmitting and four receiving, leaving the middle four unused. The following picture presents the technology concept of QSFP-40G-SR4 transceivers.

Figure 3: QSFP-40G-SR4's working principle
The Working Principle of QSFP-40G-SR-BD
Unlike QSFP-40G-SR4, QSFP-40G-SR-BD has four 10Gbps signal channels which are converted to two bidirectional channels of 20Gbps signals. The two channels transmit and receive simultaneously on two wavelengths over a single MMF strand, enabling an aggregated 40Gbps link over a two-strand multimode fiber connection. The following picture shows the technology concept of QSFP-40G-SR-BD transceivers.

Figure 4: QSFP-40G-SR-BD's working principle
The working principles of QSFP-40G-SR4 and QSFP-40G-SR-BD indicate their distinctions: the SR4 module has an MTP interface, while the BD module has an LC interface; QSFP-40G-SR4 has the capability of 4x10G connectivity, while QSFP-40G-SR-BD transceivers can't be split into 4x10G. With QSFP-40G-SR-BD transceivers, it is allowed to use the same infrastructure as 10G (10GBASE-SR) with no additional cassettes, which is more straightforward and convenient compared with the QSFP-40G-SR4 connection for short distances.
10G-40G Migration: QSFP-SR4-40G or QSFP-BD-40G?
Unstructured Cabling System
In an unstructured cabling system, devices are connected directly with fiber cables. This direct-attachment design can be used to connect devices within short distances in a data center network. For 10G direct connections, 10GBASE-SR SFP+ transceivers operate over MMFs with LC connectors. However, an MTP cable is what two QSFP-SR4-40G transceivers need in a direct connection. Thus, upgrading from 10G unstructured cabling to 40G is not straightforward if using QSFP-SR4-40G modules. The direct connection between two 40Gbps devices can also be provided by duplex LC MMF cables with QSFP-BD-40G transceivers at two ends, which means QSFP-BD-40G modules can reuse the existing cables when conducting 10G-40G migration. Zero-cost cabling migration from direct 10Gbps connections to direct 40Gbps connections will be realized effortlessly.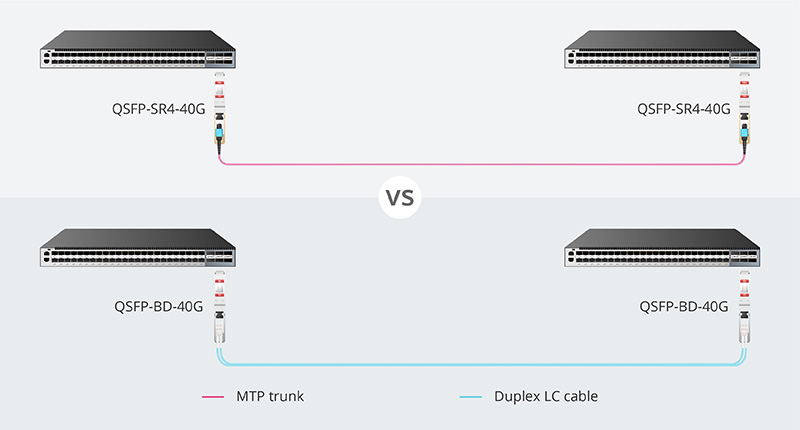 Structured Cabling System
Besides the unstructured cabling system, a structured cabling system is commonly deployed in data center networks to provide a more flexible and scalable cabling infrastructure. When it comes to structured cabling, more permanent links should be considered. For example, in a 10G-10G structured cabling system, there are two SFP-10G-SR transceivers on both ends, two LC duplex patch cord connect each module to one MTP-LC device respectively, and one MTP trunk cable is responsible for the connection between two MTP-LC devices. If it is needed to update to a 40G-40G network, two solutions are adoptable: first, choose two QSFP-SR4-40G transceivers, replace the original LC patch cords with MTP trunks, and pick two MTP adapter panels as substitute for MTP-LC devices that are connected by the previous MTP trunk; if we choose two QSFP-BD-40G transceivers, however, we just need to change the modules on both ends and reuse all the other cabling devices without changing the current cabling system.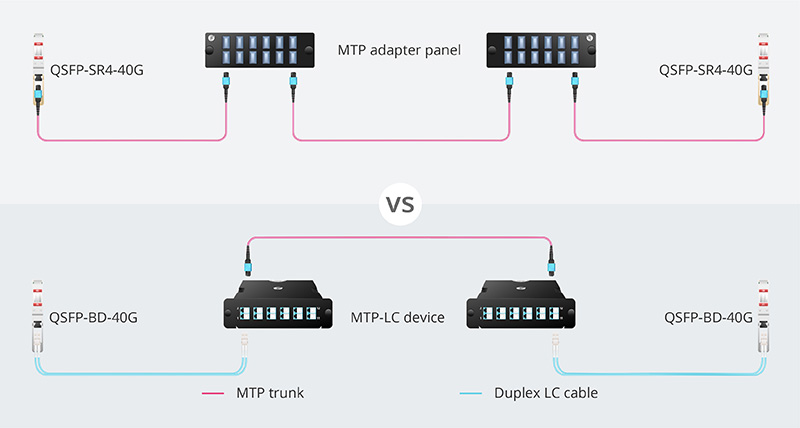 Summary
QSFP-40G-SR-BD, a breakthrough in the 40G network, enables the users to realize the migration from 10G to 40G without replacing the current 10G cabling infrastructure, which possesses immense flexibility and simplicity. Compared with QSFP-40G-SR-BD, the widely-used QSFP-40G-SR4 can also provide solutions for 40G cabling. It's all up to your needs and your preferences. Hope that what is discussed in the article could help you make an informed decision for your 40G network in short distances.
You might be interested in