Cable Management for a Small LAN with a 24-port Patch Panel
Patch panel, also known as patch bay, is a device featuring a number of jacks used to facilitate the connection of different devices for different projects so that it serves as the nerve center for the cabling network. Typically, patch panels are available in a huge number of port densities from 12 port to 48 port. Among the different ports, the 24 port patch panel is the most popular option for small LAN cable management.
24 port patch panel can be applied in fiber and copper cabling system to organize and distribute cables and the branches. There is no real difference in performance and construction, but a drastic difference between the copper and fiber panels is the cables they will wire. Fiber patch panel is mainly used in fiber optic cable management, while copper patch panel is designed for both shielded and unshielded copper cables like Cat5e, Cat6, Cat6a, and Cat7.
Copper patch panel generally has the punch down, pre-loaded and unloaded options. Pre-loaded patch panel features pre-installed connectors, so it is also referred as feed-through patch panel. Whereas, unloaded patch panel, known as keystone patch panel, typically has empty holes where connectors can be installed prior to deployment. Since the feed-through and blank keystone patch panel are easier to install and troubleshoot than punch down type, they are more acceptable to data center designer. The following video is the best explanation of these two styles:
• 24-port Feed-through Patch Panel
From the video above, we can see that the 24-port feed-through patch panel is terminated with the RJ45 connector on both sides, so it does not need to punch down the cables to the ports. Instead, the Ethernet patch cables can be inserted into the ports directly in an easy and fast way. It is an ideal solution for existing data centers which require additional patching to improve cable management efficiency. FS.com is available in 24-port shielded and unshielded feed-through patch panel with Cat5e/Cat6 configurations. They are made of cold-rolled steel and meet 19" rackmount standards. Constructed with cable management bar and number coding, they allow you to neatly and effectively organize and route cable bundles along the rack.
• 24-port Keystone Patch Panel
The 24-port keystone patch panel is designed to use 24 individual standard keystone jacks to be presented in the patch panel configuration, including shield or unshield Cat5e/Cat6 portfolios. The front of the panel is equipped with port labeling. Keystone jacks can be terminated to the cables and then snapped into the patch panel. No tools are required to install RJ45 insert modules onto patch panel. This type of patch panel allows for a wide range of networking options and network cables with the use of a single patch panel, such as Ethernet, voice, data, video, and audio. The following video gives a quick view on how to use keystone patch panel for your Ethernet cabling. FS.com is available in 24-port shielded and unshielded keystone patch panel with flat and angled designs. They can fit in any standard 19-inch relay rack, cabinet or wall bracket. Designed with pre-numbered ports and write-on areas on the front, they allow keep track and identify cable runs to stay organized.
• 24-port 110 Punch Down Patch Panel
Punch down patch panel is a traditional type of copper patch panel for point-to-point trunks. The following picture shows a 24 port UTP Cat5e punch down patch panel. On the front plate, 24* RJ45 ports are used to directly connect Ethernet copper cable. All ports are numbered for easy identification. In the rear, it's patch panel module with color markings for punching down Ethernet cable. Color-coded labels are designed for T568A and T568B wiring configurations. Any interest in punching down patch cable, please refer to How to Wire Cat5e Patch Panels?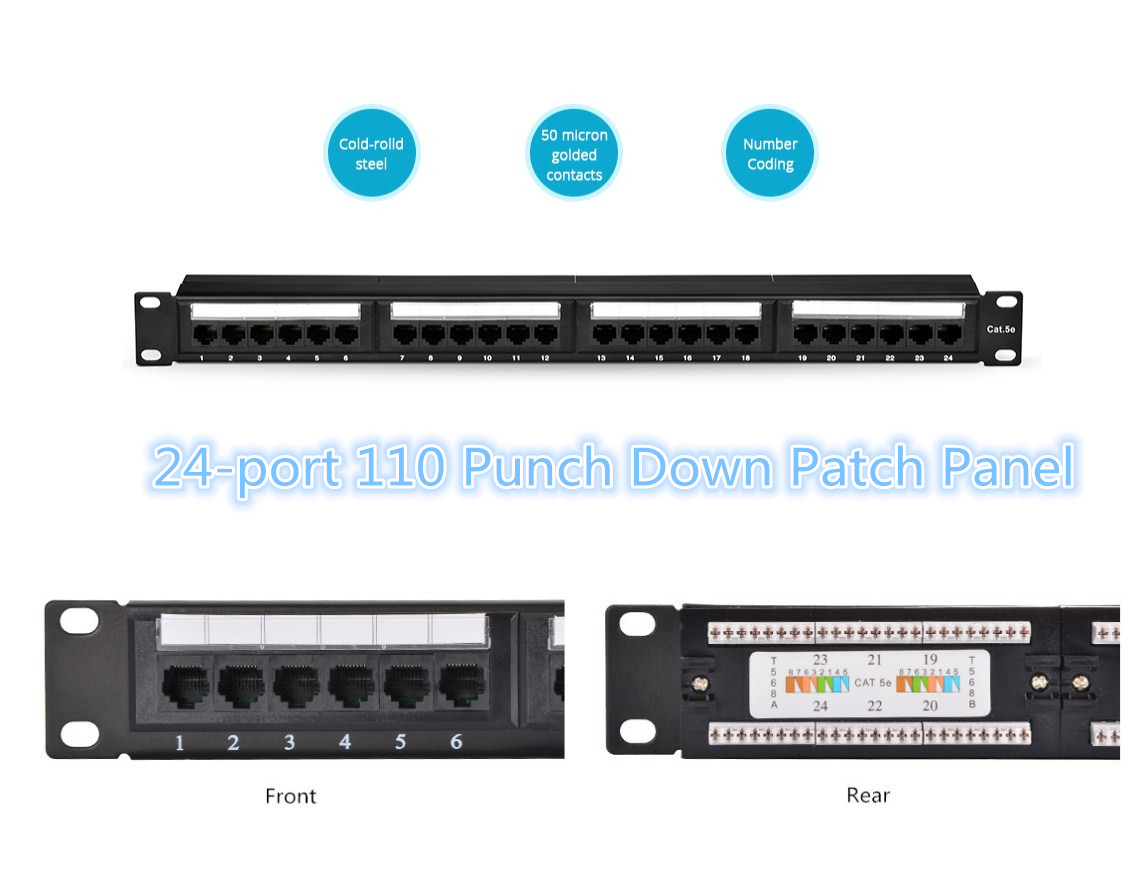 Fiber patch panel, also known as fiber distribution panel, is used mainly in fiber optic cable management. There are two kinds of fiber optic patch panels: the rack mounted and the wall mounted, both are usually placed near the terminating equipment. For more patch panel cabling solutions, please refer to Fiber Patch Panels: Network Necessities. Here mentioned is a kind of loaded fiber optic patch panel that is pre-installed with LC/SC fiber adapter panels. It allows for up to 96 fiber rack-mount enclosure installation. The plug and play design enables quick removal and installation without any tools, providing an affordable and compact solution for your network. FS.com FHU 1U patch panel can be mounted directly to the rack, and come with the cable management tools to secure the cables.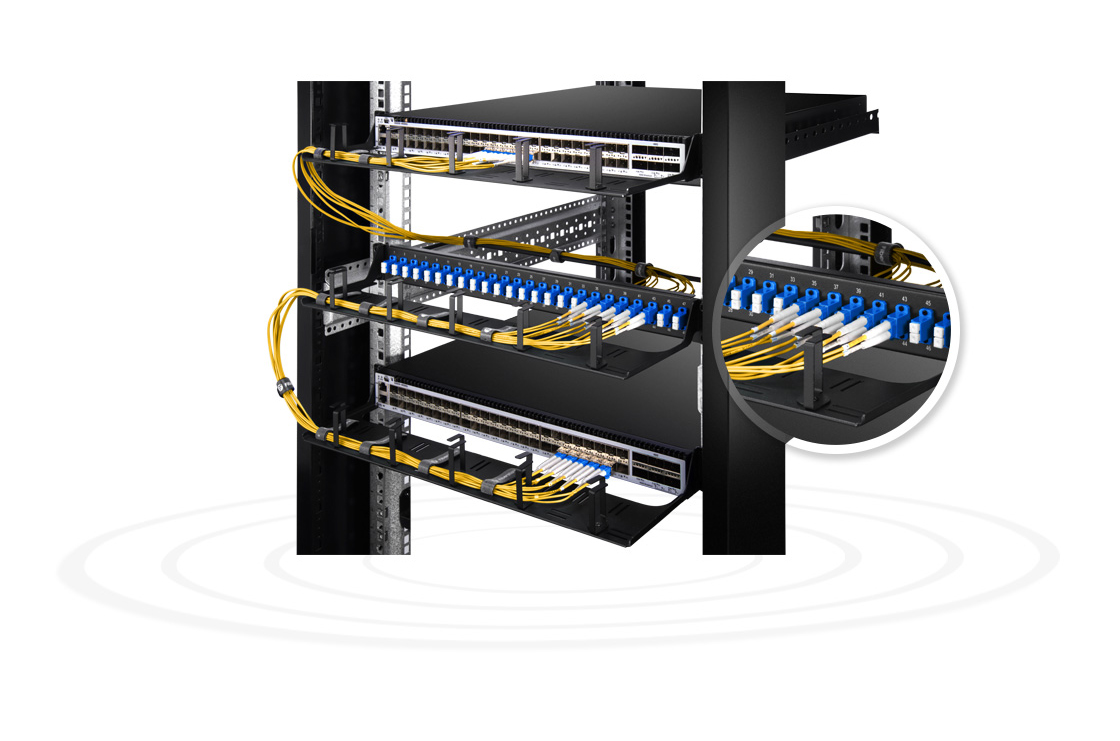 Many people may be confused why we should introduce a patch panel in my network instead of terminating the cables directly to the network switch. It must also be possible to replace the 24 port patch panel by a 24-port switch. Is it right? Absolutely not, a 24 port patch panel cannot be substituted with a 24-port switch. The reasons include two aspects:
The patch panel ports can be labeled (as shown in the following picture) to help identify which cable from which location is getting terminated on which port of the patch panel. When there is a need for testing or disconnecting a particular cable, you could easily locate them on the patch panel. Beyond that, the labels help to create a neat and organized way for cable management, especially coming with cable ties and mounting components.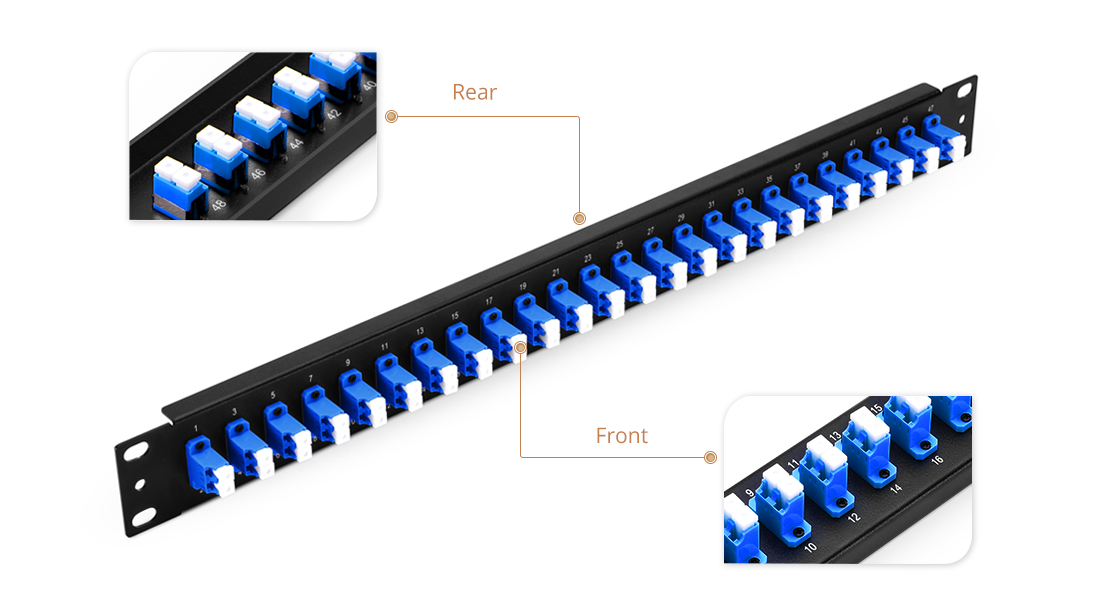 Additionally, patch panel makes it easier to troubleshoot problems, because it groups all of the input jacks into one side and the output jacks into the other side. During a connection fault, patch panels help identify whether the fault is on the switch side or on the cable (network) side.
Patch panels are a part of structured network LAN cabling, so they are generally mounted in the network racks, mostly above or below the network switches. The 24 port patch panels predominantly occupy a space of 1U in the network racks. They help to eliminate all the wire clutter by offering space and protection for all cables and cable links. Consequently, these patch panels make cable management and troubleshooting work easier.
Related Article:
How to Select the Suitable Copper Patch Panel?
You might be interested in