Quick Guide to Power Distribution Unit (PDU)
Power distribution unit, also known as PDU, refers to a device fitted with multiple outputs designed to control and distribute electric power, which is normally used in the racks of networking equipment located in a data center.
A basic PDU performs the same job as a power strip, which provides multiple devices using the current of a single power source, such as a wall outlet. The rack-mounted PDU that we'll discuss today mounts directly into the equipment rack to monitor and control the power supply, which assists in balancing power loads for some specific devices like servers and switches. And it is typically either 19 inches or 23 inches in width. Different from other kinds of PDUs that are designed to be wall-mounted or attached to the side of an equipment rack, the rack PDUs will decrease the distance between the power outputs of the PDU and the power inputs of the devices that will receive electricity.
According to different classification standards, the rack PDUs have various types for different applications: non-intelligent & intelligent PDUs, single-phase & three-phase PDUs, vertical & horizontal PDUs, etc. Available PDU Types in the Market will give you a comprehensive introduction to different PDUs.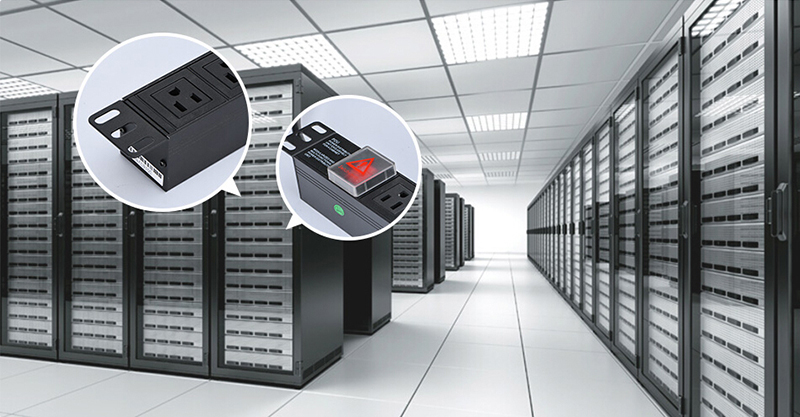 The Benefits of Adopting a Power Distribution Unit
Reduce Energy Costs
Using PDU means running various outputs all from the same source. Thus it's much easier to channel the energy and avoid any unnecessary wastage.
Provide Reliability for Power Loads
PDUs can help to link each socket to a computing or networking device so as to multiple integrated power outputs. Adopting a PDU solution will help to protect against data loss and downtime caused by a disconnected plug.
Create an Organized Structure
Simply put, no more clutter. The optimal form factor takes up less space for efficient rack space utilization. Furthermore, the mass situation of hundred different wires running around leading to different places won't exist any longer. The PDU will be the central control hub of all the power outputs.
Offer Convenient and Flexible Installation
The rack PDUs are generally lightweight to mount. PDUs with color-coded circuits make it easy to identify phases to outlet banks to aid in fault isolation or load balancing. The rack PDUs are available in either vertical or horizontal formats and can be custom built to match specific power requirements from some vendors. Most of them are versatile and cost-effective to meet various network requirements.
How Many Types of Receptacles for PDU?
For PDU receptacles, most of them follow with the NEMA standard set by the US National Electrical Manufacturers Association. The NEMA connectors including power plugs and receptacles are used for AC mains electricity in North America and other countries that use the standards.
The NEMA wiring devices are made in current ratings from 15 to 60 amperes (A) with voltage ratings from 125 to 600 volts (V). The number follows the hyphen means the current rating of the device, while the letters have different meanings—R stands for "Receptacle" while P represents "Plug," and L indicates locking (receptacle or plug). For example, the 5-15R is the common 125 V two-pole, three-wire receptacle rated for 15 A. Sharing the same electrical rating, the L5-15R is a locking design that is not physically compatible with the straight-blade 5-15 design. And the 5-30R has the same two-pole, three-wire configuration and 125 V rating, but is rated for 30 A.
Every rack PDU provides a certain number of receptacles/outlets that vary based on the physical size (i.e. the length, width, and depth) of the PDU, as well as the total space available and the power handling capacity of the PDU. For instance, a 1U rack-mounted PDU has enough space to handle eight 120V/15A NEMA 5-15R outlets. And a 2U rack-mounted PDU that is larger with more available space and can handle greater power consumption levels might be able to support twenty 120V/15A NEMA 5-15R outlets.
Set by the Electrotechnical Commission (IEC), IEC 60320 is another standard that specifies non-locking connectors for connecting power supply cords to electrical appliances. The voltage should not exceed 250 V (a.c.) while the rated current should not exceed 16 A. C13 and C19 standard outlets are equipped with the cord locking system in order to avoid accidental disconnections, which are commonly found on servers, routers, and switches. C14 plugs for C13 and C20 plugs for C19 is a universal compatible solution.
Here are the figures of some commonly-used receptacle types: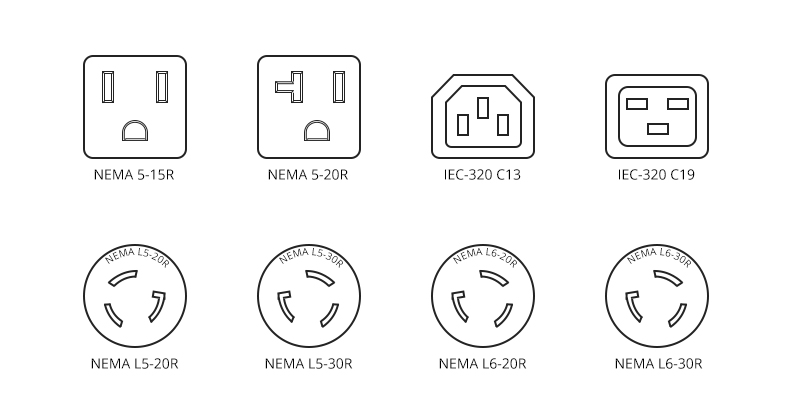 What Are the Typical PDU Power Designs?
Traditional PDU Power Design
In a traditional PDU power design with basic rack PDUs, one UPS (Uninterrupted Power Supply) is normally applied to support the servers, switches, and storage devices. When there is a power failure, UPS maintenance or replacement, the equipment will need to be shut down.
This kind of design is easy to implement with a low risk for design engineers. However, the drawbacks of such designs are distinct such as the consumption of the floor space, the disruption of the airflow that is used for cooling, and the risk of human error while working with circuit breakers and cables that are not clearly associated with a given load. Furthermore, this kind of traditional power implementations in data centers are neither flexible nor adaptable, which will be cost-consuming and time-consuming when upgrading.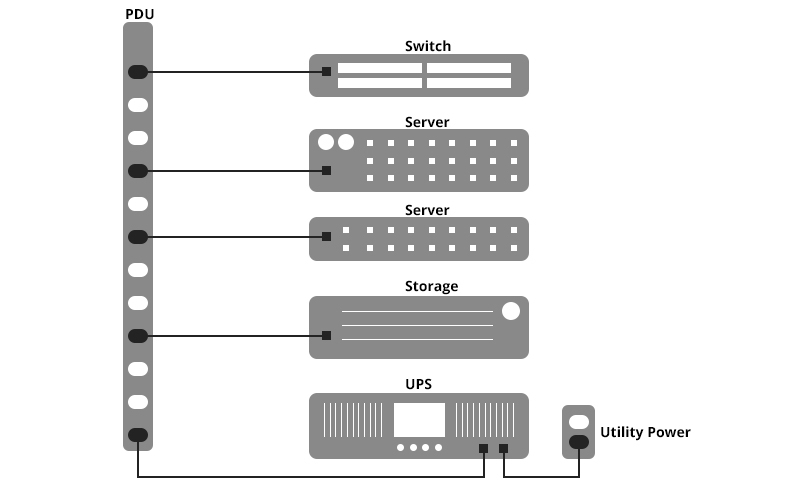 MBP PDU Power Design
Maintenance bypass (MBP) PDU allows the seamless transfer of an electrical load from UPS power to utility power for uninterrupted operation of connected equipment. Without shutting down the equipment, the power can be switched away from the UPS when it needs to be replaced. The UPS draws input power from the MBP through a dedicated receptacle which is separate from the outlets for connected devices.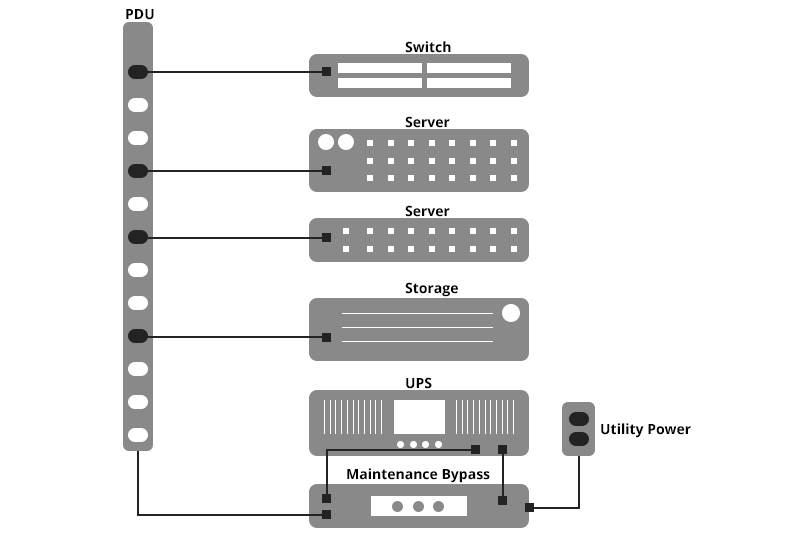 ATS PDU Power Design
ATS (Automatic Transfer Switches) PDUs provide power redundancy to equipment with only one power supply. They distribute unfiltered electrical pass-through to receptacles from redundant plugs. Dual power cords can be plugged into separate power sources to provide redundancy to single-corded connected equipment. If the power for the primary source exceeds the lower or upper thresholds, or if power fails, the PDU will switch to the secondary power source to ensure continuous operation. When the incoming power becomes stable, the PDU will switch back to the primary power source again. The current draw for connected equipment is displayed in amps on the front LCD for real-time load monitoring.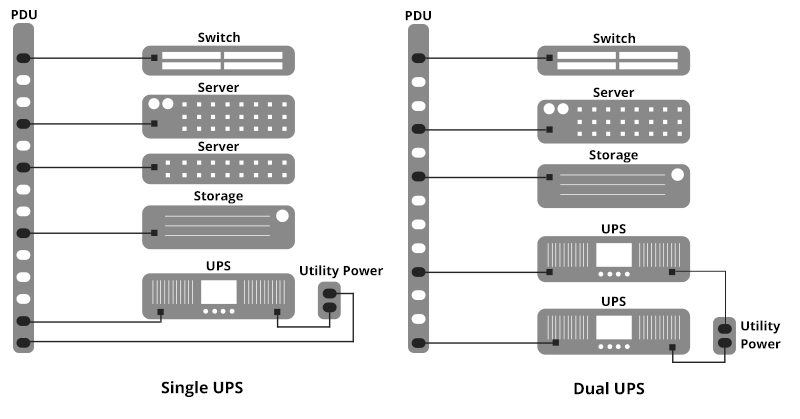 After comparing these three typical designs, it can be concluded that the first traditional one is more suitable for some simple applications in small-range networking scenarios. For some large-scale data centers, this kind of design is no longer adequate to meet IT service-level agreements. The MBP PDU and ATS PDU solutions can dramatically improve system reliability with a marginal cost impact, which is optimal for current power distributions.
Where to Install PDUs?
Many rack power distribution units come in 0U, 1U or 2U. "U" stands for the unit of measurement for racks, PDUs, and UPS products. Normally speaking, rack-mounted PDUs can be mounted either horizontally or vertically inside or outside a rack.
Horizontal PDUs are typically available in 1U or 2U heights and are designed for mounting in the standard EIA-310 19-inch wide equipment racks. Due to the smaller size, horizontal PDUs typically have fewer outlets but can be mounted above, below, or in-between the components of the rack.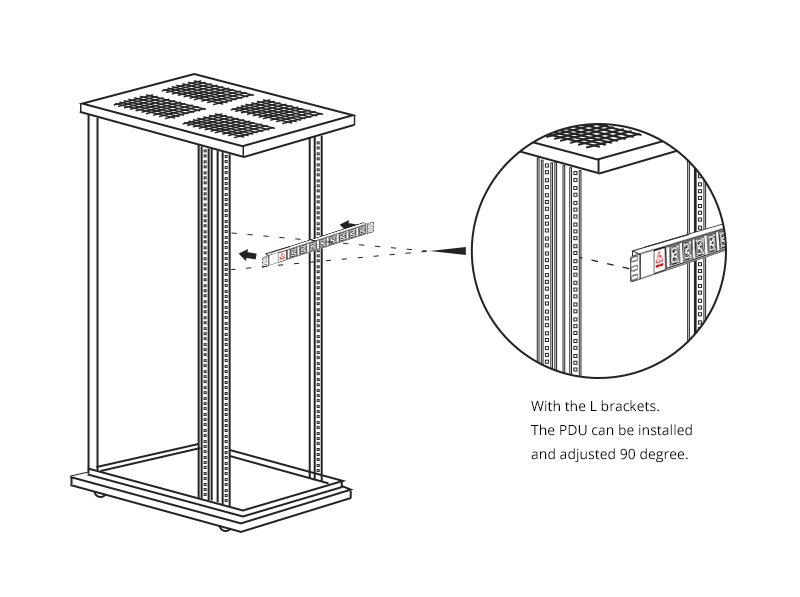 Vertical PDUs are mounted on the upright rails of a rack enclosure, which is known as 0U. Mounting it vertically means you do not take valuable horizontal mounting space away from your other equipment. Vertical PDUs are usually longer that have up to 40 outlets.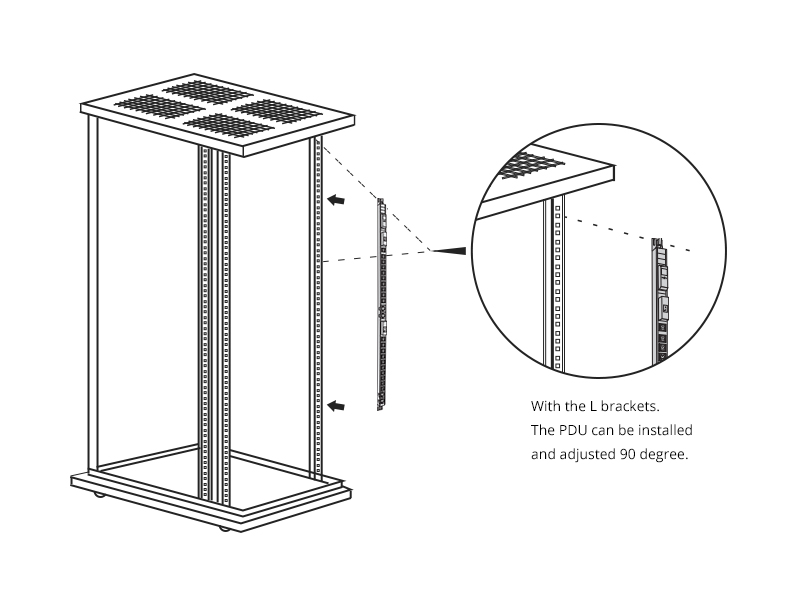 Comparing these two installation methods, it is concluded that the horizontal units are limited in the number of receptacles that can be put in the PDU since they are limited by rack width, while the longer vertical units can offer more receptacles.
What About the Future Prospects for PDUs?
Data center designers are often facing challenges in power management. After experiencing continuous revolutions, the current PDUs can help in regulating the voltage within a data center environment as well as offer real-time data about the input and output power of the IT infrastructure, thus enabling better power management during equipment failures. Therefore, PDUs will still be the critical components for managing and distributing electricity supply to switches, servers, and other networking devices in data centers.
According to the statistics, the global Power Distribution Unit market is poised to grow at a CAGR of around 7.1% to reach approximately $5.2 billion by 2024 during the forecast period. For the global PDU market, North America still holds the biggest share while witnessing the significantly increasing demands of countries in APAC, like India and China. Intelligent PDUs, among a variety of PDU types, are predicted to make the largest market share from 2020 to 2024 during the forecast period. The growing adoption of Telecom & IT for new data centers will encourage the administrators to make more investments in upgrading their existing facilities or building new facilities, which indicates the promising prospects of the PDUs. Power Distribution Unit (PDU) Market Analysis will offer a market insight report about the current and future trends of PDUs for you.
You might be interested in