Power over Ethernet Market Trend and PoE Applications
What is PoE? PoE (Power over Ethernet) is a technology to provide both data connection and electric power to the PoE enabled devices (also called PDs) over a single Ethernet cable. Since PoE technology is featured with low cost, less downtime, and easy installation & maintenance, the Power over Ethernet market demand has been increasing sharply over the years. Coming along with the booming PoE solutions market, the PoE applications also have penetrated everywhere.
Overview of Power over Ethernet Market
According to the global Power over the Ethernet market forecast from 2016 to 2022, the global PoE market is expected to grow at CAGR (compound annual growth rate) of 13% and estimated to reach a market size of around 1 billion US dollars by the end of the year 2022. The growth of the PoE market is being propelled by the increasing demand for PoE-based products such as VoIP phones, IP Cameras, WAPs (wireless access points), etc. Besides, the growing adoption of PoE power sourcing equipment for powering such devices will also further boost the Power over Ethernet solution market during the given forecast period.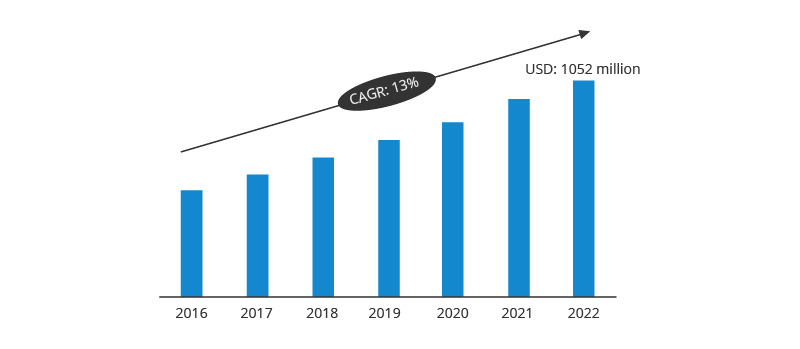 Analyzing by regions, North America holds the largest share of the PoE market, followed by Europe and Asia-Pacific. The dominant role that North American plays in the PoE market can be attributed to the increasing demand for the PoE controller and ICs particularly in the IT and telecom industry. Europe is also showing steady growth in the market of Power over Ethernet. Countries such as China, Japan, and India are some of the major contributors that help to promote the flourishing PoE market in the Asia-Pacific region.
PoE Market: Segments & Types
According to different features, the PoE market can be further divided into various segments:
By Types: In terms of PoE types, there are power sourcing equipment (PSE) & powered device (PD). Technically, a PSE like a PoE switch is used to connect PDs like VoIP phones to supply power and data simultaneously. With a PSE, the need for separate power supply devices for each PD can be eliminated greatly. The PSE segment is expected to hold the PoE market share of over 40% by 2025 as this equipment is widely used to meet the power requirements of the PDs.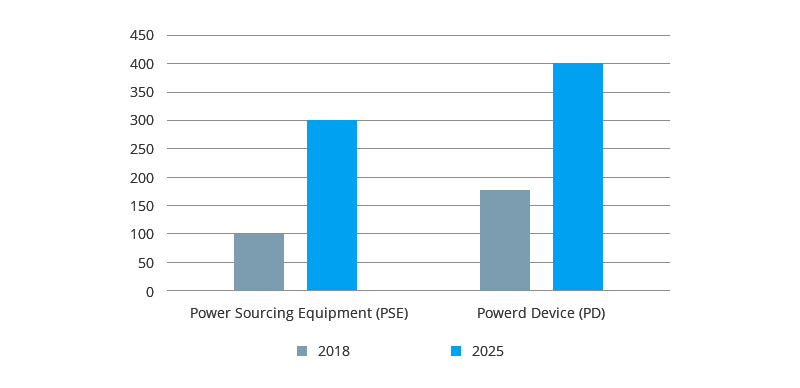 By Power to Port: Based on specified power over Ethernet standards, such as IEEE802.3af or IEEE802.3at, there are four types of PoE wattage per PSE port available in the market: up to 15.4W, up to 30W, up to 60W, and up to 100W. How does PSE (PoE switch) deliver power for PoE PDs? Get more information about PoE power supply through this article: PoE Power Supply: How Does PoE Switch Deliver Power for PoE Devices?
By Device: To realize a wide range of applications, the PoE devices have kept upgrading all the time. PoE devices like PoE switch, PoE injector, IP camera, VoIP phone, and WAPs are the top five popular devices. According to the Power over Ethernet market forecasts from the Dell'Oro Group, the PoE devices like WAP and the PoE lighting will be the two largest driving forces for the PoE industry in the upcoming 10 years.
By Application: In all kinds of PoE applications, the IoT connectivity, access control & security, lighting control, and infotainment hold the four largest PoE market shares. The IoT connectivity application segment held a major portion of the Power over Ethernet solutions market share in 2018 and is expected to dominate the market with a share of over 30% in 2025.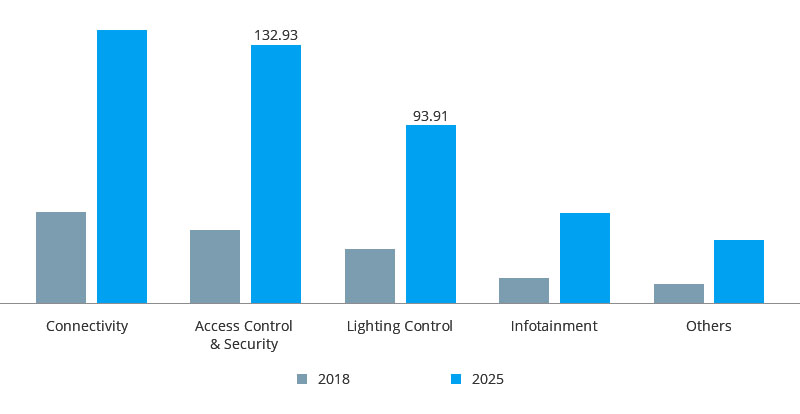 By End-User: In the PoE end-user market, industrial, commercial, and residential markets can be found. In these three markets, the industrial PoE market is expected to hold a dominant share of around 40% in 2025 due to the rising demand for PoE solutions in the industrial sectors such as energy, oil & gas, telecom, and automotive & transportation.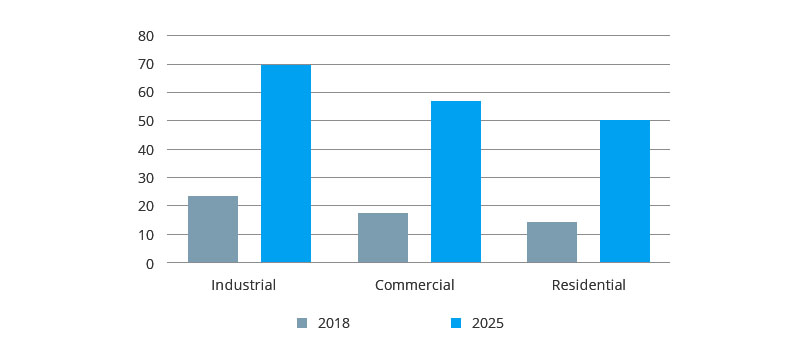 End-User Based PoE Applications
PoE-based products are widely deployed from small-sized homes to large-scale factories or office buildings to meet various end-users' needs. In most of the cases, they are applied for connectivity and security & access control applications. Apart from that, with the growing popularity of PoE lighting, PoE lighting solutions are also becoming more ubiquitous in PoE applications. Classified by the end-user types, there are industrial, commercial, and residential three main types in the Power over Ethernet market. Considering the specific end-user types, PoE applications show differences.
Residential PoE Applications
In recent years, PoE devices for homes have been in their new application stage with the arrival of PoE smart homes. By connecting PoE devices of homes together, the PoE smart home enables centralized management.
For example, by connecting a managed PoE switch with PoE LED lights and other smart home accessories such as wireless communication modules, a PoE lighting network can be built. Within that network, the user is able to dynamically monitor and control the whole LED lighting system.

PoE supports a full range of lighting capabilities, but that's just the beginning. The centralized management capabilities of PoE for lighting, temperature, energy, home entertainment, IP security, and other devices such as appliances and door locks allow the homeowners to monitor and control their homes remotely via phones or tablets. By means of intelligent PoE technology, there is a tendency for more and more families to bring PoE applications in their own homes.
Commercial PoE Applications
Generally, office, retail, and health care are the top three contributors to the PoE commercial field. Similar to the PoE smart home, the PoE smart office building also is one of the most popular PoE solutions in the PoE market. Especially with the IEEE802.3bt standard carried out, more power-hungry devices now can be involved in the PoE office network.
For instance, in a PoE++ network, the PoE switch delivers a max. power per port up to 100W. In that case, commonly used PoE devices in office buildings like digital signage displays, point-of-sale systems, LCD televisions, and computer monitors can be connected together to build a PoE smart building.
The wireless access points segment is an important sector in commercial fields, which is expected to exhibit a growth rate of over 18% over the forecast timeline in the Power over Ethernet solutions market. Since they allow enterprises to establish connectivity among other devices connected to a wired & wireless network, there is a tendency for more indoor & outdoor WAP adoptions. Besides, the PoE-enabled access points can also provide seamless data connectivity in high-traffic areas such as shopping centers, stadiums, campuses, and airports to meet the ever-growing networking demands in commercial sections.
Industrial PoE Applications
In an industrial environment, especially for the manufacturing field, industrial automation has been an overwhelming trend. With that trend, the PoE industrial applications have also accelerated its pace to stay competitive over the PoE market.
The manufacturing community is turning to digitization to stay competitive. Adopting PoE applications in daily operations will enable to speed up the manufacturing process with more economic benefits. PoE devices like sensors and IP cameras can be used for managers to observe manufacturing floors to monitor automated equipment and employee behaviors. Both the operation cost and administrative time can be greatly reduced for manufacturers accordingly.
Technological advancements and the growing penetration of IoT in the industrial sectors have resulted in the improvements of PoE devices for better PoE deployment. The relevant PoE devices that have better performances are applied in some harsh environments to support a wider range of industry applications, which also accelerate the development of PoE applications.
Conclusion
To meet the growing PoE applications, the Power over Ethernet market share is expected to increase over the forecast timeline. Since PoE technology enables both data and power transmission over the same network cable, it indeed brings great convenience to not only the residential and commercial users but also the industrial users.
You might be interested in
Subscribe to Get Latest News
Videos
FS Same Day Shipping Ensures Your Business Success