What Is Wi-Fi 6 (802.11ax) and Why Does Wi-Fi 6 Matter?
You've probably already heard the term "Wi-Fi 6" thrown around by your colleagues or friends recently. For the majority, you may stay uninformed and want to know more about this new trending technology: what is Wi-Fi 6 and how will it affect my life? This article will uncover the mysterious veil of Wi-Fi 6 technology.
Wi-Fi Standard Backgrounds
The endless innovation of Wi-Fi technology has mainly and notably reflected in the transmission rate. With almost two decades' development, the transmission rate of Wi-Fi 6 is almost 872 times the initial Wi-Fi 1 version.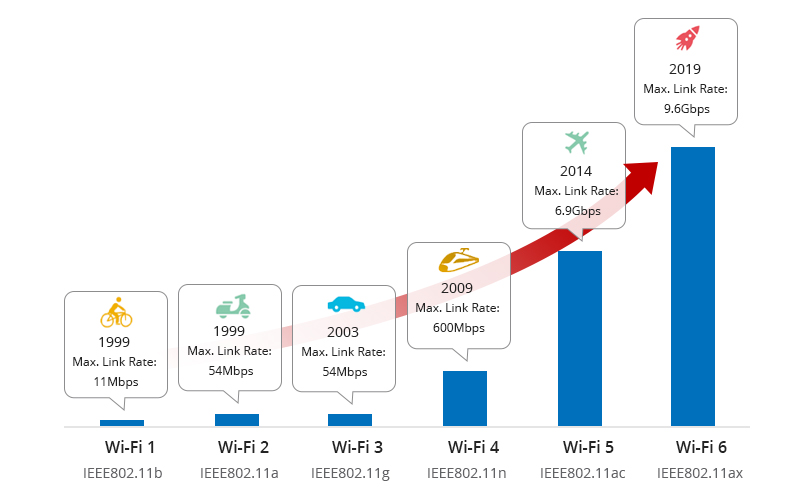 When Wi-Fi 5 came out, the average US household had about five Wi-Fi devices with an increasing tendency for nine devices nowadays. Note that, the added devices will take a toll on the network. Therefore, the more devices demand Wi-Fi, the slower the overall network will be. For higher bandwidth and better performance, new technology is in urgent need.
A Stunning Debut: Wi-Fi 6 Technology Is Here
In 2018, the Wi-Fi Alliance standardized the generational numbering so that equipment can indicate its support for Wi-Fi 4 (802.11n), Wi-Fi 5 (802.11ac), and Wi-Fi 6 (802.11ax). Simply speaking, IEEE 802.11ax, marketed as Wi-Fi 6 by Wi-Fi Alliance, is known as the next-generation standard in Wi-Fi technology. Unlike the traditional naming method, Wi-Fi 6 series directly adopts the number 6 in its brand-new name, which benefits the consumers to distinguish the new and old Wi-Fi standards, and helps them to better identify whether the device can support Wi-Fi 6 standard. Designed to respond to the growing number of devices with higher speed and better capacity, Wi-Fi 6 is born at the right moment for a more efficient network environment.

Superior Wi-Fi 6 Technology: Swift, Smart, and Secure
Higher Speed
How fast is Wi-Fi 6? The answer is simple yet incomplete: 9.6 Gbps. The real answer is: this is the maximum theoretical speed value that one seems to be unlikely to ever reach in real-world Wi-Fi use. However, it still can't be denied that the Wi-Fi 6 still has a much higher theoretical speed limit than its predecessors. Moreover, Wi-Fi 6 coverage is 500-800 meters theoretically benefiting from the 2.4G frequency bands, providing a wider coverage with speedy transmission.
Wi-Fi 4
Wi-Fi 5
Wi-Fi 6
Standard
IEEE 802.11n
IEEE 802.11ac
IEEE 802.11ax
Channel Bandwidth (MHz)
20, 40
20, 40, 80, 80+80, 160
20, 40, 80, 80+80, 160
Frequency Bands
2.4 and 5 GHz
5 GHz
2.4 and 5 GHz
Maximum Data Rate
150 Mbps
3.6 Gbps*
9.6 Gbps*
Highest Subcarrier Modulation
64-QAM
256-QAM
1024-QAM
Spatial Streams
1
4
8
*Depending upon the number of spatial streams and channel used
According to the above chart, both Wi-Fi 5 and Wi-Fi 6 support the same channel bandwidth, and both Wi-Fi 4 and Wi-Fi 6 support 2.4GHz and 5GHz. For the modulation mode, Wi-Fi 6 supports 1024-QAM, which is much higher than the previous two. And the spatial streams of Wi-Fi 6 is also a major breakthrough, 4x more capacity for more devices' demands.
Better Performance
Higher speed and better Wi-Fi coverage make Wi-Fi 6 an ideal solution for efficient transmission. In fact, Wi-Fi 6 technology will help to improve the whole network when a bunch of devices is connected instead of boosting the speed for individual devices. So, what makes Wi-Fi 6 exceptional? The follow-up four main technologies will tell.
Optimize Efficiency With OFDMA Technology
Orthogonal Frequency-Division Multiple Access (OFDMA) divides available channel bandwidth into several mutual orthogonal subcarriers or resource units (RUs). Furthermore, by subdividing the channel, applications that use small frames can be transmitted to multiple endpoints simultaneously, which cuts down on overhead and congestion at layer two. When multiple connections transmit limited amounts of data, OFDMA will be leveraged at maximum.
Unlike the previous OFDM technology adopted by Wi-Fi 5, OFDMA is flexible to allocate the entire channel to a sub-divide depending on traffic, greatly improving efficiency and reducing latency. The following diagram will further illustrate the working principle differences via analogy. One truck can only send one kind of package to one house at a time previously (Wi-Fi 5 with OFDM), while the same truck is able to carry multiple packages to separate destinations now (Wi-Fi 6 with OFDMA).

Practically speaking, OFDMA is like an AP-centric methodology enabling an 802.11ax access point to simultaneously communicate with multiple devices by dividing each Wi-Fi channel into smaller sub-channels. That is to say, an AP can choose to allocate the whole channel (all sub-channels within a channel) to a single user in a given time frame, or it may partition the whole channel to serve multiple devices simultaneously. The adoption of this new technology moves Wi-Fi from a contention-based to a scheduled-based service, which helps to stabilize the Wi-Fi performance.
Increase Throughput With MU-MIMO Technology
MU-MIMO, short for "multi-user, multiple input, multiple output," allows routers to communicate with multiple devices at the same time rather than communicate successively. Wi-Fi 5 supports this MU-MIMO technology as well, but only working for downloads whereas Wi-Fi 6 works with both uploads and downloads. Wi-Fi 6 uses 8x8 uplink/downlink to provide 4x larger capacity than Wi-Fi 5 to handle more devices. The enhancement of this technology in Wi-Fi 6 will largely increasing the utilization of Wi-Fi network bandwidth. The following diagram indicates that MU-MIMO has enlarged the capacity for better efficiency.

In Wi-Fi 6, MU-MIMO and OFDMA mechanisms form a unity of complementation. Both focus on improving the efficiency of Wi-Fi networks and reducing latency for time-sensitive applications. MU-MIMO and OFDMA have their advantages and applications respectively: OFDMA is ideal for low-bandwidth, small-packet applications such as IoT sensors, whereas MU-MIMO increases capacity and efficiency in high-bandwidth applications like mission-critical voice calls or video streaming.
Minimize Potential Conflicts With BSS Color Technology
BSS color, also known as BSS coloring, is a mechanism that intelligently color-codes the shared frequencies with a number. Basic Service Set (BSS) refers to a set of wireless clients associated with the same access point. BSS color adopted in 802.11ax will help to remedy the inefficient reuse of channels. It inserts an identity in a transmitted Wi-Fi signal. Once the receiving devices detect this "colored" signal, the following info will be known: which BSS is sending it, the strength of its signal, and a new logic sequence will be created to optimize the process of deciding when to transmit it and when not.
Legacy high-density Wi-Fi deployments are typical with multiple access points assigned to the same transmission channels due to a limited amount of spectrum, resulting in network congestion and slowdowns. With BBS coloring, a spatial reuse technique, Wi-Fi 6 will improve system-level performance as well as optimize the efficient reuse of spectrum in densely populated areas. Co-channel interferences will effectively be diminished, especially fit for dense deployment scenarios.
Reduce Power Consumption With TWT Technology
Target Wake Time (TWT) allows devices to negotiate when and how often they will wake up to send or receive data, increasing the sleep time, and substantially improving battery life for devices. Introducing this new technology in Wi-Fi 6, devices will be planned out communications with a router, reducing the amount of time they need to keep their antennas powered on to transmit and search for signals. That is to say, the devices remain inactive until it's their turn to transmit data using a scheduling scheme negotiated with the APs. It's like parking a vehicle in the cell phone waiting area, rather than circling the airport for arrivals. Wi-Fi 6 Target Wake Time featuring less congestion and energy savings will create better experiences for the users.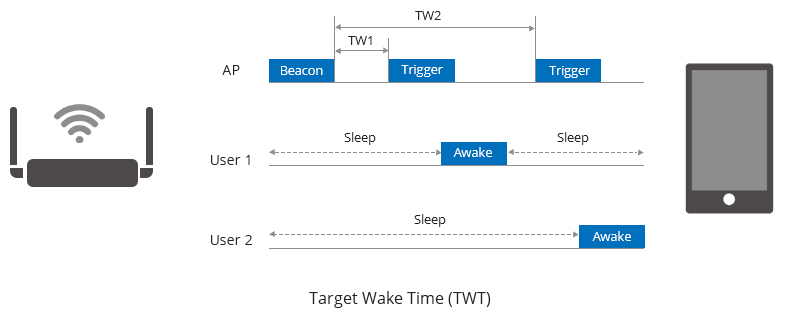 Safer Network Environment
Wi-Fi makes a huge breakthrough for the security update with a new security protocol called WPA3. Resolving the previous issues left by the WPA2, WPA3 replaces cryptographic protocols susceptible to off-line analysis with protocols that require interaction with the infrastructure for each guessed password, so that the infrastructure may place temporal limits on the number of guesses. The WPA3 technology makes it harder for hackers to crack passwords by constantly guessing them, and it makes some data "less useful" even if hackers manage to obtain it. Some devices and routers can support WPA3 with an optional choice. However, for Wi-Fi 6 devices, this WPA3 technology is required to ensure stronger security.
A New Comer: Wi-Fi 6 Is Just Getting Started
How will Wi-Fi 6 work? Can I deploy Wi-Fi 6 now? What about my current devices? Take your time. View the three prerequisites in the beginning:
A Wi-Fi 6 Router: If your router doesn't support Wi-Fi 6, you won't enjoy its benefits no matter how many Wi-Fi 6 devices you bring home.

Wi-Fi 6-supported Devices: Wi-Fi generations rely on new hardware, not just software updates, so you'll need new phones, laptops, and such devices to get wireless connectivity.

Required Bandwidth: Normally speaking, Wi-Fi will exert its actual strength with the bandwidth above Gigabit-level.
After clarifying the abovementioned factors, another question may arise: Do I really need Wi-Fi 6? Upgrading to the new Wi-Fi 6 standard is truly nice and catches up with the trend certainly, but obviously not everyone needs it.
If you have or plan to purchase Wi-Fi 6 terminal devices like phones, laptops, and some other smart home device, or you just have a large number of devices in your household, then a Wi-Fi 6 router might be the optimal Wi-Fi router for you. Wi-Fi 6 may be worthy to invest in these situations since it's suitable for those who possess multiple Wi-Fi 6-supported devices and demand for speedy and stable networks.
If your network speed is far behind 1 Gbps, then shifting to Wi-Fi 6 is relatively meaningless. Or if hundreds of connected devices are involved, like in a shopping mall or in some public areas, Wi-Fi 6 will only play out its advantages on the condition that all the devices support Wi-Fi 6. With routers only support Wi-Fi 4 now, updating to Wi-Fi 5 first and waiting for Wi-Fi 6's popularization may be a wise decision.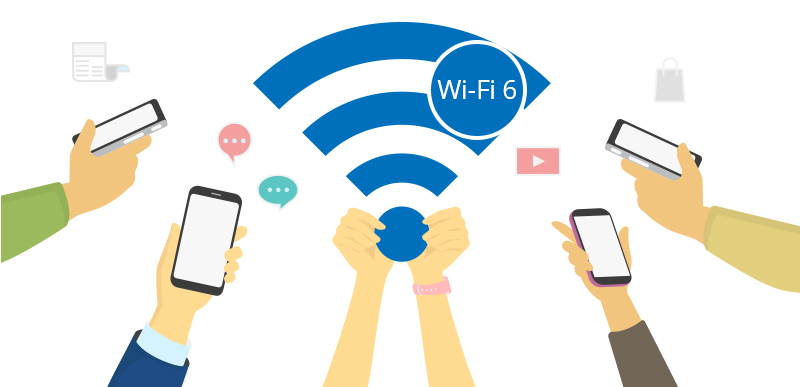 The Future of Wi-Fi 6: Infinite Possibility
The total market by product is on the rise: According to Dell' Oro's Research, Wi-Fi 6 AP holds the market share of about 10% in the indoor AP market, which is predicted to account for approximately 90% in 2023. For the router sectors, according to Gartner, the market value in business applications will be increased explosively from 0.25 billion to 5.25 billion at the CAGR of around 114%. And the chipset shipments will reach more than 4.5 billion in 2023 according to IDC Research.
Actually, several industry-organized brand suppliers have released relevant products that support next-gen Wi-Fi 6 connections including routers and smartphones. 2019 is regarded as the first year of Wi-Fi 6 commercial use. However, the commercialization of Wi-Fi 6 is just entering a phase of steep growth. Wi-Fi 6 will be increasingly adopted across numerous device categories covering smartphones, tablets, laptops, networking products, and some other home entertainment devices. Wi-Fi 6, signifies an opportunity but still a challenge for the relevant suppliers.
You might be interested in
Subscribe to Get Latest News
Videos
FS Same Day Shipping Ensures Your Business Success