25G vs 40G Ethernet: How to Choose?
Nowadays, high bandwidths have been an endless pursuit for Cloud data centers and communication service providers, making network upgrades to 100G or even higher data rates an inevitable trend. Usually, The migration to 100G can be achieved through two common paths, that is 10G-25G-100G and 10G-40G-100G. It seems that the key lies in the deployment of 25G and 40G, so what are the differences between them? Then 25G vs 40G Ethernet, how to choose? This article will make a comparison in their application, network switch selection, and cabling.
25G vs 40G Ethernet Overview
25G Ethernet standard was developed by IEEE 802.3 Task Force P802.3by in 2014 in order to make up for the low bandwidths of 10G and high costs of 40G. 25G Ethernet supports a single lane of 25Gbps with similar size of both SFP and SFP+, which is 2.5 times the transmission efficiency of 10G, thus the IEEE has defined 100G Ethernet based on four 25Gbps lanes. And 25G SFP28 optical transceivers can handle data rates up to 28 Gbps. 25GbE also provides greater port density and a lower cost per unit of bandwidth by fully utilizing switch port capabilities compared to 40GbE. In recent years, 25G products like 25G switches or 25G SFP28, 25G DAC and 25G AOC cables have received more and more recognition, especially in cloud data centers and 5G deployment, making 25G Ethernet market a promising trend.
40G Ethernet was the only available option for higher speed connectivity before the emergence of 25G, as 40G Ethernet consists of four lanes of 10G. 40G technology is more mature compared with 25G, which makes 40G product costs continue to reduce, such as 40G switches, 40G QSFP+ transceivers, 40G DAC and 40G AOC cables. While the development of 40G faces some difficulties now, including the impacts of 100G, as 40G isn't cost-effective or power-efficient in ToR (Top of Rack) switching for cloud providers.
| Characteristics/Requirement | 25GbE | 40GbE |
| --- | --- | --- |
| PCIe 3.0 Lanes per Port | 4 | 8 |
| PCIe 3.0 Bandwidth Utilization | 78% | 62.5% |
| Clock Rate | 25.78GHz | 10.31GHz |
| SerDes Lanes | Single | Quad |
| Servers/ToR with 3:1 Oversubscription | 96 | 24 |
| Connector | SFP28 | QSFP+ |
| DAC Cabling | Thin 4-wire | Bulkier 16-wire |
| Cable Material Cost | Low | High |
| Simpler Transition to 100G | Yes | No |
Table 1: 25G vs 40G
25G vs 40G: How to Choose?
Three main factors need to be considered before choosing between 25G and 40G.
Application
At present, 25G is mainly used for switch-to-server applications providing faster speed than 10G and a more cost-effective solution for upgrading to 100G and higher data rates. While 40G is for switch-to-switch applications, helping alleviate bottlenecks in the layer that connects access switches to distribution switches for data centers. If 25G switch-to-switch connections can be largely promoted, 25G Ethernet may have a broader market. Moreover, 25G optics are in great demand for the deployment of 5G network, especially in 5G front-haul transmission, making it a new peak in development. As for 40G, it is still an optimal choice for high bandwidth connections with better efficiency than 10G and lower costs than 100G.
Switch Selection
One factor is about switch compatibility. In terms of 25G switch compatibility, it depends on switch suppliers. Some 25G switches and 25G Network Interface Cards (NIC) support backward compatibility to 10G, increasing the flexibility to manage a gradual migration to higher speed servers and match port speeds. But as a new emerging technology, 25G switches have higher compatibility than 40G switches which also hinge on vendors. The other factor is port and system density. Since 25G is delivered using single-lane 25G SerDes (Serializer-Deserializer) technology, it provides greater switch port density and network scalability compared to 40G which are actually four 10G lanes. Thus, 25G Ethernet costs less, requires lower power consumption and provides higher bandwidth. The following table shows the comparison of 25G and 40G Ethernet switches and other Ethernet types.
Ethernet Types
Lane Speed (Gbps)
Lanes Per Port
Usable Ports
Total Bandwidth (Gbps)
10G
10
1
128
1280
25G
25
1
128
3200
40G
10
4
32
1280
100G
25
4
32
3200
Note: Ethernet switch with 3.2 Tbps

capacity and 128 ports
Table 2: 10G vs 25G vs 40G vs 100G Ethernet Switch
Cabling
25G Ethernet adopts SFP28 transceivers, allowing both copper and fiber links. For interconnections in data center switches, SFP28 AOC/DAC cables are more suitable and cost-effective solutions, but the transmission distance is limited. When upgrading 10G to 25G, the existing LC cabling can be reused due to the high compatibility of 25G, avoiding costly and complex rewiring. While 40G Ethernet commonly uses QSFP+ transceiver with MTP/MPO fiber optic cables for short transmission distances. But these cables have 12 optical fibers inside, which costs more than LC optical fibers of 10G. What's worse, they are not compatible. If upgrading 10G to 40G, most of the fiber optic cables will be abandoned and rewired, which can be a huge expense.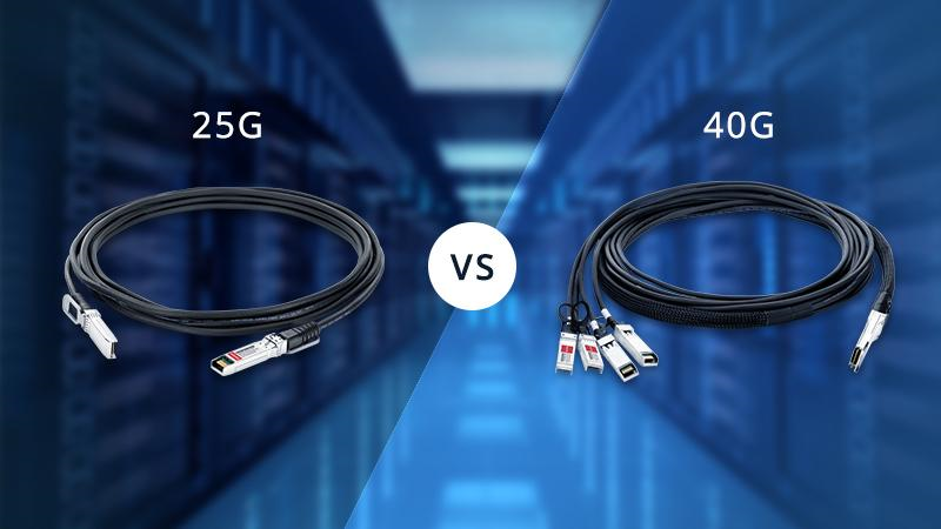 Figure 1: 25G vs 40G Transceivers and Cables
Conclusion
25G vs 40G lies in many aspects, although they can both pave the way for upgrading to 100G network. Typically, 25G is used for switch-to-server connections and 40G is mainly for switch-to-switch connections. For new network environments, the choice can be more flexible, which mainly depends on the business volumes. For other users who are planning for network upgrades to 100G or higher data rates, 25G may be a better solution that can leverage the existing cabling for both cost and time savings with better transmission efficiency.
Related Article: 10G - 25G - 100G Network Upgrade: An Inevitable Roadmap for Future Data Centers 
You might be interested in