Factors to Consider Before Choosing Enterprise Switches
Nowadays, to set up an enterprise network, network switches for enterprise are necessary, connecting the users in local geography such as an office, departments or buildings connected to each other and allowing data transferring to the assigned devices. It is an indisputable fact that Ethernet switches matters a lot in an enterprise network, no matter it is small or large-sized. Before you make your choice of buying enterprise switches, here are some criteria you need to consider.
Map out the Enterprise Network
The most critical thing you should make clear is your requirements including the network size, the purpose of the network, the devices which will be connected to the switches and the future network planning.
After identifying the network size and the future needs of your business, the switch function and features are what you should pay attention to. If you are running a small-sized enterprise where there are fewer than 200 users and no need for future expansion, the network model can be two-tier internetworking architecture. For mid-sized to large enterprises, the three-layer hierarchical network model is needed. Based on the three-layer hierarchical network model, the switches in the enterprise can be divided into access layer switches, distribution layer switches, and core layer switches. Choose enterprise switches according to the three layers can be a good way for each layer has its functions as well as characteristics. You can find detailed tips on how to choose core layer switches, how to choose distribution switches and how to choose access switches, which will not be discussed here.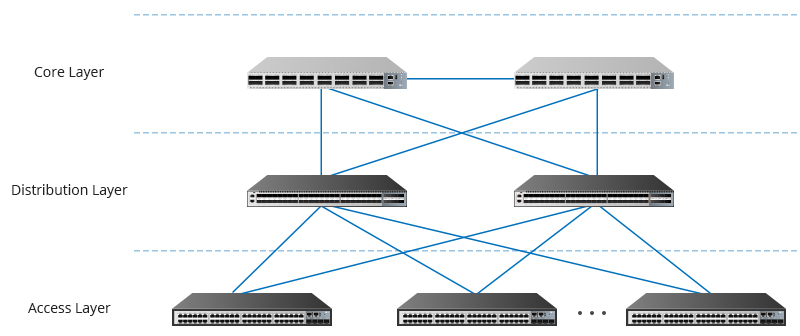 Figure 1: Three-layer hierarchical network model
Evaluating Enterprise Switches
After deciding the enterprise network architecture, you should get some information about enterprise switches which will help you better choose the switches you will deploy. If you are aware of the switch specifications, you can skip this part and go directly to the next which will give your suggestions on evaluating switch suppliers.
Port Speeds and Cabling Connections
There is a wide range of network switches available in the market. 1 Gigabit Ethernet, 10 GE, 40GE and 100GE ports are all supported by the modern enterprise switches. These interfaces can be a combination of RJ45 ports for copper connectivity and SFP or SFP+ uplink ports with higher speeds for fiber connectivity. In terms of the cabling connections, Ethernet connections with standard RJ45 ports can be more economical. Sure the network switch interface selection is influenced by the installed cabling. If you have already installed Cat6 or Cat6a cabling, then choose switches with RJ45 ports; If multiple fiber cabling is installed, then choose switches with SFP, SFP+, or QSFP+ ports. Despite the fact that Cat6 cable running from the access closet may be less expensive, the distance it can reach will be limited.
Installation Environments
Based on the environment where you are going to install switches, the switch size, the operating temperature, relative humidity are all your considerations. In a place where space is limited, you must examine the switch dimensions and ensure the rack space is adequate for the switch deployment. If the temperature of the installation environment is either too hot or too cold, it is necessary to check and choose the switch which can operate in a harsh environment. Also, be careful about the moisture migration and penetration caused by high humidity which will impact the operation of the devices.
Advanced Features
Apart from the common features, an enterprise switch is rich in additional advanced features that fit for the needs of specific networks. There are some advanced switch features such as advanced security features, built-in troubleshooting tools, converged wired or wireless, and so on. For example, FS enterprise switches such as S5850-24T16S support security features including SSH, access control list, Prevent DDOS attack and others.
Other Considerations
In addition to the general factors, there are also other features to consider based on your actual needs such as PoE, which provides power to the devices connected to the switches. If there are PoE applications such as IP cameras and VoIP phones in your business, PoE switches will simplify the wiring without the need for setting up the power supply for the network devices. Also, you should get aware of the power consumption of each of the end devices to decide what PoE standards are suitable. Switching stack is also a consideration for those who have needs for expanding network capacity. Stackable switches provide an optimal solution to cope with future expansion when the switch ports are running out, simplifying and increasing the availability of the network.
Advice on Selecting Enterprise Switch Suppliers
The practical network building is always more complex than what is imagined. It goes something like this: when you have listed all of your requirements for your ideal switches, there may be tens of vendors providing switches that have similar specifications. Here offer some tips for you while choosing different switch suppliers.
Some switch suppliers provide a variety of switch options from fixed switches to modular switches or from gigabit switches to switches with multigigabit ports. When you have the ideal switch ports and speed in your mind, choose a vendor with a wide range of switch types and models, which is convenient for purchasing the suitable enterprise switches at a time and can avoid problems like switch compatibility and inter-operation.
Understand the support offerings and costs of the hardware, as well as software that the switch vendors can supply, will save the hassle of handle unnecessary problems. Warranty is a key factor when choosing the switch brand. Online and phone technical assistance and troubleshooting support are also important considerations. FS provides a warranty of 5 years on most of the FS switches and supports software upgrading for free. 24/7 customer service and free technical support are available for all time zones.
If you have read the criteria above but still not sure about the feasibility of your scheme, you may seek help from network technicians. Most switch suppliers provide technical support and recommend their products according to your specific needs. However, it is also necessary to distinguish what caters to your requirements best based on the factors mentioned above.
Related Articles:
You might be interested in