Will Copper Cables Still Be an Indispensable Part in Data Center?
The battle between copper cable and fiber cable has raged for more than a decade in the cabling industry. But nowadays, with the growing of the data center size as well as the complexity of cabling, and the fiber cables are light and space-saving, the cost of fiber is also dropping, so the need for fiber cables by new backbone equipment is increasing. The proportion of fiber cables in large data centers even reaches more than 70 percent, which is much higher than the copper. Well, will copper cables be entirely substituted by the fiber? Undoubtedly, the answer is "no". This post will offer you several reasons why copper cable will still be an indispensable part in data center and share some information about various types of copper cables.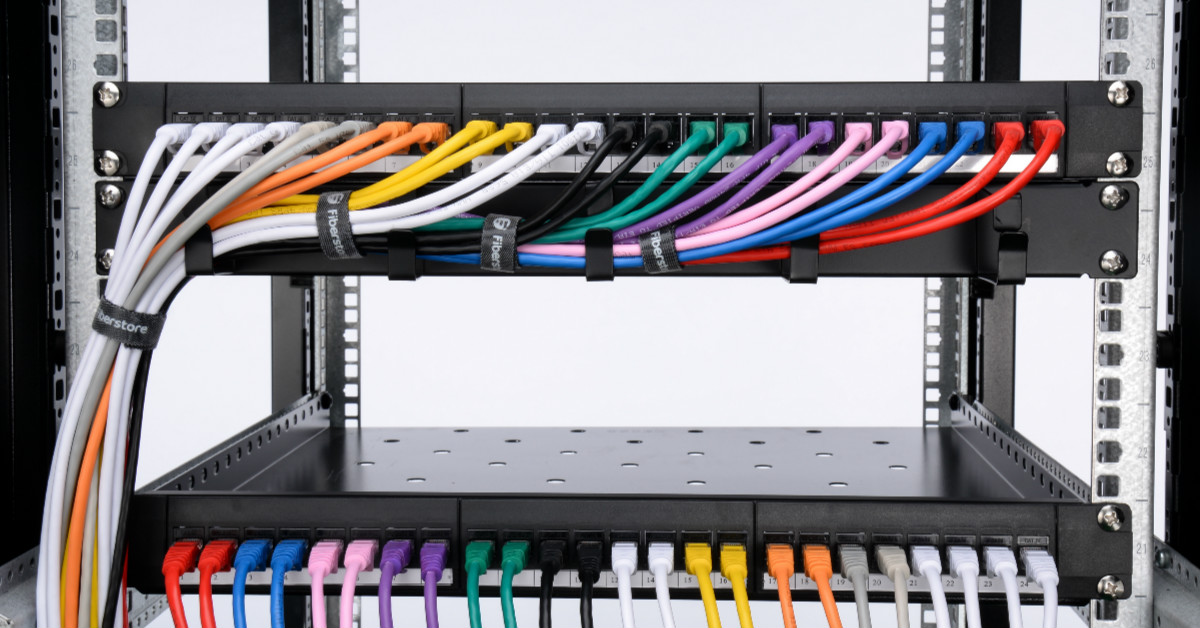 Figure 1: Copper cabling solution
Why Copper Cable Will Still Be an Indispensable Part in Data Center?
Driven by the scale expansion of data center, the requirement for higher bandwidth is increasing. With the advantages of fast transmission speed and great bandwidth, fiber cables definitely occupy a larger share in data center, especially for backbone applications. However, the costs of fiber-to-the-desk (FTTD) system, fiber cable application environment, and maintenance are much higher than copper. So copper cables are still widely used in many applications, including wireless access, horizontal cabling, PoE technology, LED-based power system, digital camera, and sensor networks.
Since copper patch cord allows data transmission as well as electrical power supply, it can be used for Power over Ethernet (PoE) applications such as horizontal network transmission for voice transmission and in-building networks, and device end. Besides, Network cable still keeps making progress. With the advent of 25G and 40G patch cable standards (25G/40Gbase-T), copper cable is able to support a bandwidth of up to 2GHz. What's more, the newly released TIA-568.2-D standard has added 28AWG patch cable in the normative annex. This will facilitate the development of 28AWG slim patch cable in high-density data center applications. TIA-568.2-D standard also has approved MPTL (Modular Plug Terminated Link), which is used particularly for high-performance cabling infrastructures using patch cables like Cat6a for wireless access points, CCTV cameras, etc. The MPTL enables the cable to be plugged directly into a device. This will promote the growth of patch cables. Therefore, the copper cable will still be an indispensable part in data center.
What Are the Copper Cables Used in Data Center at Present And Future?
In fact, there is a large range of patch cords including Cat5e, Cat6, Cat6a, Cat7 and Cat8 cables in the market. Different types of twisted-pair copper cables may be used for diverse cabling deployment. Here gives a brief introduction to these cables.
Cat5e
Cat5e patch cable (Category 5e) is developed by TIA/EIA in 2001 to improve certain cable characteristics. It was made to support 1000Mb/s and 100MHz within 100 meters of cable. Cat5e cable is fully backward compatible with all the previous categories. Composed of four pairs of wires, this Cat5e Ethernet cable is usually used for premise wiring, or deployed in the home networking environment.
Cat6
Cat6 Ethernet cables (Category 6) can support up to 10 Gbps and frequencies of up to 250 MHz. They feature thicker sheaths in comparison to Cat5e and they are not compatible with Cat3 cables. Though standard Ethernet supports distances of up to 100 meters, cable Cat6 usually supports less than 55 meters (depending on crosstalk) when transmitting 10 Gbps speed. Well, it is optimized for VoIP telephony.
Cat6a
Cat6a cable (Category 6a) supports twice the bandwidth frequencies of Cat6 cable, at a standard frequency rate of 500MHz. Cat6a is able to support 10Gigbit up to 100 meters. And its sheathing is robust, helping eliminate alien crosstalk (AXT). Being considerably thicker than Cat6, Cat6a is less flexible to work with, and therefore, better suited for industrial environments.
Cat7
Cat7 cable (Category 7) is ideal for switches, patch panels or other equipment in the high-density data center, supporting 10Gbps within 100 meters. It is also capable of transmitting up to 40Gbps at 50 meters and even 100Gbps at 15 meters. This cable has a standard frequency of 600MHz. It is stiff compared to previous generations due to the extensive shielding to reduce attenuation. However, the shielding makes Cat7 cable less flexible and manageable. Moreover, Cat7 has not been approved as a cable standard for telecommunications up to now.
Cat8
Cat8 cable (Category 8) is the next generation twisted-pair copper cabling standard specified by ANSI/TIA-568-C.2-1. It operates at a frequency of up to 2 GHz (2000 MHz) for up to 30 meters of cabling. The physical appearance of Cat8 cable is similar to lower category cables and still terminated in RJ45 connections. Cat8 network cable is also backward compatible with its previous versions. Designed to support 25GBASE-T and 40GBASE-T applications, it is suitable for small or middle enterprise LANs, especially for data center switch-to-server interconnections.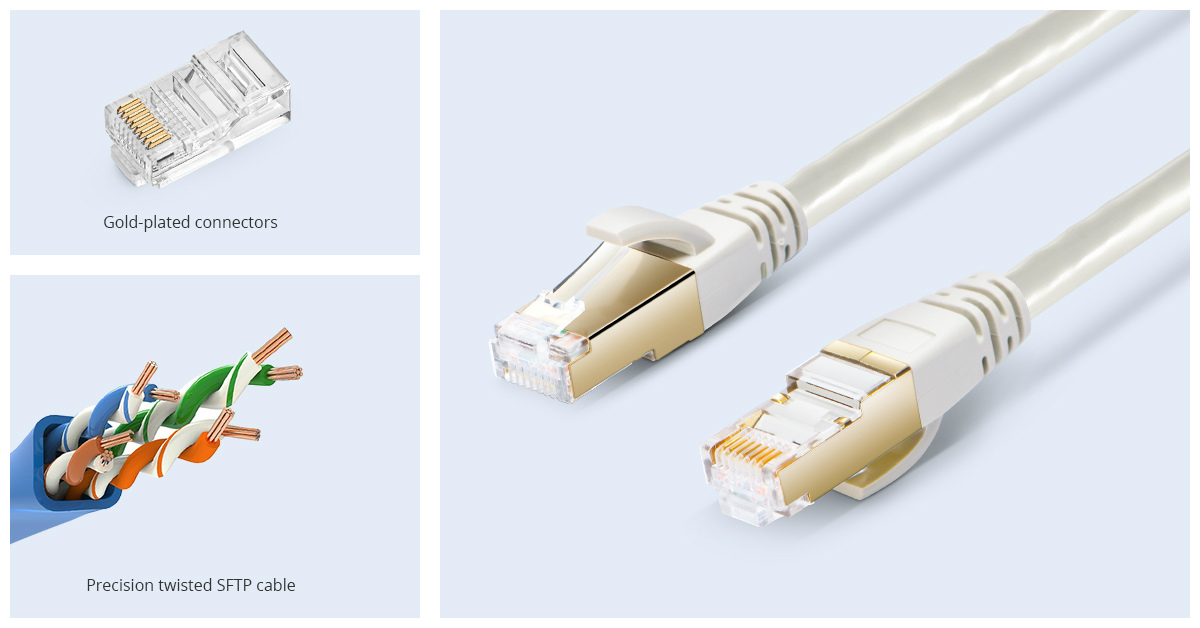 Figure 2: Cat8 network cable
Conclusion
Copper technology will be continuously researched and expanded to cater for future demands. Copper cables are still promising in the applications of voice transmission, in-building networks, horizontal cabling, PoE, IoT, etc. Therefore, there is no doubt that copper cables will not be entirely replaced by the fiber, and you can choose copper cables without worries according to your demands. FS can provide all the patch cords mentioned above, which 100% pass the Fluke Test. These cables are cost-effective and features large inventory and quick delivery. Welcome visit FS.com if you have any needs.
Related Articles:Quick View of Ethernet Cables Cat5, Cat5e And Cat6Running 10GBASE-T Over Cat6 vs Cat6a vs Cat7 Cabling?How to Choose the Right Cat6a Cable for Your 10G Networks
You might be interested in