Demystifying PoE Network: Features, Standards, Types, and Common FAQs
With the wide application of VoIP phones, IP cameras, and wireless access points, Power over Ethernet (PoE) has made great strides in recent years. And PoE network is expected to expand rapidly in the future due to the increasing number of IoT applications and smart devices deployments and newly ratified standards designed to support more smart devices. To help you better know PoE, here will introduce it from the aspects of PoE wiki, PoE standards, PoE types, PoE deployment, etc.
What Is PoE Network?
PoE is a networking technology that can transmit both data and power over one single standard Ethernet cable. It allows us to use network cables such as Cat5/Cat5e/Cat6/Cat6a cables to provide data connections and electric power to wireless access points, IP cameras, VoIP phones, PoE lighting and other powered devices (PDs). With the use of PoE technology, we can easily deliver power to indoor or outdoor PDs without the need to install additional electrical infrastructure or to deploy power outlets at every endpoint.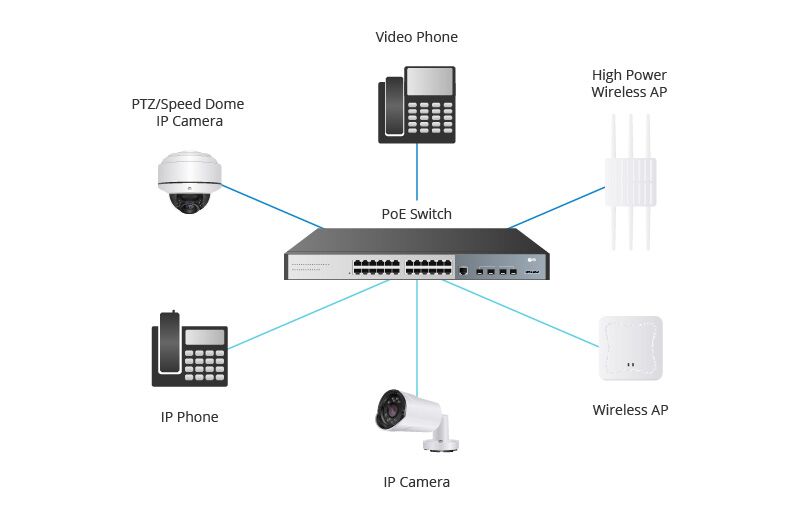 Benefits of PoE Network—Why Use Power over Ethernet?
Besides the above-mentioned benefits, there are several more appealing reasons for adopting PoE in networking.
Time & Cost Saving: By using PoE in the network, we do not need to deploy electrical wiring and outlets for terminal PDs. This will help to save much power cabling cost especially when there are lots of PDs in the network. Furthermore, there is no need to hire a qualified electrician for the PoE network, so you may also save both time and money on electrical installations.
Flexibility: Since Ethernet network cables are easier to deploy than the electrical ones, PoE networking allows us to install PDs nearly anywhere rather than near the electrical outlets. This offers a ton of flexibility for setting up and repositioning terminal devices.
Reliability: PoE power comes from a central and universally compatible source rather than a collection of distributed wall adapters. It can be backed-up by an uninterruptible power supply (UPS) or controlled to easily disable or reset devices. By doing so, the PDs will run as usual even though Power Sourcing Equipment (PSE) breaks down.
What Are Different PoE Standards?
Institute of Electrical and Electronics Engineers (IEEE), Cisco and the HDBaseT Alliance have released several standards to define PoE. These standards include IEEE 802.3af, IEEE 802.3at, IEEE 802.3bt, Cisco UPOE, and Power over HDBaseT (PoH).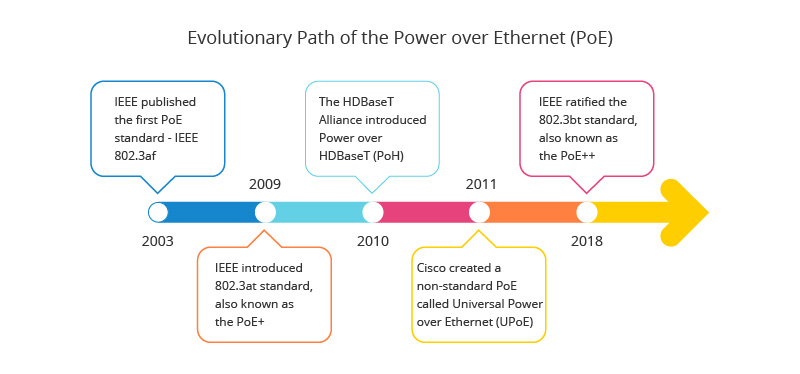 IEEE 802.3af Standard: The IEEE 802.3af standard first defines the requirements for PoE supplying up to 15.4 watts of DC power without affecting the data rate of Ethernet networks. PSE compliant to this standard transmits PoE power over two of the four pairs in 10/100/1000BASE-T networks.
IEEE 802.3at Standard: It is basically an extension to the IEEE 802.3af PoE standard. It is mainly proposed to provide more power to PDs. Backward compatible to the 802.3af PoE, the IEEE 802.3at PoE standard nearly doubles the amount of electrical power to 30W.
IEEE 802.3bt Standard: The IEEE 802.3bt is the latest PoE standard that permits power through a standard Ethernet cable over all four pairs to support the 2.5G/5G/10GBASE-T network. It defines two types of PoE, which are Type 3 and Type 4. Type 3 PoE supplies up to 60 watts power and Type 4 provides up to 100 watts.
Cisco UPOE: UPOE, short for Universal Power Over Ethernet, is created by Cisco. It extends the IEEE 802.3at standard to use all four cabling pairs to supply up to 60 watts power, further expanding the types of devices that can be supported.
Power over HDBaseT (PoH): Introduced by the HDBaseT Alliance, PoH is based on the IEEE 802.3at PoE standard, and can be modified to enable safe delivery of up to 100 watts of DC power over four pairs of Ethernet cable.
PoE Types and PoE Classes
Due to different classification standards, PoE can be divided into different types.
PoE vs. PoE+ vs. PoE++ vs. UPoE vs. PoH
According to the above-mentioned PoE standards, there are PoE, PoE+, PoE++, UPoE, and PoH. PoE is defined by the IEEE 802.3af standard which is mainly used to support low power devices such as VoIP phones and wireless access points with two antennas. PoE+ is the IEEE 802.3at standardized PoE. Providing up to 30 watts power, it is often applied in networks with wireless access points with six antennas and complex surveillance cameras that pan, tilt or zoom. PoE++ and UPoE are the latest PoE types that are adhered to IEEE 802.3bt and Cisco UPOE standards respectively. They are designed to extend resilient network power to high power devices such as laptops, TVs, video conferencing systems, LED lights, etc. PoH is similar to PoE, it also enables the transmission of DC power in conjunction with data signals over a single Ethernet cable to a distance of up to 100m. But the PoH is mainly designed as a cost-effective and easy way to deliver power to digital signage in airports, hotels, hospitals, cafeterias or any other environment in need of a video display - eliminating the need for AC power outlets.
PoE
PoE+
PoE++
UPoE
PoH
Standard
IEEE 802.3af
IEEE 802.3at
IEEE 802.3bt
Cisco UPOE
Power over HDBaseT
Max. PSE
15.40W
30W

60W (Type 3)

100W (Type 4)

60W
100W
Power to PD
12.95W
25.5W

51W (Type 3)

71W (Type 4)

51W
71W
Twisted Pair Used
2-pair
2-pair
4-pair
4-pair
4-pair
Min. Cable Type
Category 3
Category 5
Category 5
Category 5
Category 5e
Max. Distance
100m
100m
100m
100m
100m
Network
10/100/1000BASE-T
10/100/1000BASE-T
10/100/1000BASE-T and 10GBASE-T
10/100/1000BASE-T and 10GBASE-T
10/100/1000BASE-T and 10GBASE-T
Considering the power provided on the PoE network cable, Power over Ethernet can also be classified into Type 1, Type 2, Type 3, and Type 4. PoE Type 1 delivers up to 15.4 watts of DC power. PoE Type 2 is backward compatible with PoE Type 1 and provides up to 30 watts. PoE Type 3, also named PoE++ and UPoE, provides 60 watts of DC power. PoE Type 4, however, is a higher-power PoE which supports up to 100 watts power. The figure below illustrates the common applications of different PoE types.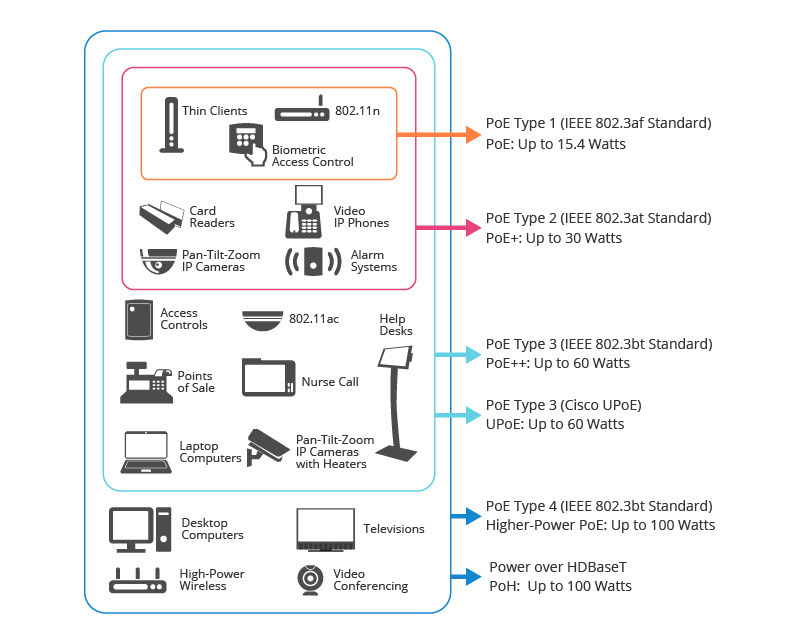 Based on the specific power needs, PoE standards define 9 classes from Class 0 to Class 8 as the following chart shows. Different PoE classes can be valid for different PoE types, indicating the maximum power output or input required for devices to work.
Class
IEEE PoE Standard
Max Power Output of PSE
Max. Power Input of PD
1
IEEE 802.3af (2 pair)
4W
3.84W
2
7W
6.49W
3
15.4W
12.95W
4
IEEE 802.3at (2 pair)
30W
25.5W
5
IEEE 802.3bt (4 pair)
45W
40W
6
60W
51W
7
IEEE802.3bt (4 pair)
75W
62W
8
90W
73W
Passive PoE vs. Active PoE
Power over Ethernet can also be divided into passive PoE and active PoE in general. Active PoE is the standard PoE which refers to any type of PoE that negotiates the proper voltage between the PSE and the PD device. Passive PoE is a non-standard PoE technology. It can also deliver power over the Ethernet line but without the negotiation process. Passive PoE always sends electric current out over the Ethernet cable at a certain voltage. Learn more about passive and active PoE at Active vs. Passive PoE Switch: Which Should We Choose?
How to Add PoE in Network?
The PoE supplied in the network generally comes from three different sources: PoE switch, PoE injector, and PoE splitter. The PoE switch is the easiest way to power up the PDs. You only need to run Ethernet cables from a PoE network switch port to the terminal PoE device. A PoE injector is used when there is no PoE switch in the network. It has an external power supply and is responsible to add power to data that is coming from a network switch which is no PoE-capable. PoE splitters also supply power, but they do so by splitting the power from the data and feeding it to a separate input that a non-PoE compliant device can use. It is commonly used for deploying remote non-PoE devices with no nearby AC outlets in the network. Learn more differences of PoE Ethernet switch, PoE injector, and PoE splitter, please visit PoE switch vs PoE injector vs PoE splitter.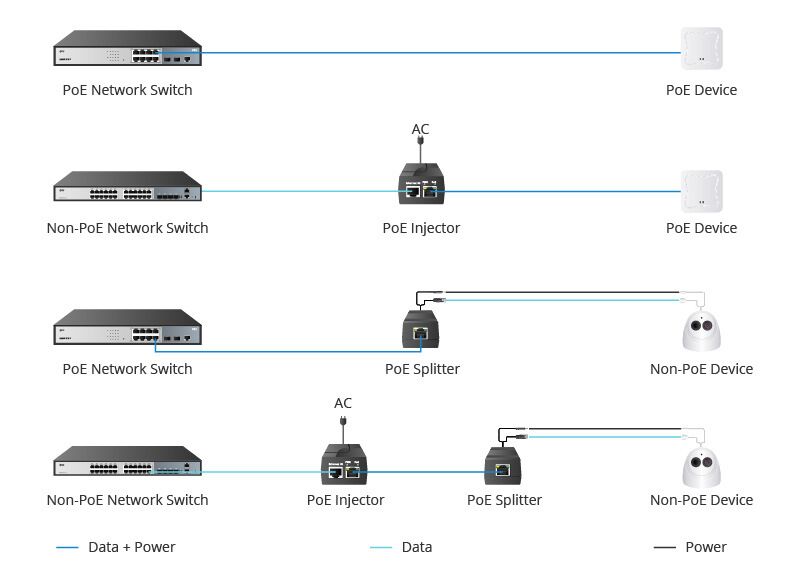 Common FAQs on PoE Network
What is the voltage of Power over Ethernet?
Power over Ethernet is injected onto the Ethernet cable at a voltage between 44v and 57v DC, and typically 48v is used. This relatively high voltage allows efficient power transfer along the cable, while still being low enough to be regarded as safe.
What data speed does PoE offer?
Generally, PoE can deliver data rates at 10/100/1000Mbps over Cat5, Cat5e and Cat6 cables. Now thanks to the widespread IEEE 802.3bt PoE standard and PoE++ technology, PoE is able to deliver speeds of 2.5 Gbps to 5 Gbps over 100m and reaches 10 Gbps in the recent times.
Are there any limitations of PoE network?
Yes, PoE network does have some pesky limitations. First, it has a restricted reach of 328 feet (100 meters) which limits the viable locations where users can operate a remote IP-enabled device. Second, a single PSE such as a PoE switch usually connects to multiple PDs. If the PSE broke down, all the PDs will stop working. Therefore, it is important to buy qualified switches from a reliable supplier. In addition, you may also consider connecting the PSE to an uninterruptible power supply system.
What are PoE midspan and PoE endspan?
The PoE midspan is usually a PoE injector that serves as an intermediary device between a non-PoE switch and the terminal PoE-capable powered device. A PoE endspan, which is commonly called the PoE network switch, directly connects and supplies both PoE power and data to a PD. PoE endspan provides power over the data pairs, also known as PoE Mode A. PoE midspan provides power using the pins 4-5 and 7-8, also known as PoE Mode B. Learn more details on PoE power supply, please read PoE Power Supply: How Does PoE Switch Deliver Power for PoE Devices?
You might be interested in
